Welcome to the ACHA
2018 ACHA Aged Event World Champions
Open Derby
Champion - Chiquita Reysmooth / Billy Bob Moore / Lee Barron
Reserve - JK Ella Rey / Gary Walker / Legal Cut LLC
3rd - Sprats Miss CD / Billy Bob Moore / Louie Reagan
4th - Justa Smooth Shooter / Butch Lott / David & Laura Conn
5th - TR Shes A Cat / Cletus Hulling / James Coleman
Non Pro Derby
Champion – Frostonthemesa / Mike Randolph
Reserve – Justa Smooth Shooter / Kelsey Conn
3rd – Playreycious / Alan Norton
4th – CR Metal Fancy Pants / Ronnie Smith
5th – Im Countin Double / Billy Crenshaw
Open Classic
Champion – Sneak A Smoothie / Mandy Schoenst
Reserve – Sweet Lil Billie / Billy Bob Moore / Martha Wilson
3rd – CR Tuffys Lil Sis / Gary Walker / Tennessee Walker
4th –Uno Rockin / Gary Walker / Carl Tumey
5th – Sheza Smoother Cat / Butch Lott / Bobby & Lynn Glover
Non Pro Classic
Champion - Prettysmoothpepper / Bobbie Sue Shore
Reserve – ZZ Smart / Phil Wright
3rd – Whspotonthegoose / Billy Owens
4th – Kitty Rey / Gil Blackburn
5th – Cat Smoothe / Elizabeth Riley
---
ACHA Championship Show featured on KCEN Live TV!! Check out these clips!
Cutting horse skills at their best this week at the Bell County Expo Center
Cutting horse championship show in Belton
---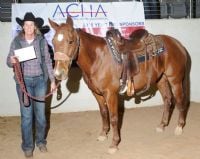 $20,000 Non Pro Champion
Cindy Smith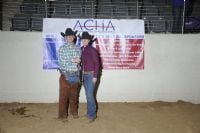 Non Pro Classic Champion
USS Tucker owned & ridden by
Cristy Erickson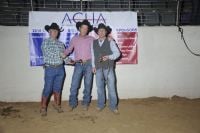 Open Derby
Champion
Cats Play Tuff/Jonathan Rogers/Tiemann & Rogers
Reserve
Hott Wish / Faron Hightower / Dawn Jonas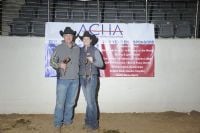 Non Pro Derby
Champion
Anotha Brotha / Megan Johnsrud
Reserve
Cactus Jack 015 / Wade Rust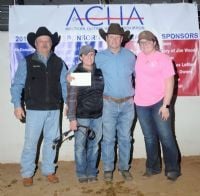 $15,000 Novice Horse
Champion
Smart Georgia Belle
Tom McTaggert / Ray Brazzel
Reserve
Shesa Metallic Lady
Jonathan Bartock / Mallory Tolleson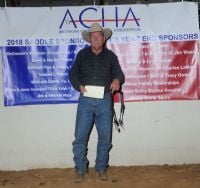 $3,000 Novice Horse
Champion
The Real Slim Shady
Mike Mowery / Ken Rodgers
Reserve
Time With Billie
Mike Mowery / Mike & Michelle Mowery
$15,000 NH/NP
Champion
CR Short Smart Cat
Ryan Smith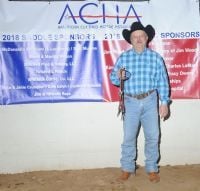 $15,000 NH/NP
Reserve
WHspotonthegoose
Billy Owens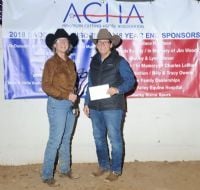 Senior Non Pro
Champion
Paula Williams
Reserve
Jennifer Bowers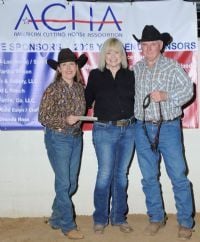 $50,000 Non Pro
Champion Andra Wisian
Reserve John Hightower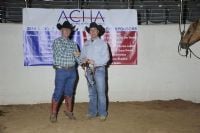 Open Classic
Champion
Close To Metal/Jonathan Rogers/Terry Strange
Reserve
USS Tucker / Jonathan Rogers/Sweet Blessings Ranch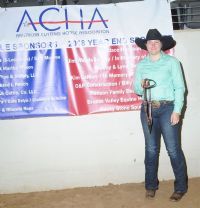 $2,500 Novice Rider Reserve
Ashley Knight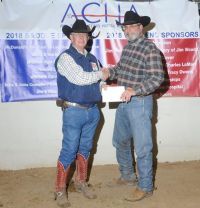 Open Champion
Hot Kitty Cat
Cletus Hulling / John Hightower Reserve
Smooth Talking
Tom McTaggart / Ray Brazzel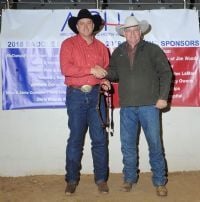 $20,000 Non Pro Reserve
Phil Wright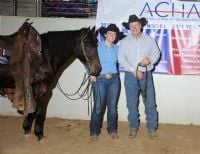 $1,000 Novice Rider
Champion Cassie Behrends
Reserve Billy Light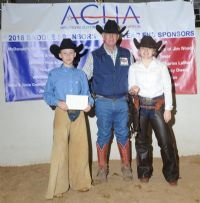 JR Youth
Champion JT West
Reserve Sidney Kahla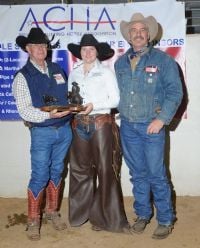 Affiliate Shootout Champion
Ashley Knight
representing Australian Cutting Horse Group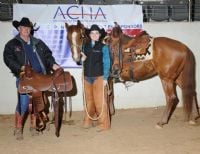 McDonald's SR Youth
Champion Emalee Hoffman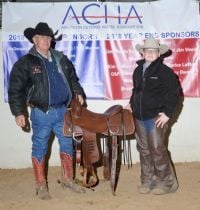 McDonald's JR Youth
Champion Toby Combs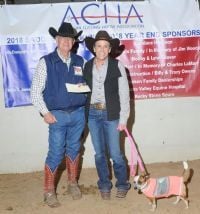 Non Pro Champion
Metalena / Tamra Lott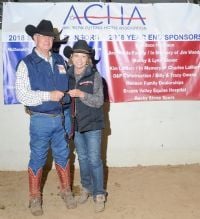 Non Pro Reserve
Billie Brow Cat / Bobbi Sue Shore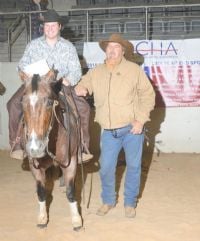 SR Youth Champion
Dually Husband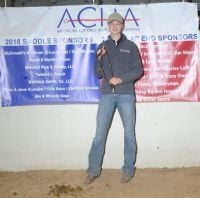 SR Youth Reserve
Zach Harbers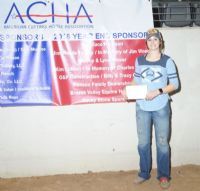 $2,500 Novice Rider Champion
Samantha Smith
---
Member Spotlight
ACHA Congratulates Mike Crumpler!

In 1984, Mike Crumpler moved to East Texas and began working for Mac Alexander. He became an ACHA member at that time, and has been training cutting horses ever since. In 1991, he moved to West Texas, Panhandle, where he hung his shingle until 2005, when Mike moved his family to Burnet, Texas, where he still resides.
In 2014, Mike rode Whiskey Merada to the 2014 ACHA World Championship 10,000 Novice Horse. In addition to his World Champion title, Mike is a 4 time ACHA Reserve World Champion. He has had multiple Non Pro and Novice Riders in the Top 10, and 2 Rookies of the Year. To top off his successful career, Mike was inducted into the ACHA Member Hall of Fame in 2017. Mike says, "I have had great accomplishments, but I owe everything to my supportive wife, good clients, and the ACHA family".
Mike has served on the ACHA Board of Directors off and on over the years, and in that capacity, he began working with Mark Watt from Australia. Mike was instrumental in bringing the first international affiliate, the Australian Cutting Horse Group, to the ACHA. In fact, this year Mike judged the first show in Australia and will be going back in November to judge the World Finals. Mike is also very involved in the Australian Youth Cutting Horse Group, and was elected as their youth ambassador. In this capacity, selected youth from Australia come to the United States and spend 2-3 weeks with his family and attend cutting horse shows and clinics in the United States.
When he is not in the saddle, Mike enjoys hunting and playing golf with his buddy Ted Olney. He and his wife, Janie, enjoy traveling and seeing new things, but when they are home, they enjoy helping their community through various community service projects. The ACHA is proud to honor Mike Crumpler in this edition of our Member Spotlight.
---
CONGRATULATIONS!
Visit our photo galleries to view our champions!
---
CHECK THIS OUT!
In continuance of the American West, and the ranching lifestyle, the American Cutting Horse Association strives to promote cutting horses as a competition sport. The goal of the ACHA is to promote the breeding, training and sport of these great horses in a competitive setting.
By the establishment of rules of conduct for cutting horse contests and the keeping of complete and accurate records of these contests, the ACHA seeks to promote and regulate the showing of cutting horses.
There is a place in the ACHA for contestants and their horses at any level and any goal. ACHA membership consists of people of diverse backgrounds and talents and encourages individuals, families and companies to become involved in the sport of cutting
---

Upcoming Events
---
January 15-19
ACHA Championship Show - Belton, TX
---
February 2 - 3
West Texas CHA - Clyde, TX
---
February 9 - 10
South Texas CHA - Brenham, TX
---
February 23 - 24
West Texas CHA - Clyde, TX

---
LATEST NEWS

RULE CHANGE:
Please read the important rule changes for 2019
Click here to view!
---
Thank You Sponsors
2018 YEAR END SADDLE SPONSORS:
Sam Munroe / McDonalds (2 locations Brenham)
Jim & Rhonda Ross
David & Martha Wilson
Mitchell Pipe & Supply, LLC
Whitlock Cattle Co., LLC
Mike & Janie Crumpler / Cole Eslyn / Clarence Schulze
Twisted L Ranch - Mark & Brenda Lanning
2018 Year End Sponsors:
Henson Family Dealerships
Brazos Valley Equine
O & P Construction / Billy & Tracy Owens
Candace Harrison
Kim LaMarr - In Memory of Charles LaMarr
The Woods Family - In Memory of Jim Woods
2018 ACHA Weekend Sponsors:
Bowers Vet Clinic
Mitch Farris Cutting Horses
Jana Lowe
Tony & Jeannie Seamons
Cletus Hulling Cutting Horses
Lana Wells
Lee & Judy Barron / Youth
Derk Harmsen Construction
Whitlock Cattle
Tractor Supply Company Navasota
Bellville Abstract Co./Leigh Ann Schultz
Graham Land & Cattle Co./Ron Jones
Mike Combs Cutting Horses
Corky Sokol Cutting Horses
Tres Rios Silver
O & P Construction / Billy Owens & Tracy Owens
Bobby & Lynn Glover
Robert Waltman & Donna Emenhiser
Kuper Sotheby's International Realty/Camille Abbott
Robert Fuentes Cutting Horses