Welcome to the ACHA
---


ATTENTION YOUTH:
Click here for McDonald's Shootout Rules
---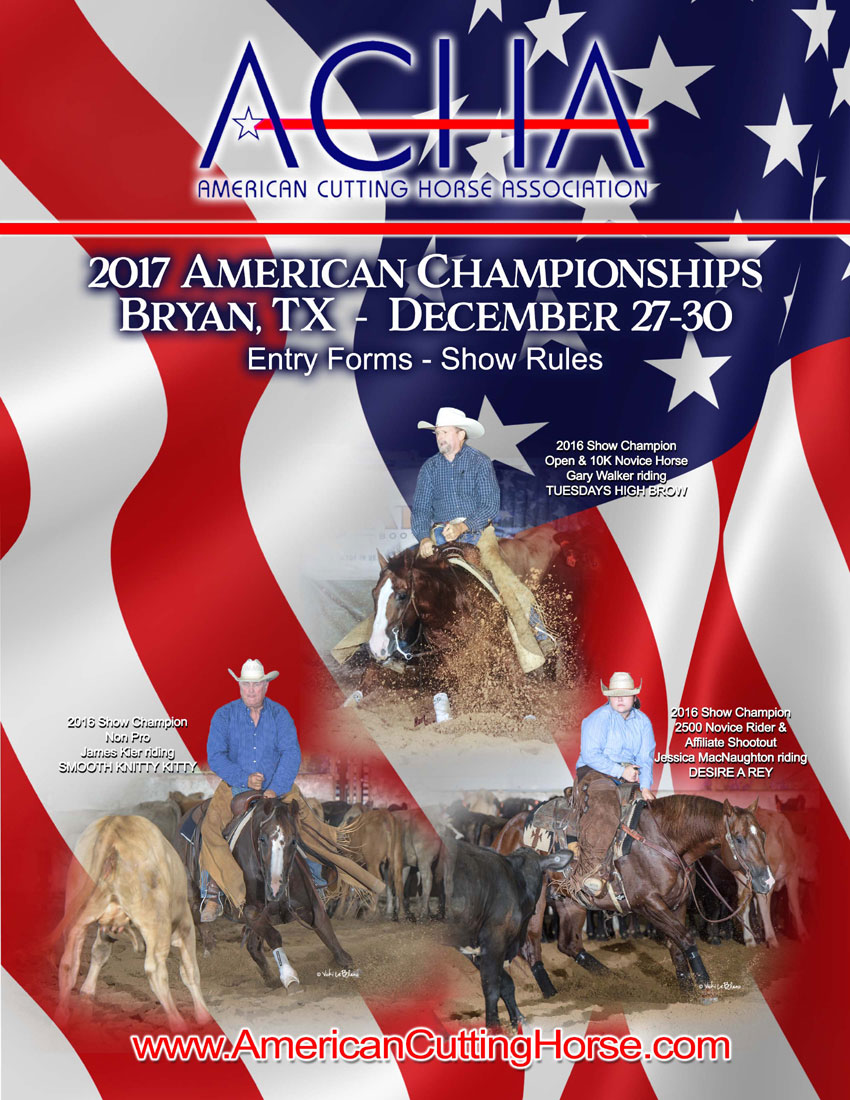 2017 American Championship Show
December 27-30 2017 @ The Brazos County Expo, Bryan, TX

Schedule & Forms
Click here for Working Orders
Show Schedule
Show Rules
Aged Event Entry Blank
Weekend Class Entry Blank
Top Hand Ballot
Host Hotels
Hawthorn Suites by Wyndham $89
1010 University Dr, College Station 77840
979-695-9500 Group Code CGACHA
Hyatt Place $99
1100 University Dr, College Station 77840
1-888-591-1234 Group Code G-ACHA
(Tell them you are with American Cutting Horse)
Must call by Friday, December 15 for group rates.
Sneak Peek!! Buckles are in!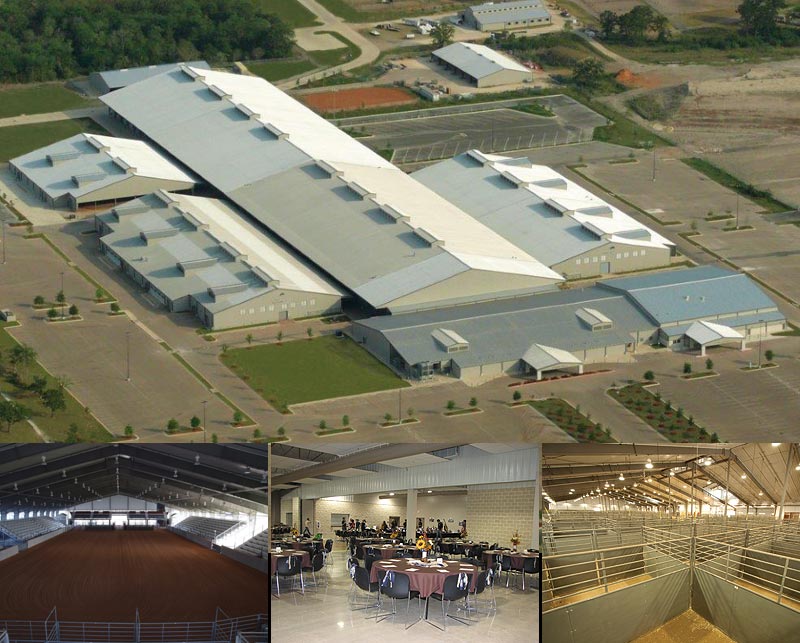 ---
CHECK THIS OUT!
In continuance of the American West, and the ranching lifestyle, the American Cutting Horse Association strives to promote cutting horses as a competition sport. The goal of the ACHA is to promote the breeding, training and sport of these great horses in a competitive setting.
By the establishment of rules of conduct for cutting horse contests and the keeping of complete and accurate records of these contests, the ACHA seeks to promote and regulate the showing of cutting horses.
There is a place in the ACHA for contestants and their horses at any level and any goal. ACHA membership consists of people of diverse backgrounds and talents and encourages individuals, families and companies to become involved in the sport of cutting
---
2017 ACHA Extravaganza Circuit Winners
OPEN CLASSIC
Prette Prette Please / Jonathan Rogers / Judy Rogers
NON PRO CLASSIC
Sandman Cat / Tylor Miles
OPEN DERBY
Mamas Royal Smoothie / Jonathan Rogers / Jane Mancuso
OPEN FUTURITY
Lil Misty Sunshine / Craig Gillham / Stephen Ferguson
OPEN
1st – Sandman Cat / John Kirby / Tylor Miles
2nd – Smooth Knitty Kitty / John L. Dublin / James Kier
NON PRO
1st – Ryan McCarty Majors
2nd – Tylor Miles
3rd – James Kier
$50,000 NON PRO
1st – Colton Currie
2nd- Camille Abbott
3rd – Gail Matthews
JR YOUTH
1st – Taylor Mowery
2nd - J.T. West
SR YOUTH
1st – Iris Baker
2nd – Kaylee Campbell
$15,000 NOVICE HORSE
1ST- Purrrfect / Trent Bell / Gerry Gehring
2nd – Stylish Reygina / Billy Bob Moore / Lee Barron
$15,000 NH/NP
1st – Woodys Miracle / Kate Hindt
2nd – Whspotonthegoose / Billy Owens
3rd – Desire A Rey / Jessica MacNaughton
$20,000 NON PRO
1st – Iris Baker
2nd – Ranessa Crawford
3rd – Gretchen Hawksworth
$1000 NOVICE RIDER
1st – Mary Bauer
2nd – Hannah Venne
$2500 NOVICE RIDER
1st – Mary Bauer
2nd – Tim Pike
$3000 NOVICE HORSE
1st – Shesa Metallic Lady / Jonathan Bartok / Mallory Williams Tolleson
2nd – Cruzn For Checks / Jonathan Bartok / Mallory Williams Tolleson
Thank you: Kelly Slover Buckles & More
Sponsor of Circuit Awards at ACHA Extravaganza!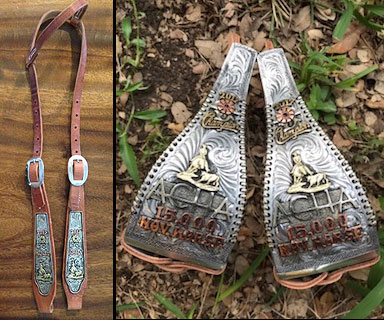 Thank you: Franklin Family Ranch
Sponsor of High Point Open Rider and High Point Non Pro Rider - 3 Night Getaway!



Upcoming Events
January 20 & 21
American South Texas CHA - Brenham, TX
---
February 10 & 11
American South Texas CHA - Brenham, TX
---
March 10
Oklahoma CHA, Corn, OK
---
LATEST NEWS

RULE CHANGE:
There have been several rule changes for 2017
Click here to view!
---
Thank You Sponsors
2017 YEAR END SADDLE SPONSORS:
Sam Munroe
Brenham McDonald's
Derk Harmsen Construction
David & Martha Wilson
The Paul Bassel Family
Ronney & Alana Coleman
Mitchell Pipe & Supply, LLC
Bowers Veterinary Clinic - Jennifer Bowers, DVM
Jim & Rhonda Ross
J & A Livestock / Whitlock Cattle
The Cletus Hulling Barn
2017 Year End Sponsors:
Copenreygen
O & P Construction
Billy & Tracy Owens
Gehring Construction Co.
Bellville Abstract Co.
Leigh Ann Schultz
Bobby & Lynn Glover - In Memory of Charles Lamarr
Henson Family Dealerships
KCC Ranch
DLC Interests, Inc.
Dublin Cutting Horses
Waco Texas Futurity
Covert Ford, Inc. - Kenny Covert, Austin, TX
ACHA Extravaganza Sponsors:
Bell County Exposition Center
Franklin Family Ranch
Kelly Slover
Jamie & Terri Rounsaville
2017 ACHA Weekend Sponsors:
New LubriSyn Wound Care Product - "One Out of the Money"
Lee and Judy Barron
Jana Lowe
Bowers Veterinary Clinic
Tony & Jeannie Seamons
Lana Wells
Cletus Hulling Cutting Horses
Robert Fuentes Cutting Horses
Cowboy Breakfast
Independence Coffee
O & P Construction
Billy & Tracy Owens
Corky Sokol Cutting Horses
J & A Cattle Company
John & Annie Hightower
Somerville Feed / Thomas Moore
Derk Harmsen Construction