Latest Updates
1/16/1

3
5

/14/1

3
3/29/12
3/21/13
5/1/1
3
11/1/12
5/8/12
3/21/1

3
10/30/12
10/1/12
Latest News
Check out the Classifieds!



RULE CHANGE:
Beginning in 2012, earnings at the American Championship Show will count toward the subsequent ride year's eligibility for horse and rider. As per current rule, earnings won at the American Championship Show will not affect class standings in determining year end world champions and top ten placings.


All forms on our site require Adobe Reader to view. Click here to get it for free!

Youth Scholarship Information
The American Cutting Horse Association (ACHA) Youth Scholarship Program was established in 1995 to encourage and assist ACHA youth in pursuing and achieving a higher level of education. The Youth Scholarship is made possible by the continued and generous support of ACHA members and friends.
Each year the ACHA Board of Directors reviews the status of the Youth Scholarship Program and determines the number and amounts of scholarships awarded during the current ACHA point year. The scholarships are awarded at the ACHA American Championships, unless otherwise determined by the ACHA Board of Directors.
To be eligible for consideration for an ACHA Youth Scholarship, the ACHA Youth Scholarship Application and letters of recommendations must be completed and returned to the ACHA office prior to July 1.
All applicant information is confidential among the members of the ACHA Youth Scholarship Committee, which is appointed annually by the ACHA Board of Directors.
Upcoming Events
May 17, 18, & 19, 2013
ACHA Weekend - Brenham, TX
May 25 & 26, 2013
American Western Sports CHA - Sulphur Springs, TX
2013 Saddle Sponsors


Ron Jones
Brad Buckley
Russell & Cathy McGehee
Derk Harmsen
Brad Schafer
John Giannukas
Anonymous
Anyone interested in Sponsoring 2013 Yearend Awards - please contact the ACHA office: 979-836-3370 or Lynn Glover: 254-541-3430
2013 ACHA/KO TRADING WEEKEND SHOW SPONSORS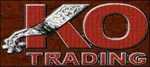 Bell County Expo

2012 Championship Show Sponsors



David Polk
254-771-9909



979-885-3150

Wildfire Trailer Sales
Kevin Finch
Rocking Double S Services
Brad Schafer/Owner
Larry White, Jr.
Cefco Convenience Stores
Barfield Hay Company
Tony & Tina Palermo/Palermo Real Estate Dev.
Kathy Woodard
B.A. Emmons Mini Storage/Boyd & Connie - Owners
Monte Locke Construction
Lana Wells
Joe & Kathy Brown
Mitchell Equipment
Ron Jones
Sam Munroe, Jr.
Citizens State Bank, Corrigan
R.B. Garza/Bless Oilfield
Billy & Tracy Owens


Bobby & Lynn Glover
Derk Harmsen, Sr.
Ronney & Alana Coleman