NON PRO RIDER HALL OF FAME
In order to be inducted into the Non Pro Rider Hall of Fame, the rider must have lifetime earnings of $50,000 in ACHA approved classes.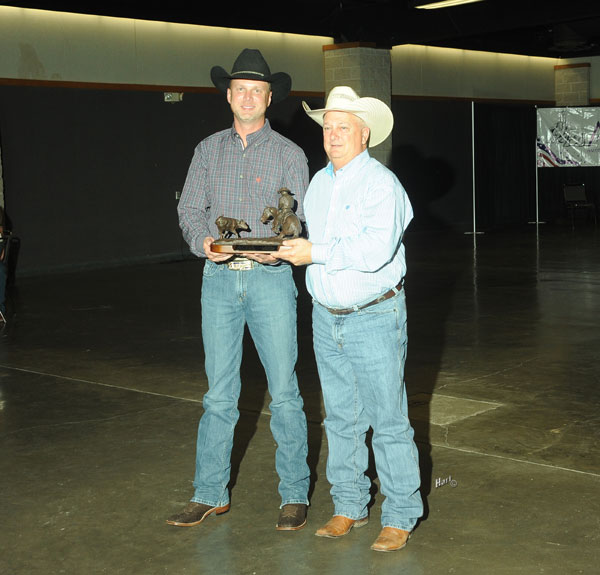 2016 Non Pro Hall Of Fame
Ronnie Smith (R)
Presenting trophy is ACHA Director,Chris Woods (L)
2012 Ron Jones
2009 Tony Palermo
2007 Cathy McGehee
2006 Jennifer Bowers
2003 Bob Hunter
2003 Leon Lewis
2003 Jim Woods
2002 Steve Anderson
2002 Derk Harmsen
2002 Bill Ragland
2001 Eileen Hicks
1998 D'Ann Randolph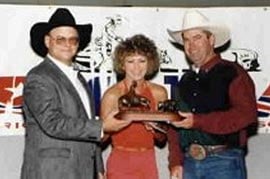 D'Ann Randolph was the first Non Pro to be inducted into the ACHA Non Pro Rider Hall of Fame in 1998.
Presenting the trophy is past ACHA President Jim Gandy on the left and Kevin Parker on the right, who also was the first Open Rider to be inducted into the ACHA Open Rider Hall of Fame that same year.

Upcoming Events
---
Sep 29- Oct 1, 2017
ACHA Cowtown Cutting - Watt Arena, Ft. Worth, TX
---
Oct 7 & 8, 2017
American South Texas CHA - Brenham, TX
Nueces Canyon Ranch, Brenham, TX
---
Oct 14 & 15, 2017
American Southwest Texas - Belton, TX

---
LATEST NEWS

RULE CHANGE:
There have been several rule changes for 2017
Click here to view!
---
Thank You Sponsors
2017 YEAR END SADDLE SPONSORS:
Sam Munroe
Brenham McDonald's
Derk Harmsen Construction
David & Martha Wilson
The Paul Bassel Family
Ronney & Alana Coleman
Mitchell Pipe & Supply, LLC
Bowers Veterinary Clinic - Jennifer Bowers, DVM
2017 Year End Sponsors:
Copenreygen
O & P Construction
Billy & Tracy Owens
Gehring Construction Co.
Bellville Abstract Co.
Leigh Ann Schultz
Bobby & Lynn Glover - In Memory of Charles Lamarr
ACHA Extravaganza Sponsors:
Bell County Exposition Center
Franklin Family Ranch
Kelly Slover
2017 ACHA Weekend Sponsors:
New LubriSyn Wound Care Product - "One Out of the Money"
Lee and Judy Barron
Jana Lowe
Bowers Veterinary Clinic
Tony & Jeannie Seamons
Lana Wells
Cletus Hulling Cutting Horses
Robert Fuentes Cutting Horses
Cowboy Breakfast
Independence Coffee
O & P Construction
Billy & Tracy Owens
Corky Sokol Cutting Horses
J & A Cattle Company
John & Annie Hightower
Somerville Feed / Thomas Moore
Derk Harmsen Construction