Youth News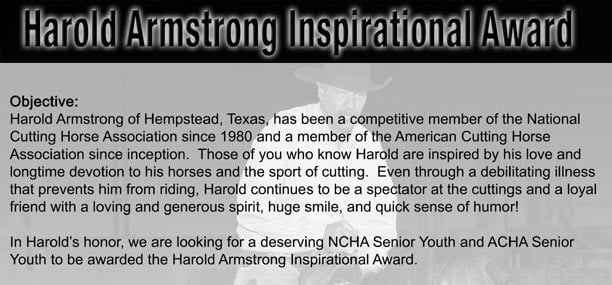 CLICK HERE for more information and scholarship application!
Completed applications must be received by May 25!
Donations can be made by sending a check to:
Marcy Blanchard, 7286 Hwy 97 East, Bebe, TX 78614
Please make checks payable to 'NCHA Charities Foundation' and include in the memo "Harold Armstrong Inspirational Award"
---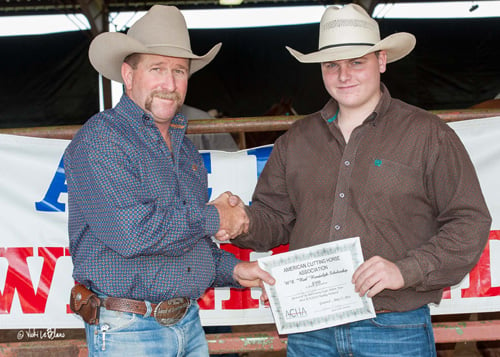 TY FOGLEMAN WINS 2014
W.E. "Red" Randolph $500 Scholarship Cutting

Sr. Youth, Ty Fogleman of Lake Charles, LA accepting the $500.00 W.E. "Red" Randolph scholarship sponsored by the Bell County Expo Center in Belton, TX from ACHA Board Member, John Stewart.
The scholarship cutting was held Saturday, May 17 during the 2014 ACHA/KO Trading Weekend at the Washington County Fairgrounds in Brenham, TX.
---

Upcoming Events
March 10
Oklahoma CHA, Corn, OK
---
March 10 - 11
American Southwest Texas CHA - Belton, TX
---
March 24 & 25
American South Texas CHA - Brenham, TX
---
LATEST NEWS

RULE CHANGE:
There have been several rule changes for 2017
Click here to view!
---
Thank You Sponsors
2017 YEAR END SADDLE SPONSORS:
Sam Munroe
Brenham McDonald's
Derk Harmsen Construction
David & Martha Wilson
The Paul Bassel Family
Ronney & Alana Coleman
Mitchell Pipe & Supply, LLC
Bowers Veterinary Clinic - Jennifer Bowers, DVM
Jim & Rhonda Ross
J & A Livestock / Whitlock Cattle
The Cletus Hulling Barn
2017 Year End Sponsors:
Copenreygen
O & P Construction
Billy & Tracy Owens
Gehring Construction Co.
Bellville Abstract Co.
Leigh Ann Schultz
Bobby & Lynn Glover - In Memory of Charles Lamarr
Henson Family Dealerships
KCC Ranch
DLC Interests, Inc.
Dublin Cutting Horses
Waco Texas Futurity
Covert Ford, Inc. - Kenny Covert, Austin, TX
ACHA Extravaganza Sponsors:
Bell County Exposition Center
Franklin Family Ranch
Kelly Slover
Jamie & Terri Rounsaville
2017 ACHA Weekend Sponsors:
New LubriSyn Wound Care Product - "One Out of the Money"
Lee and Judy Barron
Jana Lowe
Bowers Veterinary Clinic
Tony & Jeannie Seamons
Lana Wells
Cletus Hulling Cutting Horses
Robert Fuentes Cutting Horses
Cowboy Breakfast
Independence Coffee
O & P Construction
Billy & Tracy Owens
Corky Sokol Cutting Horses
J & A Cattle Company
John & Annie Hightower
Somerville Feed / Thomas Moore
Derk Harmsen Construction