Letter From The President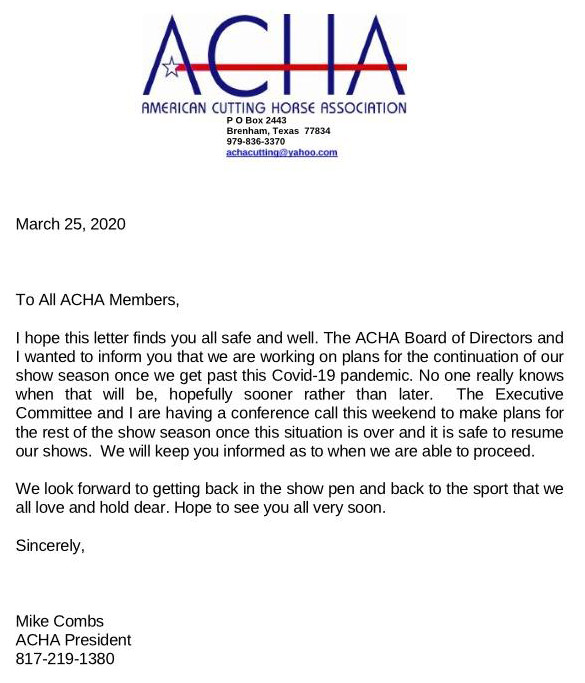 Update from the ACHA regarding COVID-19

The ACHA Board of Directors and Regional Affiliates consider the health and well being of our members and of the public a top priority. In consideration of the CDC's and governmental recommendations the following shows have been cancelled. We will continue to monitor this situation and make the best decisions regarding upcoming shows and will provide updates on our website show schedule and on the ACHA Facebook page. We appreciate your understanding and support and look forward to a safe return to the show pen!
April 11-12 ASWTCHA Belton, TX - CANCELLED
April 25-26 ASTCHA Brenham, TX - CANCELLED
---
---
Member Spotlight
ACHA CONGRATULATES: Zach Harbers
2018 Senior Youth World Champion

One of the cool things about cutting is the unique manner it brings together a wide variety of people. At the shows, we are all just "cutters" while in "real life" those cutters might be veterinarians, business owners, or students. We may be fierce competitors in the arena and fast friends in the barn. We draw inspiration from one another in so many ways. For example, a cutter like Martha Wilson motivates us by being a formidable competitor well into her 70s and not slowing down one bit. Others impress us by how quickly they master the sport.
Zach Harbers, son of David and Clancie Harbers, is one of the "newbies" who is making a name for himself faster than a hot-headed heifer can duck into the arena corner. If you do not know Zach, check the warm-up area for a tall, lanky young man with an easy grin. He is quickly becoming a familiar face to many in the ACHA. Harbers is only nineteen years old, but he is already a World Champion, winning the Senior Youth in 2018. He gives much of the credit to John Stewart, his first and only cutting trainer so far.
This year Zach is showing in the $50,000 Non Pro on many weekends, but during the week he spends his time at Texas A&M University majoring in animal science. Grades are his top priority now as he focuses on getting into vet school. However, just because Zach progressed from being a youth to being an Aggie does not mean he has quit cutting.
In fact, he is even more involved than ever. After the first six weeks of shows this year, he was leading the $50,000 Non Pro, and trainer John Stewart was second in the Open class on Zach's mare Sweet Lil Kit. Raised by Mike and Michelle Mowery, Sweet Lil Kit, better known as "Harley," is by Sweet Little Pepto and out of Billy the Kit. Harley's half-sister WH Lil Glamour Girl is currently being shown by Stewart in the $3,000 Novice Horse class. "Indy," as she is called, is five years old and owned by Zach's father David Harbers. Zach had started the 2018 year showing a mare named Miss Dual Twist before his dad bought Sweet Lil Kit for Zach to show. Instead of the usual scenario of a father passing his horse on to his son, Miss Dual Twist has now been passed on to Zach's dad to show.
Zach says his dad grew up riding and roping but "always wanted to cut." Zach is thrilled that has father now has his chance to cut in the ACHA. Successful ownership of some Shipley's Donuts franchises has allowed David Harbers to pursue his long-delayed passion. One of Zach's goals in 2020 is for his dad to be the Rookie of the Year, and David is off to a very good start. As of this writing, David Harbers was leading both the $1,000 and $2,500 Rider classes on Miss Dual Twist.
Cutting is definitely a family activity for the Harbers family. David Harbers sees cutting as a way to keep young people "off their computers for a while." He believes cutting has given Zach a boost in confidence. Zach's mother Clancie does not cut, but Zach feels like the whole family supports the sport. Younger brother Steven does ride, but Zach says his brother enjoys high school sports and prefers playing baseball over riding horses.
As for Zach, his idea of "super fun" was winning the Senior Youth championship. He claims he did not get nervous showing because he had faith in his horse. Trainer John Stewart had matched rider and horse. The very first time Zach had an opportunity to try cutting, it was on Sweet Lil Kit, the mare he eventually rode to win the World Championship race.
"I actually struggled with her [Sweet Lil Kit] at first," he says. "It wasn't until the end of the year when I got her figured out." He says many people in the ACHA helped him right from the beginning. "This is one big family. Everyone in cutting was open and friendly, not stuck up, not elitist, not judgmental. Not a problem at all," according to Harbers. While showing in the Youth, Zach was home schooled but says he did much of the instruction himself because he describes himself as self-disciplined and self-motivated. He finished high school early, but "feels old" now that he is out of the Youth class.
Zach's cutting goals for himself include finishing in the top ten in the $50,000 Non Pro class. He also thinks "it would be cool" to win something on the five-year-old mare Indy. In the meantime, he just wants to go have fun cutting. "It is a healthy outlet," Zach says. "At the end of the day, it is just you and your horse."
Zach looks forward to cutting for a long time. He draws his inspiration from someone who certainly sets a good example.
"I really enjoy this, and I want to keep doing it for many years to come. I want to be another Martha Wilson."
By: Raena Wharton
---
CONGRATULATIONS TO OUR YEAR END CHAMPIONS:
Visit our
photo galleries
to view larger images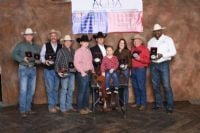 Open
World Champion: Pepto Katz
Rider:Mike Combs
Owner: Philip Wright
Res. World Champion: Zr One
rider:Paige Kincaide
owner:Keith Mesker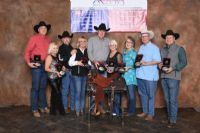 NON PRO
World Champion: Bob Petersen
Res. World Champion: Martha Wilson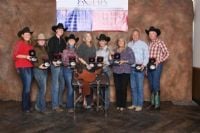 50,000 NON PRO
World Champion: Jana Lowe
Res. World Champion: Christine Perry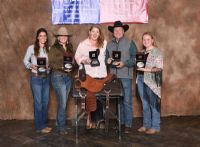 20,000 NON PRO
World Champion: Hannah Venne
Res. World Champion: Billy Light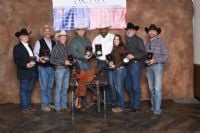 15,000 NOVICE HORSE
World Champion: CD Swinging Jane
Rider:John Dublin
Owner:Deni Grissette
Res. World Champion: Little Metal Cat
Rider:Alvin Turner
Owner:3p Cattle Co.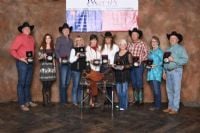 15,000 NOVICE HORSE NON PRO
World Champion: Diane Petersen
Res. World Champion: Susan Rollins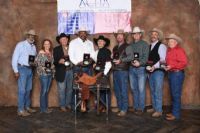 3,000 NOVICE HORSE
World Champion: Quejanaswinninstreak
Rider: Alvin Turner
Owner: Gully Enterprises
Res. World Champion: Rum N Oak
Rider: Tony Seamons
Owner: Tharon Anderson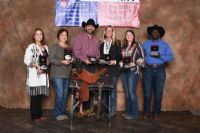 2,500 NOVICE RIDER
World Champion: Seth Weinberg
Res. World Champion: Bobbi Wallace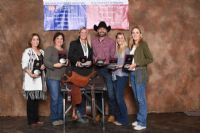 1,000 NOVICE RIDER
World Champion: Bobbi Wallace
Res. World Champion: Seth Weinberg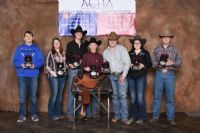 SENIOR YOUTH
World Champion: J.T. West
Res. World Champion: Dually Husband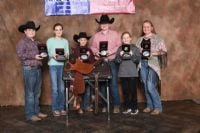 JUNIOR YOUTH
World Champion: Dakota West
Res. World Champion: Toby Combs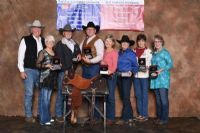 SENIOR NON PRO
World Champion: Ray Richardson
Res. World Champion: Ron Jones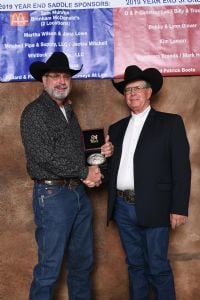 OPEN DERBY
World Champion: Two Time Shorty
Rider:John Kirby
Owner: Seth Wooten
Res. World Champion: Annie Gotta Pistol
Rider: Cletus Hulling
Owner: Laura Wilson NON PRO DERBY
World Champion: Meagan Johnsrud
Res. Champion: Traci Shehady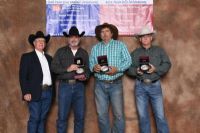 OPEN CLASSIC
World Champion: Pawzitively Smart
Rider: Cletus Hulling
Owner: Troy Buchanan
Res. World Champion: TR Shes A Cat
Rider: Cletus Hulling
Owner: Andre Kliebert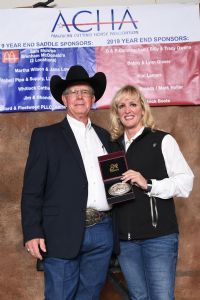 NON PRO CLASSIC
World Champion: Elizabeth Riley
Res. World Champion: Kelsey Conn
---
CONGRATULATIONS TO OUR 2019 AWARD WINNERS:
Visit our
photo galleries
to view our champions!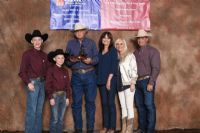 Member Hall of Fame
Jim & Rhonda Ross (center)
along with grandsons JT & Dakota West
& daughter Tayvn & husband Josh West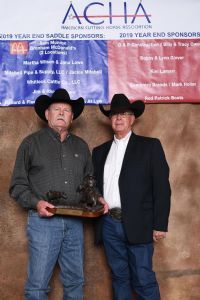 OPEN RIDER HALL OF FAME
Mike Mowery
presented by ACHA President Mike Combs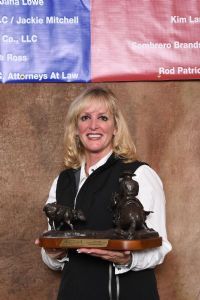 Non Pro Rider Hall of Fame
Elizabeth Riley and Kelsey Conn (not pictured)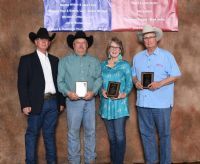 Non Pro Silver Hall of Fame Billy Owens
Non Pro Gold Hall of Fame Jennifer Bowers,
D'Ann Randolph(not pictured)
& Derk Harmsen(not pictured)
Non Pro Roll of Honor James Kier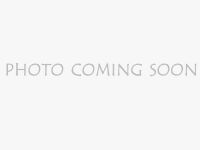 Ben Todd Award
Butch Lott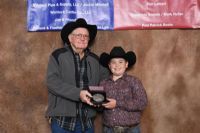 MOST IMPROVED YOUTH
Morgan Thornton
presented by Bobby Glover
Lynn & Bobby Glover/Sponsors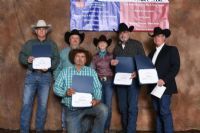 TOP HANDS
John Dublin, Sponsors Billy & Tracy Owens
Cletus Hulling, Mike Combs
& Billy Bob Moore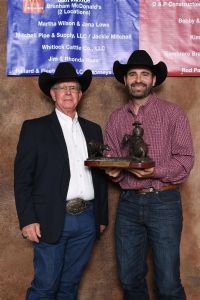 ROOKIE OF THE YEAR
Seth Weinberg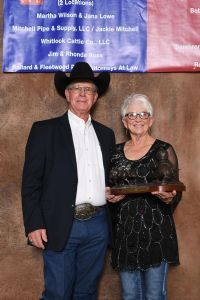 HIGH POINT NON PRO RIDER
MARTHA WILSON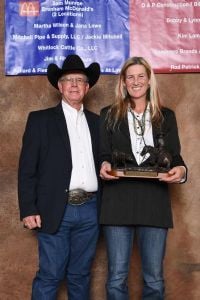 HIGH POINT HORSE
High Cat Merada RG
owner-Bobbi Wallace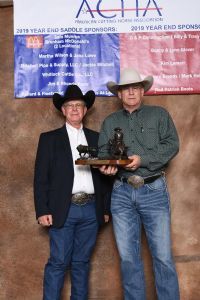 HIGH POINT OPEN RIDER
JOHN L. DUBLIN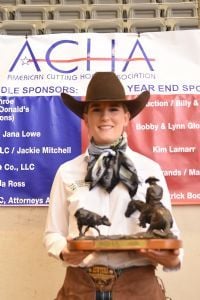 AFFILIATE SHOOT OUT CHAMPION
Lilian Macrae representing
Australian Cutting Horse Group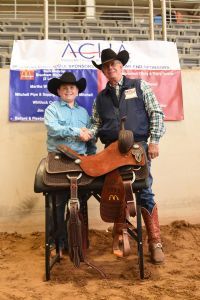 MCDONALD'S SHOOT OUT CHAMPION
Jr. Youth
Morgan Thornton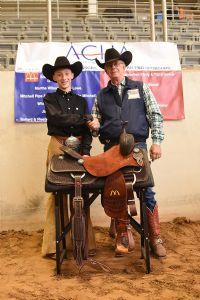 MCDONALD'S SHOOT OUT CHAMPION
Sr. Youth
J.T. West
---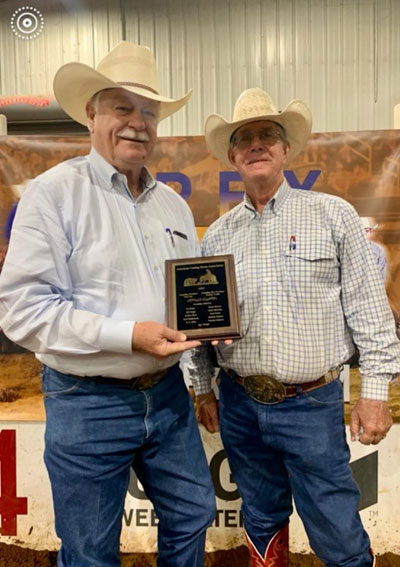 Keeping it in the family! Ron Wright, one of the Founding Directors of the American Cutting Horse Association, is presented with a commemorative plaque listing the 1985 ACHA Founding Board of Directors by current ACHA President, Mike Combs. Mike's father, George Combs, was also a founding director. Ron Wright's son, Phil Wright, has ridden with Mike Combs since he was in the Youth!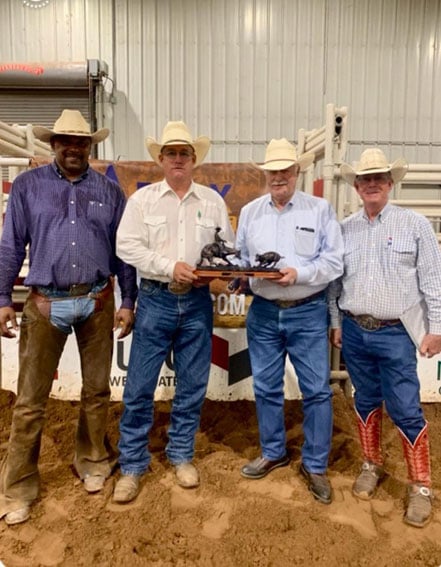 Ron Wright, ACHA Founding Director, presents the Founders Open Trophy to John L. Dublin. John won the $1000 Added Founders Open class at the American West Texas CHA Labor Day Bash in Sweetwater, TX. Pictured left to right: Alvin Turner - AWTCHA President, John L. Dublin, Ron Wright, Mike Combs - ACHA President.
---
Communication Methods:
Would you like to receive emails from ACHA?
Send your name to us at achacutting@yahoo.com to be added to our email list.
Would you like to receive reminders via text from ACHA?
Simply text "@carysi" to the number "81010". You will automatically be added to the ACHA group and be able to receive text messages from time to time. You can opt out from receiving these messages at any time.
"Like" our Facebook page and the pages of our affiliates to get up to date information or send messages via Facebook.
---
In continuance of the American West, and the ranching lifestyle, the American Cutting Horse Association strives to promote cutting horses as a competition sport. The goal of the ACHA is to promote the breeding, training and sport of these great horses in a competitive setting.
By the establishment of rules of conduct for cutting horse contests and the keeping of complete and accurate records of these contests, the ACHA seeks to promote and regulate the showing of cutting horses.
There is a place in the ACHA for contestants and their horses at any level and any goal. ACHA membership consists of people of diverse backgrounds and talents and encourages individuals, families and companies to become involved in the sport of cutting
---

Upcoming Events
---
April 11 & 12, 2020
CANCELLED
Am Southwest Texas CHA – Belton, TX
---
April 25 & 26, 2020
CANCELLED
Am South Texas CHA – Brenham, TX
---
May 15 - 17, 2020
ACHA Weekend – Brenham, TX
---
May 23 & 24, 2020
Am Southwest TX CHA – Belton, TX
---
LATEST NEWS

RULE CHANGE:
Please read the important rule changes for 2020
Click here to view!
---
Thank You Sponsors
2020 SADDLE SPONSORS:
Sam Munroe / McDonald's (2 locations)
Martha Wilson & Jana Lowe
Bassel Ranch
Bowers Veterinary Clinic
Mitchell Pipe & Supply, LLC /Jackie Mitchell
Lee & Judy Barron
American Southwest Texas CHA
Wunsch Family/MA Partners
Tracy Owens/Chris Woods/Gretchen Hawksworth/
Billy & Nora Light
Ron Jones
Universal Contracting
Bob & Diane Petersen
2020 Buckle Sponsors:
Cynthia Hendrickson
Bobby Glover
WC Tractor
Doggett Heavy Machinery
2020 Sponsors:
O & P Construction / Billy & Tracy Owens
Chris Woods
APHA
Sombrero Brands / Mark Hollar
Bell County Expo Center
Tom Bever
Jamie & Terri Rounsaville
Tommy Neal