Welcome
COVID 19 PROTOCOL UPDATE
ACHA Shows - May 2020
Brenham, Texas - May 19, 2020 - The ACHA Board of Directors has agreed to reconvene the 2020 show schedule in accordance with Governor Abbott's executive order GA-23. The American Southwest Texas Cutting Horse Association show at Nueces Canyon on May 23-24, 2020 will count as an ACHA approved contest in all respects, including points and monies counting for the 2020 ACHA calendar year.
Health and Safety Protocols will be in place as per Governor Abbott's release of rodeo and equestrian events as of May 22, 2020. We encourage everyone to practice social distancing and health and safety measures to make this a safe event for all participants and look forward to a successful show!
If you would like more information about this topic, please contact Mike Combs - President at 979.836.3370 or email at achacutting@yahoo.com.
---
Member Spotlight
ACHA CONGRATULATES: Mike Combs

"We have to take care of our membership." When American Cutting Horse Association (ACHA) President Mike Combs made that statement a few weeks ago, he was referring to creating the best possible circumstances for ACHA cutters. Who would have ever guessed that taking care of the membership would mean having to cancel cuttings? Nobody could have predicted the impact of the Covid-19 pandemic.
What is predictable, though, is that Mike Combs will continue to do what he can for the membership of the ACHA. After all, serving ACHA members is a family tradition in a variety of ways, and it has been through generations. Mike's father George Combs was one of the original organizers of the ACHA. Mike remembers "sitting on the sidelines" in the meeting when his father and the other originators were first creating the ACHA as a place for the "working man" to show a cutting horse without having to spend too much money. Mike believes the strengths of the ACHA today are that it still gives beginners a good place to start cutting, and it is a completely family-oriented organization.
To say the entire Combs family is immersed in cutting is an understatement. "First of all, I want to thank my wife and family for the support they gave me over all the years of training and showing. It takes me away from home a lot to haul down the road." Extending the family tradition, Mike's son Ryan also served as ACHA President a few years ago. Mike adds that through cutting he has gained a lot of life-long friends, and "they are an extended family."
His connection with horses began at a young age for Mike. He started training rope horses at age fourteen. At fifteen years old, he trained his first cutter. "I was hooked," he said. He has been showing in both the ACHA and National Cutting Horse Association (NCHA) ever since.
In spite of many years riding winning cutting horses, Mike claims 2018 was his most memorable year in cutting. Not only did he win the $15,000 Novice Horse World Championship on A Dog Bit My Bodee, but he says he had his best hauling partner ever with his grandson Toby. Having Toby haul with him and wind up winning the Junior Youth World Championship was obviously a huge pleasure for grandpa. Mike also says A Dog Bit My Bodee, owned by Gretchen Hawksworth, was a pleasure to haul and show.
"I want to thank all the helpers and friends for helping me win the $15,000 Novice World Championship," Mike said. "It takes five people to win a cutting. Without good help and support, it is hard to win."
Among his earlier accomplishments, Mike rode the ACHA Open Champion gelding Freckles Booger in 1985 and ACHA World Champion Open Stallion Docs Poco Sugar in 1987. At NCHA cuttings, Mike was a semifinalist in the first NCHA Super Stakes on Shes A Tari. He was Co-Champion in the Abilene futurity and a finalist at the Sun Belt aged event and the Memphis futurity in 1989. In 1990, he was a finalist in the NCHA Derby on Docs Sugar Cee.
"I have been a lucky guy to have good customers who let me take them and their horses down the road," Mike stated.
Not only has Mike had a lot of experience in showing cutting horses but also in judging them. He has judged every major NCHA aged event: Futurity, Super Stakes, and Derby/ Classic, plus many cuttings all over the US and Canada. He worked for the NCHA for four years as a judges' monitor. Yet even with his experience working with many judges through the years, he says one of his greatest challenges as ACHA President has been trying to hire good judges for the cuttings.
Mike's other big challenge has been obtaining sponsorships, but progress is being made. He says that, at least before the Covid-19 virus struck, the ACHA was "way ahead of where we were last year" financially. The saddles are all covered and getting the buckles all covered is the next objective.
Another aim is generating more affiliates, more members, and more money for both. An incentive has been put into place to support new affiliates, and Mike would like to triple the added money at the Championship Show without raising the entry fees. This year's ACHA Championship Show is scheduled for October 13 – 20 in Belton, Texas. Hopefully, the date change and a possibility for more added money will increase participation.
Mike says his greatest reward as ACHA President has been getting to meet new people. To help the association grow, he would like more input from the membership on how to start more affiliates and how to improve shows. The recent member survey generated a lot of positives, so another survey is planned. To improve communication, Mike always encourages questions. "No question is stupid. I am going to answer every question the best I can."
With a father who was ACHA President and a son who was ACHA President, it was only natural to ask if the current ACHA President has thought about his grandson Toby eventually becoming a fourth-generation Combs to serve in that capacity. Mike admits that it has crossed him mind. For now, though, he is also excited that his granddaughter Brynn plans to start showing next year. Who knows? Maybe someday Brynn Combs will be the first woman president of the ACHA.
No doubt the Combs family has been and will continue to be deeply involved with the ACHA. Mike says, "I have and will always support the ACHA." As the current association President, he says his main goal for the ACHA is to "make it bigger and better."
As for Mike's personal goal, he plans to continue showing cutting horses until he is eighty-five years old, even if his grandkids have to help him get on his horse.
By: Raena Wharton
---
---
CONGRATULATIONS TO OUR YEAR END CHAMPIONS:
Visit our
photo galleries
to view larger images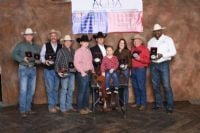 Open
World Champion: Pepto Katz
Rider:Mike Combs
Owner: Philip Wright
Res. World Champion: Zr One
rider:Paige Kincaide
owner:Keith Mesker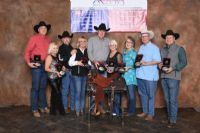 NON PRO
World Champion: Bob Petersen
Res. World Champion: Martha Wilson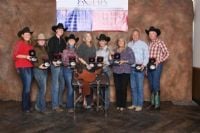 50,000 NON PRO
World Champion: Jana Lowe
Res. World Champion: Christine Perry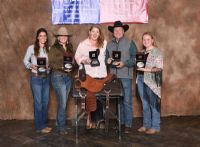 20,000 NON PRO
World Champion: Hannah Venne
Res. World Champion: Billy Light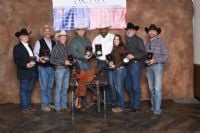 15,000 NOVICE HORSE
World Champion: CD Swinging Jane
Rider:John Dublin
Owner:Deni Grissette
Res. World Champion: Little Metal Cat
Rider:Alvin Turner
Owner:3p Cattle Co.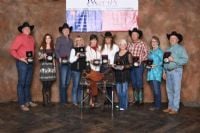 15,000 NOVICE HORSE NON PRO
World Champion: Diane Petersen
Res. World Champion: Susan Rollins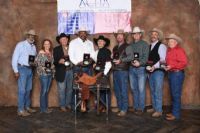 3,000 NOVICE HORSE
World Champion: Quejanaswinninstreak
Rider: Alvin Turner
Owner: Gully Enterprises
Res. World Champion: Rum N Oak
Rider: Tony Seamons
Owner: Tharon Anderson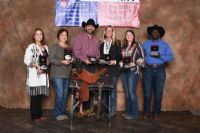 2,500 NOVICE RIDER
World Champion: Seth Weinberg
Res. World Champion: Bobbi Wallace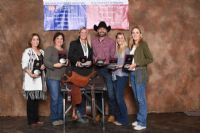 1,000 NOVICE RIDER
World Champion: Bobbi Wallace
Res. World Champion: Seth Weinberg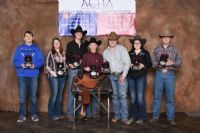 SENIOR YOUTH
World Champion: J.T. West
Res. World Champion: Dually Husband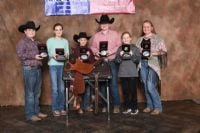 JUNIOR YOUTH
World Champion: Dakota West
Res. World Champion: Toby Combs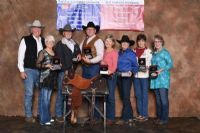 SENIOR NON PRO
World Champion: Ray Richardson
Res. World Champion: Ron Jones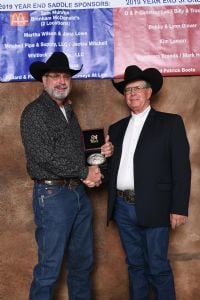 OPEN DERBY
World Champion: Two Time Shorty
Rider:John Kirby
Owner: Seth Wooten
Res. World Champion: Annie Gotta Pistol
Rider: Cletus Hulling
Owner: Laura Wilson NON PRO DERBY
World Champion: Meagan Johnsrud
Res. Champion: Traci Shehady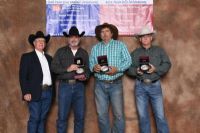 OPEN CLASSIC
World Champion: Pawzitively Smart
Rider: Cletus Hulling
Owner: Troy Buchanan
Res. World Champion: TR Shes A Cat
Rider: Cletus Hulling
Owner: Andre Kliebert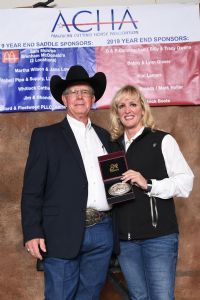 NON PRO CLASSIC
World Champion: Elizabeth Riley
Res. World Champion: Kelsey Conn
---
CONGRATULATIONS TO OUR 2019 AWARD WINNERS:
Visit our
photo galleries
to view our champions!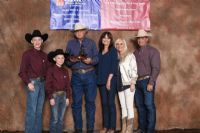 Member Hall of Fame
Jim & Rhonda Ross (center)
along with grandsons JT & Dakota West
& daughter Tayvn & husband Josh West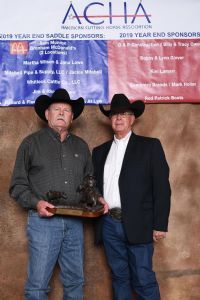 OPEN RIDER HALL OF FAME
Mike Mowery
presented by ACHA President Mike Combs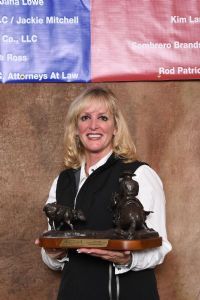 Non Pro Rider Hall of Fame
Elizabeth Riley and Kelsey Conn (not pictured)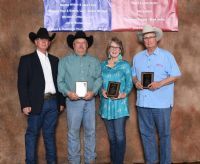 Non Pro Silver Hall of Fame Billy Owens
Non Pro Gold Hall of Fame Jennifer Bowers,
D'Ann Randolph(not pictured)
& Derk Harmsen(not pictured)
Non Pro Roll of Honor James Kier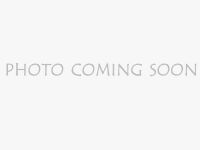 Ben Todd Award
Butch Lott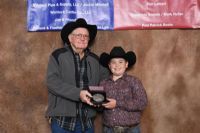 MOST IMPROVED YOUTH
Morgan Thornton
presented by Bobby Glover
Lynn & Bobby Glover/Sponsors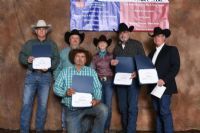 TOP HANDS
John Dublin, Sponsors Billy & Tracy Owens
Cletus Hulling, Mike Combs
& Billy Bob Moore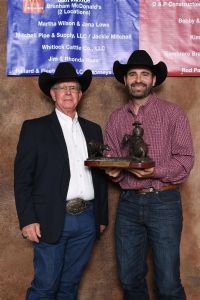 ROOKIE OF THE YEAR
Seth Weinberg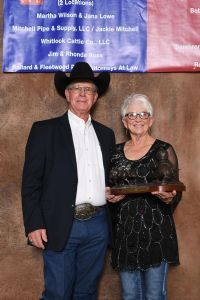 HIGH POINT NON PRO RIDER
MARTHA WILSON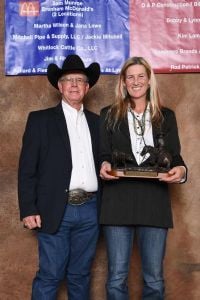 HIGH POINT HORSE
High Cat Merada RG
owner-Bobbi Wallace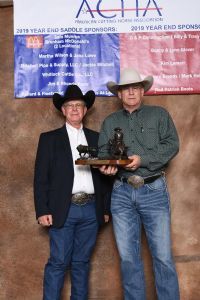 HIGH POINT OPEN RIDER
JOHN L. DUBLIN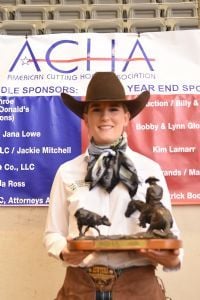 AFFILIATE SHOOT OUT CHAMPION
Lilian Macrae representing
Australian Cutting Horse Group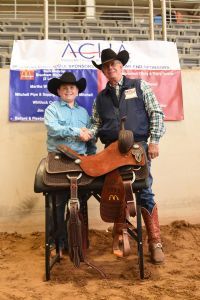 MCDONALD'S SHOOT OUT CHAMPION
Jr. Youth
Morgan Thornton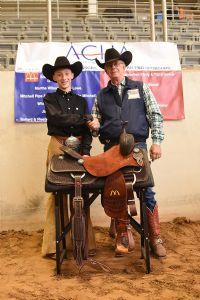 MCDONALD'S SHOOT OUT CHAMPION
Sr. Youth
J.T. West
---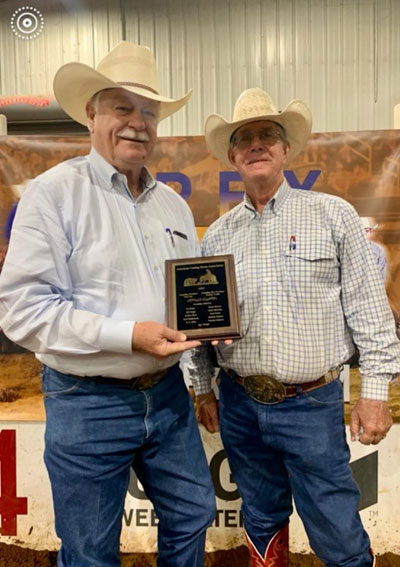 Keeping it in the family! Ron Wright, one of the Founding Directors of the American Cutting Horse Association, is presented with a commemorative plaque listing the 1985 ACHA Founding Board of Directors by current ACHA President, Mike Combs. Mike's father, George Combs, was also a founding director. Ron Wright's son, Phil Wright, has ridden with Mike Combs since he was in the Youth!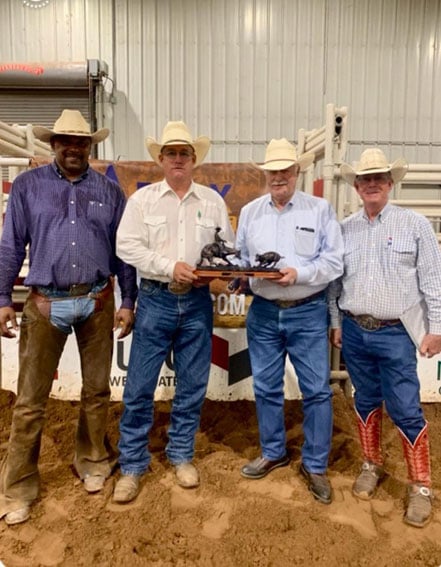 Ron Wright, ACHA Founding Director, presents the Founders Open Trophy to John L. Dublin. John won the $1000 Added Founders Open class at the American West Texas CHA Labor Day Bash in Sweetwater, TX. Pictured left to right: Alvin Turner - AWTCHA President, John L. Dublin, Ron Wright, Mike Combs - ACHA President.
---
Communication Methods:
Would you like to receive emails from ACHA?
Send your name to us at achacutting@yahoo.com to be added to our email list.
Would you like to receive reminders via text from ACHA?
Simply text "@carysi" to the number "81010". You will automatically be added to the ACHA group and be able to receive text messages from time to time. You can opt out from receiving these messages at any time.
"Like" our Facebook page and the pages of our affiliates to get up to date information or send messages via Facebook.
---
In continuance of the American West, and the ranching lifestyle, the American Cutting Horse Association strives to promote cutting horses as a competition sport. The goal of the ACHA is to promote the breeding, training and sport of these great horses in a competitive setting.
By the establishment of rules of conduct for cutting horse contests and the keeping of complete and accurate records of these contests, the ACHA seeks to promote and regulate the showing of cutting horses.
There is a place in the ACHA for contestants and their horses at any level and any goal. ACHA membership consists of people of diverse backgrounds and talents and encourages individuals, families and companies to become involved in the sport of cutting
---

Upcoming Events
---
July 11 & 12, 2020
Am South Texas CHA – Brenham, TX
---
August 15, 2020
Am South Texas CHA – Brenham, TX
---
August 22 & 23, 2020
Am Southwest Texas CHA - Belton
---
LATEST NEWS

RULE CHANGE:
Please read the important rule changes for 2020
Click here to view!
---
Thank You Sponsors
2020 SADDLE SPONSORS:
Sam Munroe / McDonald's (2 locations)
Martha Wilson & Jana Lowe
Bassel Ranch
Bowers Veterinary Clinic
Mitchell Pipe & Supply, LLC /Jackie Mitchell
Lee & Judy Barron
American Southwest Texas CHA
Wunsch Family/MA Partners
Tracy Owens/Chris Woods/Gretchen Hawksworth/
Billy & Nora Light
Ron Jones
Universal Contracting
Bob & Diane Petersen
2020 Buckle Sponsors:
Cynthia Hendrickson
Bobby Glover
WC Tractor
Doggett Heavy Machinery
2020 Sponsors:
O & P Construction / Billy & Tracy Owens
Chris Woods
APHA
Sombrero Brands / Mark Hollar
Bell County Expo Center
Tom Bever
Jamie & Terri Rounsaville
Tommy Neal