Welcome to the ACHA
---
Member Spotlight
ACHA CONGRATULATES: Billy Bob Moore
2019 Top Hand Award, 2018 Open Derby World Champion, 2018 Open Rider Hall of Fame

Anyone who attended an American Cutting Horse Association (ACHA) cutting in the last few years probably noticed a big man in the corner holding herd. That man is Billy Bob Moore, and he is practically an icon at ACHA cuttings. In 2018 Billy Bob was inducted into the Open Rider Hall of Fame, and he was recently named as a 2019 ACHA Top Hand recipient. Just about everyone who cuts with the ACHA knows who Billy Bob is, but because he is a man of few words outside the arena, not many people really know much about the man behind the familiar face.
Billy Bob is quietly successful. He rode Chiquita Reysmooth, owned by Lee Barron, to become the Open Derby Champion for 2018. This champion mare is by Ima Smooth Blue Cat by Smooth As A Cat and out of a mare by Dual Rey that was out of Chiquita Pistol's mother. Billy Bob got Chiquita Reysmooth to train in July of her two-year-old year, and in a little over two years, he had made an ACHA Open Derby Champion out of her.
Because the Open Derby class is for four-year-old horses only, it basically requires taking a young horse with little competition experience and turning it into a show horse very quickly. According to Billy Bob, showing a four-year-old means you need to have a winning mentality while still being forgiving of the horse when it makes a mistake. Just like people, all horses make mistakes, and they are not all cut out to be winners.
Billy Bob believes, "They either do or don't have what it takes to be a show horse." He says many horses can be exceptional at home, but a true show horse has to do at least some of it on his own. He says a ranch horse learns to do whatever it takes to block a cow, but most ranch horses do not transition well into show horses.
Moore says that if you have a good show horse, you should take advantage of the opportunity. "Realize what you have." He suggests that you "be smart about who should show the horse. Every once in a while, a horse will really fit a trainer or an owner, but rarely both."
Billy Bob's knowledge has been gained through many hours competing in the show pen as well as working on ranches. Well-known trainer and cutting judge John Carter gave Billy Bob his first horse when Billy Bob was nine or ten years old. That first horse was a black-and-white pinto named Id Rather Walk. Billy Bob started showing just a few years later in Conroe, Texas, "in about 1972." One of his first notable cutting horses was a gelding named Tiger Clay by Grey Badger II and out of a Blue Rock bred mare. Moore remembers cutting and winning with Tiger Clay in the early '80s.
Today he lives just a few miles from where he was born and raised southwest of Buffalo. He father and grandfather ran a large ranch for a Houston business man until the man decided to sell it. Billy Bob bought the house, pens, and round pen to stay close to his boyhood home. He has been married to the same Sioux woman for 32 years, and they have a daughter and two grandsons. Even though he says his wife has little in common with him because she is not involved with horses, he can "count on one hand" the number of arguments they have had as a married couple.
Billy Bob says everything he does wrong he taught himself, but he credits Ronnie Rice for teaching him 98% of what he does right, specifically how to sort and read cattle. Moore believes reading a cow is the biggest factor in making a good showman. He thinks many people rush into showing instead of learning the basics first. In the show pen, he likes cattle with a little Brahman blood to help them hook up with a horse; however, his suggestion for beginners is to use some old, gentle cattle to learn to sort and drive cattle before showing. He points out that it is harder to hold a cow and calf pair in a big pen or pasture than to hold one cow in an arena.
Billy Bob has a long history with a variety of cattle and horses. He rode bulls during his younger years, including riding several times at the Cheyenne Frontier Days rodeo. Highlights from his cutting memories include winning two classes at a Sam Houston Cutting Horse Breeders Association cutting. Although he shows at some NCHA events, he shows more often in the ACHA and thinks it has a "good atmosphere of people." He considers most ACHA cutters as friendly, middle-class working people. Moore says, "Cutting is great if you get in with the right people."
Billy Bob thinks the worse mistake beginners make is to put too much pressure on themselves. He says, "It is not always your fault when things do not go well. The horse and cow have something to do with it." He wants to remind people that they each have to learn how to show their own horse. "It doesn't matter how much money that horse has won or how someone else did with it. I can put on Michael Jordon's tennis shoes, but that does not mean I can play basketball like Michael Jordon."
Billy Bob is proud of the facts that he started riding for the public when he was fourteen years old and that he never worked for another trainer or earned a check riding for someone else. He believes honesty and straightforwardness have been his strengths. His hope for the future is that people will avoid trying to cut each other's throat and just be honest.
By: Raena Wharton
---
CONGRATULATIONS TO OUR YEAR END CHAMPIONS:
Visit our
photo galleries
to view larger images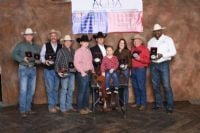 Open
World Champion: Pepto Katz
Rider:Mike Combs
Owner: Philip Wright
Res. World Champion: Zr One
rider:Paige Kincaide
owner:Keith Mesker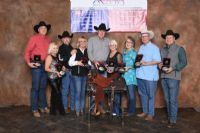 NON PRO
World Champion: Bob Petersen
Res. World Champion: Martha Wilson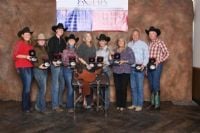 50,000 NON PRO
World Champion: Jana Lowe
Res. World Champion: Christine Perry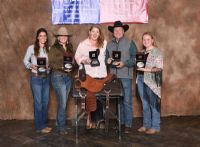 20,000 NON PRO
World Champion: Hannah Venne
Res. World Champion: Billy Light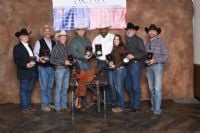 15,000 NOVICE HORSE
World Champion: CD Swinging Jane
Rider:John Dublin
Owner:Deni Grissette
Res. World Champion: Little Metal Cat
Rider:Alvin Turner
Owner:3p Cattle Co.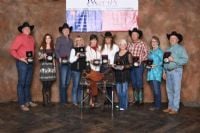 15,000 NOVICE HORSE NON PRO
World Champion: Diane Petersen
Res. World Champion: Susan Rollins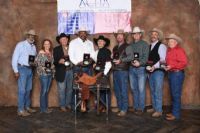 3,000 NOVICE HORSE
World Champion: Quejanaswinninstreak
Rider: Alvin Turner
Owner: Gully Enterprises
Res. World Champion: Rum N Oak
Rider: Tony Seamons
Owner: Tharon Anderson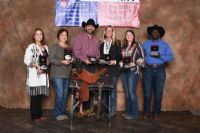 2,500 NOVICE RIDER
World Champion: Seth Weinberg
Res. World Champion: Bobbi Wallace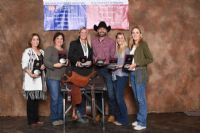 1,000 NOVICE RIDER
World Champion: Bobbi Wallace
Res. World Champion: Seth Weinberg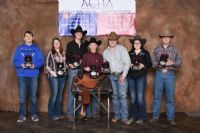 SENIOR YOUTH
World Champion: J.T. West
Res. World Champion: Dually Husband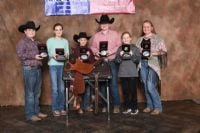 JUNIOR YOUTH
World Champion: Dakota West
Res. World Champion: Toby Combs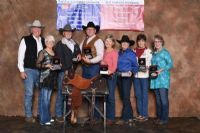 SENIOR NON PRO
World Champion: Ray Richardson
Res. World Champion: Ron Jones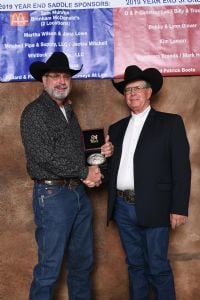 OPEN DERBY
World Champion: Two Time Shorty
Rider:John Kirby
Owner: Seth Wooten
Res. World Champion: Annie Gotta Pistol
Rider: Cletus Hulling
Owner: Laura Wilson NON PRO DERBY
World Champion: Meagan Johnsrud
Res. Champion: Traci Shehady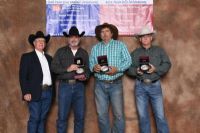 OPEN CLASSIC
World Champion: Pawzitively Smart
Rider: Cletus Hulling
Owner: Troy Buchanan
Res. World Champion: TR Shes A Cat
Rider: Cletus Hulling
Owner: Andre Kliebert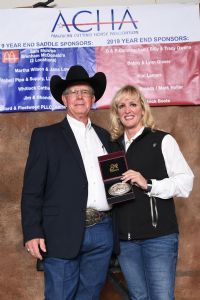 NON PRO CLASSIC
World Champion: Elizabeth Riley
Res. World Champion: Kelsey Conn
---
CONGRATULATIONS TO OUR 2019 AWARD WINNERS:
Visit our
photo galleries
to view our champions!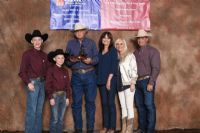 Member Hall of Fame
Jim & Rhonda Ross (center)
along with grandsons JT & Dakota West
& daughter Tayvn & husband Josh West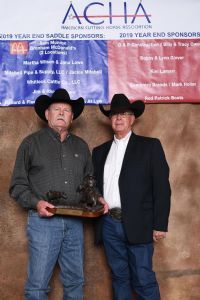 OPEN RIDER HALL OF FAME
Mike Mowery
presented by ACHA President Mike Combs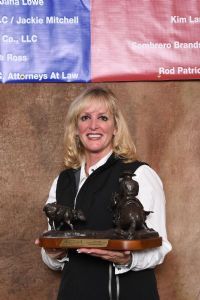 Non Pro Rider Hall of Fame
Elizabeth Riley and Kelsey Conn (not pictured)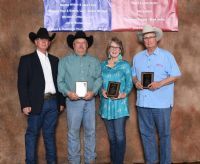 Non Pro Silver Hall of Fame Billy Owens
Non Pro Gold Hall of Fame Jennifer Bowers,
D'Ann Randolph(not pictured)
& Derk Harmsen(not pictured)
Non Pro Roll of Honor James Kier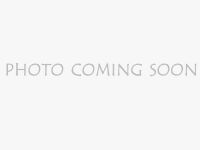 Ben Todd Award
Butch Lott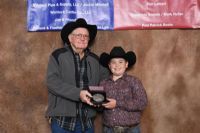 MOST IMPROVED YOUTH
Morgan Thornton
presented by Bobby Glover
Lynn & Bobby Glover/Sponsors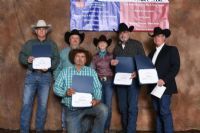 TOP HANDS
John Dublin, Sponsors Billy & Tracy Owens
Cletus Hulling, Mike Combs
& Billy Bob Moore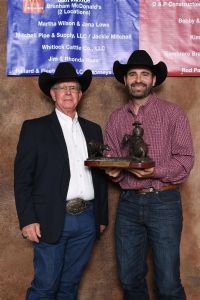 ROOKIE OF THE YEAR
Seth Weinberg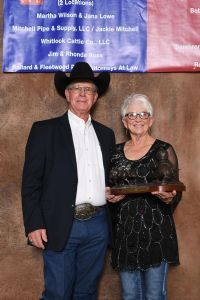 HIGH POINT NON PRO RIDER
MARTHA WILSON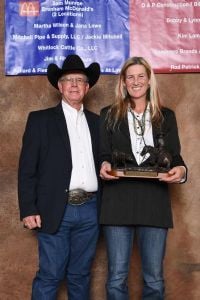 HIGH POINT HORSE
High Cat Merada RG
owner-Bobbi Wallace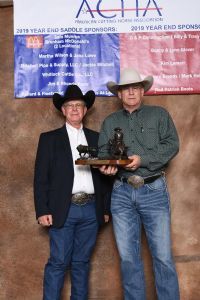 HIGH POINT OPEN RIDER
JOHN L. DUBLIN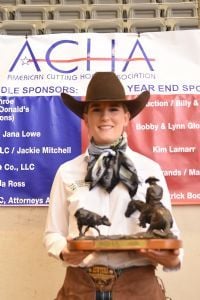 AFFILIATE SHOOT OUT CHAMPION
Lilian Macrae representing
Australian Cutting Horse Group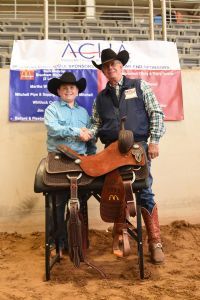 MCDONALD'S SHOOT OUT CHAMPION
Jr. Youth
Morgan Thornton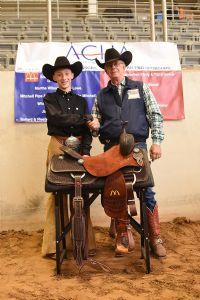 MCDONALD'S SHOOT OUT CHAMPION
Sr. Youth
J.T. West
---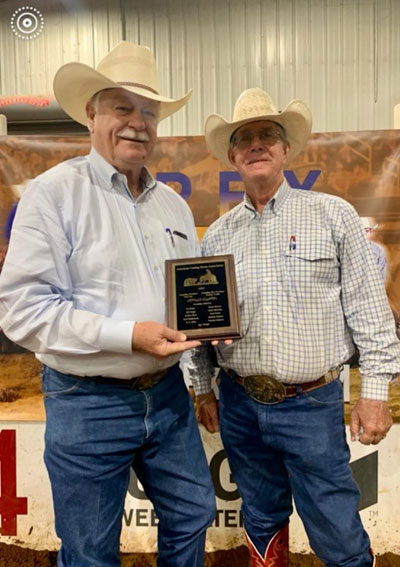 Keeping it in the family! Ron Wright, one of the Founding Directors of the American Cutting Horse Association, is presented with a commemorative plaque listing the 1985 ACHA Founding Board of Directors by current ACHA President, Mike Combs. Mike's father, George Combs, was also a founding director. Ron Wright's son, Phil Wright, has ridden with Mike Combs since he was in the Youth!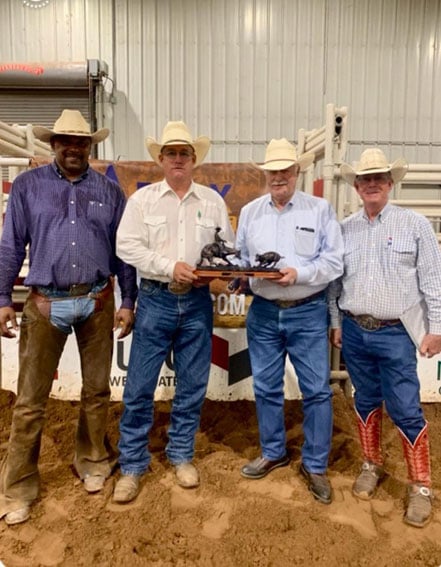 Ron Wright, ACHA Founding Director, presents the Founders Open Trophy to John L. Dublin. John won the $1000 Added Founders Open class at the American West Texas CHA Labor Day Bash in Sweetwater, TX. Pictured left to right: Alvin Turner - AWTCHA President, John L. Dublin, Ron Wright, Mike Combs - ACHA President.
---
Communication Methods:
Would you like to receive emails from ACHA?
Send your name to us at achacutting@yahoo.com to be added to our email list.
Would you like to receive reminders via text from ACHA?
Simply text "@carysi" to the number "81010". You will automatically be added to the ACHA group and be able to receive text messages from time to time. You can opt out from receiving these messages at any time.
"Like" our Facebook page and the pages of our affiliates to get up to date information or send messages via Facebook.
---
In continuance of the American West, and the ranching lifestyle, the American Cutting Horse Association strives to promote cutting horses as a competition sport. The goal of the ACHA is to promote the breeding, training and sport of these great horses in a competitive setting.
By the establishment of rules of conduct for cutting horse contests and the keeping of complete and accurate records of these contests, the ACHA seeks to promote and regulate the showing of cutting horses.
There is a place in the ACHA for contestants and their horses at any level and any goal. ACHA membership consists of people of diverse backgrounds and talents and encourages individuals, families and companies to become involved in the sport of cutting
---

Upcoming Events
---
January 17-19, 2020
ACHA Winter Circuit - Belton, TX
---
February 8 & 9, 2020
Am South Texas CHA – Brenham, TX
---
LATEST NEWS

RULE CHANGE:
Please read the important rule changes for 2020
Click here to view!
---
Thank You Sponsors
2019 YEAR END SADDLE SPONSORS:
Sam Munroe / McDonalds (2 locations Brenham)
Martha Wilson & Jana Lowe
Mitchell Pipe & Supply, LLC / Jackie Mitchell
Whitlock Cattle Co., LLC
Jim & Rhonda Ross
Ballard & Fleetwood PLLC, Attorneys At Law
2019 Year End Sponsors:
O & P Construction / Billy & Tracy Owens
Bobby & Lynn Glover
Kim Lamarr
Sombrero Brands / Mark Hollar
Rod Patrick Boots
2019 ACHA Extravaganza Sponsors:
Lee & Judy Barron
Bowers Vet Clinic / Jennifer Bowers, DVM
Bellville Abstract Co. / Leigh Ann Schultz
Quick Be A Cat / Dorothy Lemecha
Chris Woods
Andra & Kirby Wisian
Whitlock Cattle / John Hightower
Carol & Troy Buchanan
Bell County Expo
2019 ACHA WEEKEND SPONSORS:
Lee & Judy Barron
Bellville Abstract Co. / Leigh Ann Schultz
Whitlock Cattle
Bowers Vet Clinic
Martha Wilson
Jana Lowe
Mitch Farris Cutting Horses
Camille Abbott
Mike Combs Cutting Horses
Robert Fuentes Cutting Horses
Graham Land & Cattle/Ron Jones
Lana Wells
Evergreen Cowboy Church
Cletus Hulling Cutting Horses
Chris Woods
That Guy Brands Strategic Consulting / Steven Kahla