Welcome to the ACHA
ACHA Cutting Clinic
Thursday, May 16 - Reserve your spot now!
Click here for info.
---
Communication Methods:
Would you like to receive emails from ACHA?
Send your name to us at achacutting@yahoo.com to be added to our email list.
Would you like to receive reminders via text from ACHA?
Simply text "@carysi" to the number "81010". You will automatically be added to the ACHA group and be able to receive text messages from time to time. You can opt out from receiving these messages at any time.
"Like" our Facebook page and the pages of our affiliates to get up to date information or send messages via Facebook.
---
Member Spotlight
ACHA CONGRATULATES: JENNIFER BOWERS

Jennifer was born and raised in Houston, but being a true country girl and animal lover at heart, she vowed never to return to city life. She became infected with the horse - addiction disease at a very early age, starting with pony rides, rental horses, and lessons on Saddlebred horses at a nearby stable. She finally convinced her parents to buy her first horse, an older Missouri Foxtrotter that she pretty much lived on during after school hours. "I remember the day that the high school band director issued me an ultimatum: that it was time for me to choose between riding horses or being in the Marching Band. That clarinet got sold!"
While in high school, she worked odd jobs to earn money to buy a green broke 3 year old solid-bred Appaloosa filly (NOT recommended!), tack, and a two horse trailer. After she finally trained that bad-minded App filly herself, she borrowed the family station wagon to haul to open shows all around the Houston area, showing in halter, showmanship, English and Western pleasure, trail, horsemanship, and bareback equitation. She still has boxes of trophies and ribbons in the attic as a reminder that even the impossible is possible. By the way, none of that was a good idea, but she loved doing it!
Also while in high school, she began her dream job of working at a local vet clinic after school and weekends. She had informed her parents at the tender age of 3 that she wanted to be a veterinarian when she grew up, so upon graduation from high school, she headed to Texas A&M. She had always had a particular love of Arabian horses, so she bred her versatile but bad-minded Appaloosa mare to an Egyptian Arabian Stallion, and raised, trained, and showed the resulting Half-Arabian filly while she was in college. She began showing Half-Arabians in English and Western pleasure, park, and native costume. She was named Gulf Coast Arabian Horse Club Queen and went to Albuquerque to compete in the National Queen's contest and was a member of the National Championship judging team. She also had the honor of carrying the American Flag aboard an Arabian stallion named Cass Ole, who later starred in the Disney movie, The Black Stallion.
After graduation from A&M, she moved to Marshall, Texas to practice veterinary medicine, where she became active in competitive trail riding and distance riding. After moving to Bellville, she continued to judge and compete in competitive trail riding until that fateful day in 1996 when she rode her first cutting horse. Uh oh, she was instantly hooked!
1997 was a turn-point year when she married Steve, who romantically bought her first cutting horse and new Roohide saddle for her first birthday after getting married. Gray Jr was a big, handsome 16 year old gray gelding that had been trained by Ronnie Rice, and was the perfect horse to teach her how to cut. Bill Ragland frequently referred to Gray Jr as "the World Champion Beginner Horse." Together Jennifer and "Brocke" won numerous belt buckles, American Championships, ACHA Top Tens, and Houston Livestock Show 10,000 Amateur finalist (3rd place) their first year of showing, taking lessons from trainers Tony Seamons and Richard Sims. Husband Steve, who had not ridden before, became interested in cutting, so Jennifer bought him a surprise Christmas gift - a retired, sweet 13 year old Shorty Lena gelding named Short of Bucks. Buck was needing some conditioning and retraining, so while Tony worked his magic, Steve began riding Gray Jr. Jennifer began showing Short of Bucks, promptly winning Houston Livestock Show 10,000 Amateur Reserve Champion.
Jennifer also had a 1997 filly that she had purchased at the Austin County Fair in training with Tony Seamons. Rebels Jewel Bar quickly became her favorite horse and together they won many Stock Shows, American Championships, buckles, saddles, ACHA and NCHA year-end awards, and AQHA ROM.
2002 was also a special year on APHA mare Silky Velvet Bar, also trained for Jennifer by Tony, when they won the APHA World Champion Amateur Cutting. "Back then, the APHA cutting was big, there were 3 bunches, about 40 entries, with 5 NCHA judges, and it was held in the Will Rogers Coliseum. We were the unanimous first place under all 5 judges, and were lined up for winning all kinds of prizes, which was loads of fun." Jennifer won ACHA Non Pro World Champion titles in 2014 and 2018 aboard Rebels Jewel Bar and another home grown gelding, Heavens Lil Twister, also trained by Tony Seamons. Tony has trained several good horses for Jennifer, and she describes him as having two qualities that she greatly admires. "Tony is as honest as they come, and he has a stellar work ethic. I really appreciate all his hard work and all that he has done for me and my horses."
Jennifer loves being a part of the ACHA family with all the unique personalities and encouraging atmosphere. "I truly appreciate all the exceptional help, the constructive criticism, and tremendous encouragement from all the ACHA trainers." She has served on the ACHA Board of Directors for many years, and still enjoys serving on the Rules Committee.
Jennifer and husband Steve have both been certified SCUBA divers since the early eighties, with thousands of dives logged all over the world. Their idea of the perfect vacation is living on a boat for a week in a remote location with nothing else to do besides "eat, sleep, and dive."
In her professional career as a small animal veterinarian, Jennifer says "I have been blessed by God to be able to do every day what I love most. I love helping people with their pets. As for the future, I just want to keep on doing what I'm doing for as long as I am able to do so. I'm living the good life!"
---
CONGRATULATIONS TO OUR 2018 AWARD WINNERS:
Visit our
photo galleries
to view our champions!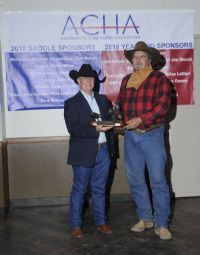 Open Rider Hall of Fame
Billy Bob Moore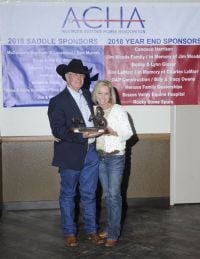 Non Pro Rider Hall of Fame
Bobbie Sue Shore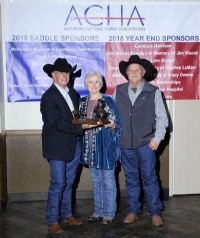 Member Hall of Fame
Lee and Judy Barron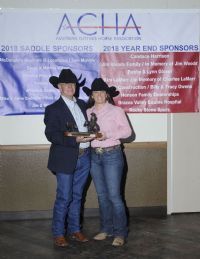 Rookie of The Year
Cassie Behrends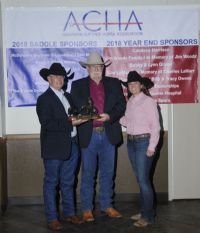 High Point Horse
Bearcat Feathers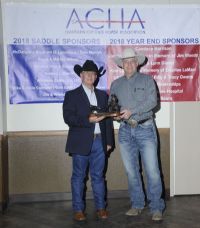 High Point Open Rider
John L. Dublin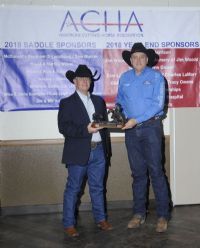 High Point Non Pro Rider
Phil Wright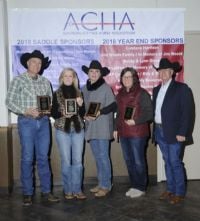 Honor Roll Recipients
Paul Bassel, Tracy Owens, Janice Little,
Paula Williams, & not pictured) Tony Caporina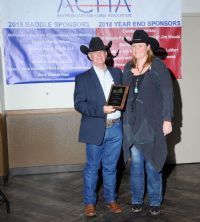 Ben Todd Award
Ranessa Crawford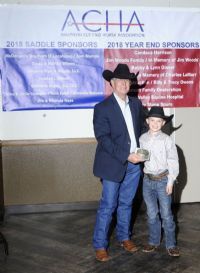 Most Improved Youth
Dakota West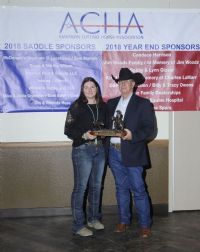 Affiliate Champion
Ashley Knight representing
Australian Cutting Horse Group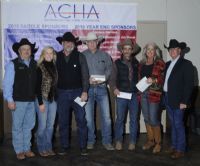 Top Hands
Presented & Sponsored by Billy & Tracy Owens
Cletus Hulling, John Dublin, Mike McCarty & Michelle Mowery
---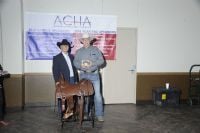 Open
Champion
John L. Dublin / Super Neat Cat / Jim Spaulding
Reserve
John L. Dublin / CD Swinging Jane / Deni Grissette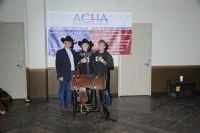 Non Pro
Champion
Jennifer Bowers
Reserve
Tamra Lott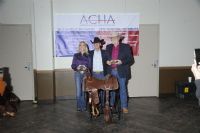 $50,000 Non Pro
Champion
James Prater
Reserve
Candace Harrison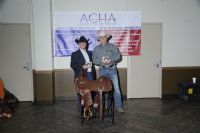 $15,000 Novice Horse
Champion
A Dog Bit My Bodee
Mike Combs / Gretchen Hawksworth
Reserve
Catty Doc Legacy
John L. Dublin / Ranessa Crawford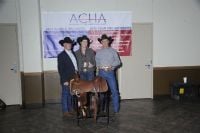 $20,000 Non Pro
Champion
Mary Bauer
Reserve
Monte Locke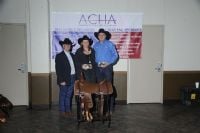 $15,000 NH/NP
Champion
Catty Doc Legacy / Ranessa Crawford
Reserve
Pepto Katz / Phil Wright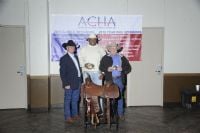 $3,000 Novice Horse
Champion
Wild Mountain Cat
Alvin Turner / Kennady Moffatt
Reserve
DB Spotified
Lonny Morris / Ron Jones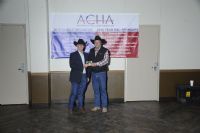 Senior Non Pro
Champion
Bill Kyle (Not Pictured)
Reserve
Paul Vaughan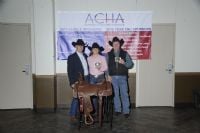 $2500 Novice Rider
Champion
Cassie Behrends
Reserve
Billy Light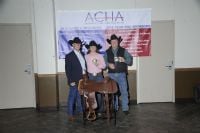 $1,000 Novice Rider
Champion
Cassie Behrends
Reserve
Billy Light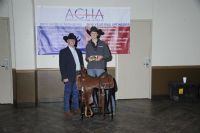 Senior Youth
Champion
Zach Harbers
Reserve
Taylor Mowery (Not Pictured)
Junior Youth
Champion
Toby Combs
Reserve
John C. Dublin (Not Pictured)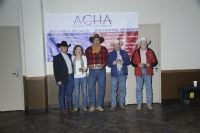 Open Classic
Champion
Sneak A Smoothie
Mandy Schoenst
Reserve
Sweet Lil Billie
Billy Bob Moore / Martha Wilson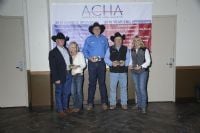 Non Pro Classic
Champion
Prettysmoothpepper
Bobbie Sue Shore
Reserve
Z Z Smart
Phil Wright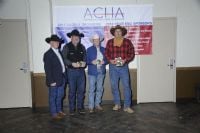 Open Derby
Champion
Chiquita Reysmooth
Billy Bob Moore / Lee Barron
Reserve
JK Ella Rey
Gary Walker / Legal Cut LLC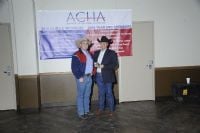 Non Pro Derby
Champion
Frostonthemesa
Mike Randolph
Reserve
Justa Smooth Shooter
Kelsey Conn (Not Pictured)
---
ACHA Championship Show featured on KCEN Live TV!! Check out these clips!
Cutting horse skills at their best this week at the Bell County Expo Center
Cutting horse championship show in Belton
---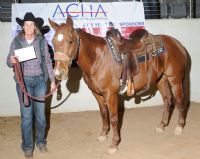 $20,000 Non Pro Champion
Cindy Smith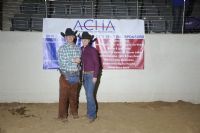 Non Pro Classic Champion
USS Tucker owned & ridden by
Cristy Erickson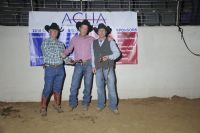 Open Derby
Champion
Cats Play Tuff/Jonathan Rogers/Tiemann & Rogers
Reserve
Hott Wish / Faron Hightower / Dawn Jonas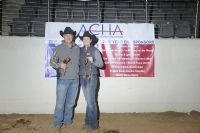 Non Pro Derby
Champion
Anotha Brotha / Megan Johnsrud
Reserve
Cactus Jack 015 / Wade Rust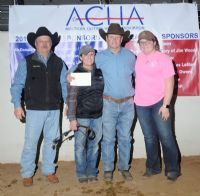 $15,000 Novice Horse
Champion
Smart Georgia Belle
Tom McTaggert / Ray Brazzel
Reserve
Shesa Metallic Lady
Jonathan Bartock / Mallory Tolleson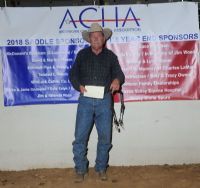 $3,000 Novice Horse
Champion
The Real Slim Shady
Mike Mowery / Ken Rodgers
Reserve
Time With Billie
Mike Mowery / Mike & Michelle Mowery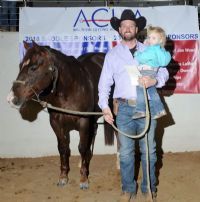 $15,000 NH/NP
Champion
CR Short Smart Cat
Ryan Smith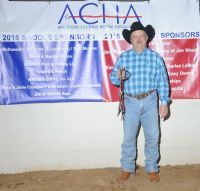 $15,000 NH/NP
Reserve
WHspotonthegoose
Billy Owens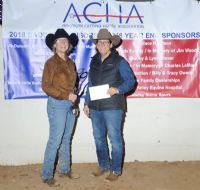 Senior Non Pro
Champion
Paula Williams
Reserve
Jennifer Bowers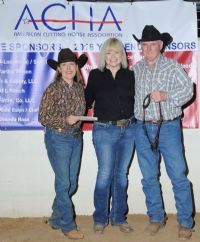 $50,000 Non Pro
Champion Andra Wisian
Reserve John Hightower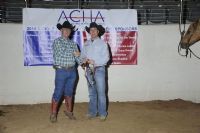 Open Classic
Champion
Close To Metal/Jonathan Rogers/Terry Strange
Reserve
USS Tucker / Jonathan Rogers/Sweet Blessings Ranch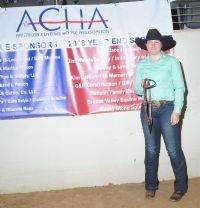 $2,500 Novice Rider Reserve
Ashley Knight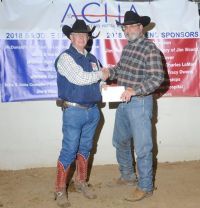 Open Champion
Hot Kitty Cat
Cletus Hulling / John Hightower Reserve
Smooth Talking
Tom McTaggart / Ray Brazzel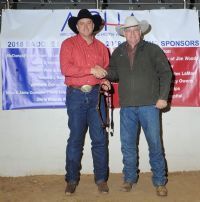 $20,000 Non Pro Reserve
Phil Wright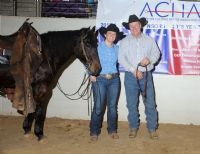 $1,000 Novice Rider
Champion Cassie Behrends
Reserve Billy Light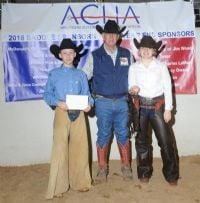 JR Youth
Champion JT West
Reserve Sidney Kahla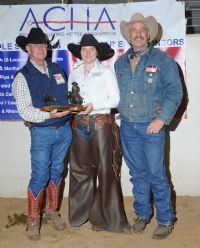 Affiliate Shootout Champion
Ashley Knight
representing Australian Cutting Horse Group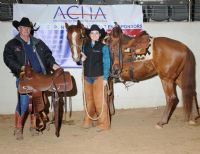 McDonald's SR Youth
Champion Emalee Hoffman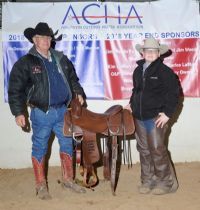 McDonald's JR Youth
Champion Toby Combs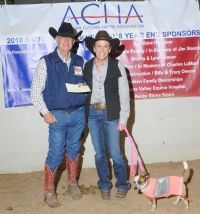 Non Pro Champion
Metalena / Tamra Lott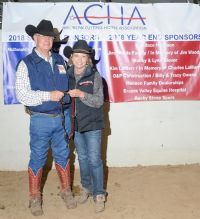 Non Pro Reserve
Billie Brow Cat / Bobbi Sue Shore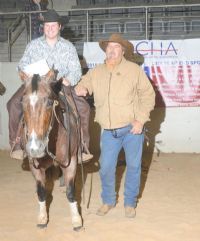 SR Youth Champion
Dually Husband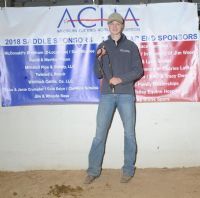 SR Youth Reserve
Zach Harbers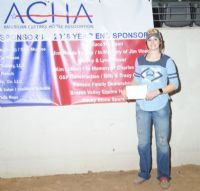 $2,500 Novice Rider Champion
Samantha Smith
---
In continuance of the American West, and the ranching lifestyle, the American Cutting Horse Association strives to promote cutting horses as a competition sport. The goal of the ACHA is to promote the breeding, training and sport of these great horses in a competitive setting.
By the establishment of rules of conduct for cutting horse contests and the keeping of complete and accurate records of these contests, the ACHA seeks to promote and regulate the showing of cutting horses.
There is a place in the ACHA for contestants and their horses at any level and any goal. ACHA membership consists of people of diverse backgrounds and talents and encourages individuals, families and companies to become involved in the sport of cutting
---

Upcoming Events
---
April 27
Dorrigo, NSW, Australia
---
April 27 - 28
South Texas CHA - Brenham, TX
---
May 4
Oklahoma CHA
2 shows in one day
---
May 17 - 19
ACHA Weekend - Brenham, TX

---
LATEST NEWS

RULE CHANGE:
Please read the important rule changes for 2019
Click here to view!
---
Thank You Sponsors
2019 ACHA WEEKEND SPONSORS:
Lee & Judy Barron
Bellville Abstract Co. / Leigh Ann Schultz
Whitlock Cattle
Bowers Vet Clinic
Martha Wilson
Jana Lowe
Mitch Farris Cutting Horses
Camille Abbott
Mike Combs Cutting Horses
Robert Fuentes Cutting Horses
Graham Land & Cattle/Ron Jones
Lana Wells
Evergreen Cowboy Church
Cletus Hulling Cutting Horses
2018 YEAR END SADDLE SPONSORS:
Sam Munroe / McDonalds (2 locations Brenham)
Jim & Rhonda Ross
David & Martha Wilson
Mitchell Pipe & Supply, LLC
Whitlock Cattle Co., LLC
Mike & Janie Crumpler / Cole Eslyn / Clarence Schulze
Twisted L Ranch - Mark & Brenda Lanning
2018 Year End Sponsors:
Henson Family Dealerships
Brazos Valley Equine
O & P Construction / Billy & Tracy Owens
Candace Harrison
Kim LaMarr - In Memory of Charles LaMarr
The Woods Family - In Memory of Jim Woods
Rod Patrick Bootmakers