Welcome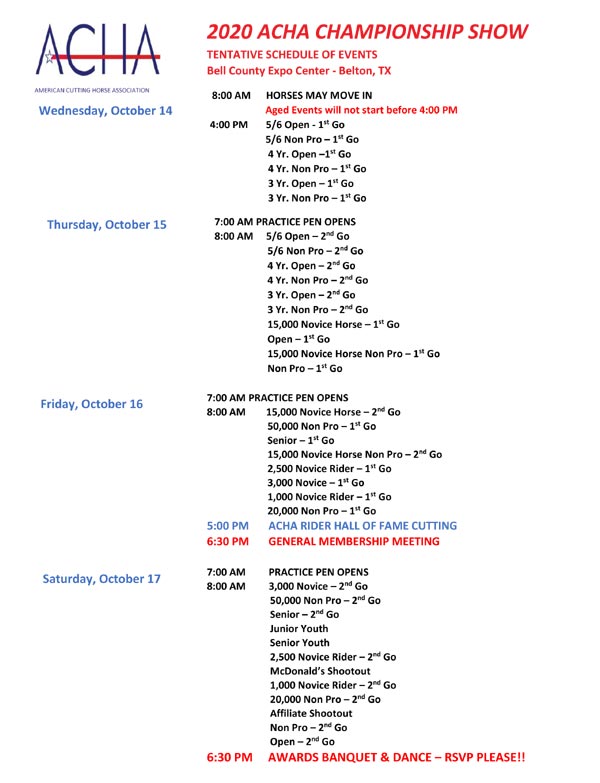 ENTRY FORMS:
Weekend Entry Form
Aged Event Entry Form
---
Member Spotlight
Icons of the ACHA: D'Ann and Ellis Randolph
By Raena Wharton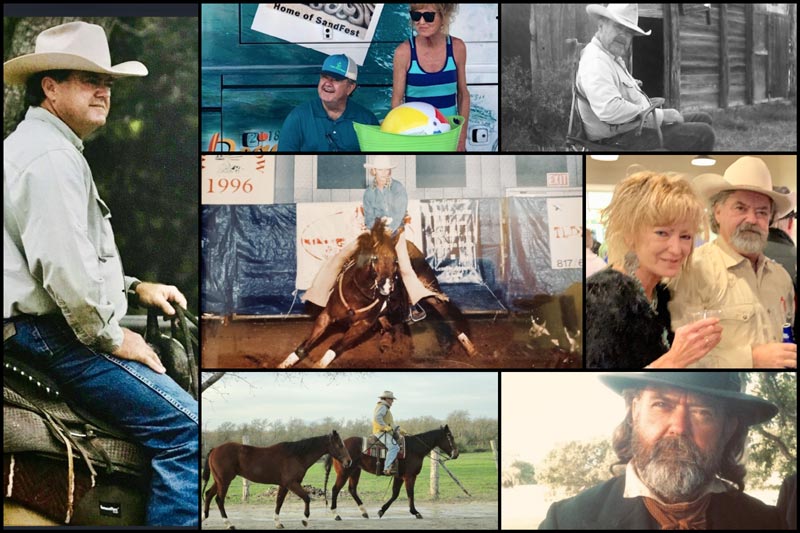 If you have only been cutting with the American Cutting Horse Association (ACHA) for a few years, the names D'Ann and Ellis Randolph may not be familiar to you. However, these two individuals are true icons of the association. D'Ann and Ellis both started cutting in the early years of the ACHA and served in leadership roles with the Board of Directors when the association was growing, with Ellis serving as president more than once and D'Ann focusing on the youth. They were each recognized as Hall of Fame cutters before they married on Christmas Eve, 2004.
It was a tragic loss to family and friends when Ellis suddenly passed away of heart failure on October 18, 2019, in Belton. Fittingly, he was with his beloved dog Bonnie in his tack room, just a few yards from both his horse barn and the home where he grew up. He is greatly missed by many, but Ellis would not want us to think of him with sadness. Those who knew him remember him for his sense of humor, his inviting friendliness, and his natural talent to train horses. He was a man of many layers. He was a talented artist in both oil painting and pencil caricature. While his western paintings were artistically beautiful, his pencil sketches were wickedly accurate depictions of comic scenes and people he knew.
Ellis trained and showed a variety of horses in Open competition the 1980s, 1990s, and on into the twenty-first century. Current ACHA records indicate his earnings to be $200,955. 04. Many of his winning horses were owned by Asa Bigham, including Hercules Scription, Oak N Hollywood, and Millies Senorita. Ellis also showed Red Bar Hickory, for Kay and T.C. Reeder, and Docs Tee Cee, Addies Star Trex, and Oakin Uno, all owned by Connie and B.A. Emmons. When Ellis's father W.E. (Red) Randolph purchased Pretty Senorita, Ellis began showing that mare and helping his dad with her. Throughout this time, Ellis also helped his brother Mike Randolph and sister-in-law Rosemary Randolph with their show horses.
Mike Randolph says cutting just came naturally for his brother. Mike claims that he learned more by watching Ellis than from what he said. In Mike's opinion, "Ellis had a gift from God, but he didn't understand it." Mike thinks Ellis had a difficult time understanding why it was hard for other people because "horses came easy for him."
Ellis served as a mentor for many of his cutting friends. For example, Trent Bell says that Ellis helped him a great deal when he first began cutting. Trent remembers first cutting in the ACHA on a four year old that belonged to Mark Hollar when Ellis took him "under his wing" to help him get started in showing. Many others could say the same.
Rosemary Randolph says Ellis often helped Mike and her and others without seeking or wanting recognition for it. She said, "There were a lot of things that he did for people that nobody ever knew about."
Friends of Ellis were many and varied both in cutting and beyond. He developed a special bond with Terri and Jamie Rounseville through their love of music. Ellis was always willing to help people and make new friends, but what he really loved was making people laugh. Ellis was not afraid to bear the brunt of his own jokes either, like the time at a San Marcos cutting when he rode in the competition with a big feather painted on his cheek to win a bet.
Ellis's favorite way to make people laugh was by leading them on with some wild story. He could tell a lie with such a straight face that it took quite a while -- even for people who knew him -- to realize he was just jerking the reins on them. He was so good at this that just a few years ago he convinced his sister-in-law Gena Brenner Bonner that he and D'Ann were planning a trip to Paris. It was all fiction. More than a few others could attest to a time that they were duped by one of Ellis's tales that were far from reality.
On the other hand, D'Ann comes across as totally sincere. She often served as a super accommodating hostess. During a cutting it was rare when someone would not be staying at the Randolphs' house. In fact, there was often quite a crowd, and D'Ann had a knack for making everyone feel welcome and comfortable in her home. No matter how late people sat around the living room rehashing their cutting runs, D'Ann would be up at dawn to brew coffee and make sure the whole crowd had something for breakfast.
Once she left the house, though, it was all about winning for D'Ann, and she was extremely good at it. No doubt she still could be if she decides to show again. She has won more World Championships than any other Non-Pro and considerably more money than most riders, including the trainers. Current ACHA records indicate D'Ann Randolph's earnings at $237,343.23. She was the first Non Pro to be inducted into the ACHA Hall of Fame in 1998.
In the 1990s and for the next twenty plus years, D'Ann cut on several horses including Made By Freckles, Majestic Wonder Too, Miss Cor Oak, Go Far Freckles, Smart Lil Freckles, Miss Son O Smart, and finally Playing the Palace through 2013. However, it was on her absolutely phenomenal gelding Tooth Acre that D'Ann swept most other competitors out of the cutting pen. From the 1990s until the time Tooth Acre was retired after the World Finals in 2009, he accumulated ACHA earnings of $229,971.46, most of which was won with D'Ann showing him. Tooth Acre also had a NCHA Certificate of Ability and $12,995.77 in NCHA earnings.
D'Ann got Tooth Acre through Corky Sokol when the gelding was only three years old. Corky brought him over for D'Ann to try while Ravis Key, her husband at the time, was out of town. Ravis did not think it was a good idea for her to get a three year old, but it obviously worked out. D'Ann and Tooth Acre made a formidable team.
D'Ann was always a fierce competitor. She credits much of what she knows about horses to her father, who roped and cut. According to ACHA trainer Lonny Morris, though, "she was just a natural at it." Lonny remembers turning back for her when she cut for the very first time at a Quarter Horse show in south Texas. Lonny knew at the time -- and D'Ann realized later --that she was just put into the cutting to "fill the class." With a chuckle Lonny said, "She went down there and beat their butts." D'Ann remembers this incident as well. She said she was twelve years old, and "nobody told me I wasn't supposed to win."
One of D'Ann's secrets to success is what she calls the "fifteen minute rule." This meant she spent fifteen minutes after every run to evaluate what happened, both good and bad. She believes even a good cutting run has things that could have been better, and a bad run has a few bright spots. The point is to analyze what went right while it is fresh on your mind but not dwell on what went wrong for more than fifteen minutes.
She advises cutters to study cattle. "You should know what type of cow will work best for your horse." She also said you need not only to watch for cattle that have been lost before your run but also for cattle that have been "put up hard." In addition, this World Champion believes it is really important to communicate with your help before and during your cutting run. "Everyone needs to work as a team."
D'Ann and Ellis made a great team at whatever they did. Gradually Ellis minimized training horses for the public and began venturing into other jobs. The Randolphs spent some time promoting Port Aransas at fairs and public celebrations and helping Gena and her husband Bucky Bonner with their west-Texas hunting lease.
Ellis also worked for Janice and David Little as a wrangler on several movies, including Abraham Lincoln, Vampire Hunter, where he had some time in front of the camera as evidenced by the photo above in civil-war era wardrobe. David observed that it is always hard working with friends, but he said Ellis made it easy because if you got mad at him, he would just tell a story and you would forget about being mad. David also confirmed that Ellis brought his quirky sense of humor right along to the movie set. For example, when one film producer asked Ellis his name, he replied with "Folks round here just call me Hickey Bill."
Although Ellis is no longer with us, and D'Ann has not shown in several years, their influence on the ACHA is perpetual. A scholarship was established recently by the American Southwest Texas CHA affiliate in Ellis's honor. Fund raising opportunities will be offered at the Belton cuttings, and information for donations is available through the affiliate. This scholarship will continue their influence and guarantee that the Randolph name will never be forgotten by members of the ACHA.
---
---
CONGRATULATIONS TO OUR YEAR END CHAMPIONS:
Visit our
photo galleries
to view larger images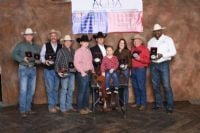 Open
World Champion: Pepto Katz
Rider:Mike Combs
Owner: Philip Wright
Res. World Champion: Zr One
rider:Paige Kincaide
owner:Keith Mesker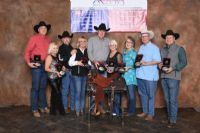 NON PRO
World Champion: Bob Petersen
Res. World Champion: Martha Wilson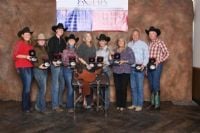 50,000 NON PRO
World Champion: Jana Lowe
Res. World Champion: Christine Perry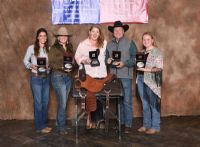 20,000 NON PRO
World Champion: Hannah Venne
Res. World Champion: Billy Light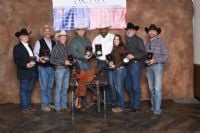 15,000 NOVICE HORSE
World Champion: CD Swinging Jane
Rider:John Dublin
Owner:Deni Grissette
Res. World Champion: Little Metal Cat
Rider:Alvin Turner
Owner:3p Cattle Co.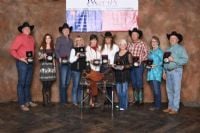 15,000 NOVICE HORSE NON PRO
World Champion: Diane Petersen
Res. World Champion: Susan Rollins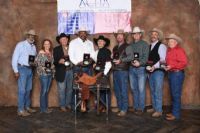 3,000 NOVICE HORSE
World Champion: Quejanaswinninstreak
Rider: Alvin Turner
Owner: Gully Enterprises
Res. World Champion: Rum N Oak
Rider: Tony Seamons
Owner: Tharon Anderson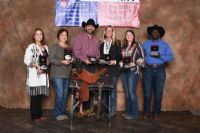 2,500 NOVICE RIDER
World Champion: Seth Weinberg
Res. World Champion: Bobbi Wallace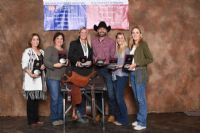 1,000 NOVICE RIDER
World Champion: Bobbi Wallace
Res. World Champion: Seth Weinberg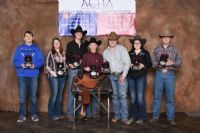 SENIOR YOUTH
World Champion: J.T. West
Res. World Champion: Dually Husband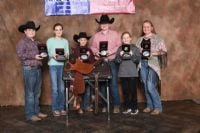 JUNIOR YOUTH
World Champion: Dakota West
Res. World Champion: Toby Combs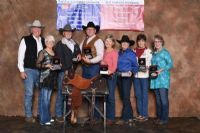 SENIOR NON PRO
World Champion: Ray Richardson
Res. World Champion: Ron Jones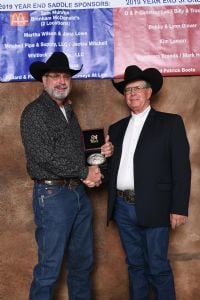 OPEN DERBY
World Champion: Two Time Shorty
Rider:John Kirby
Owner: Seth Wooten
Res. World Champion: Annie Gotta Pistol
Rider: Cletus Hulling
Owner: Laura Wilson NON PRO DERBY
World Champion: Meagan Johnsrud
Res. Champion: Traci Shehady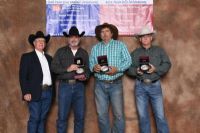 OPEN CLASSIC
World Champion: Pawzitively Smart
Rider: Cletus Hulling
Owner: Troy Buchanan
Res. World Champion: TR Shes A Cat
Rider: Cletus Hulling
Owner: Andre Kliebert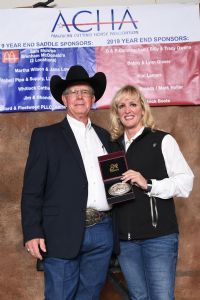 NON PRO CLASSIC
World Champion: Elizabeth Riley
Res. World Champion: Kelsey Conn
---
CONGRATULATIONS TO OUR 2019 AWARD WINNERS:
Visit our
photo galleries
to view our champions!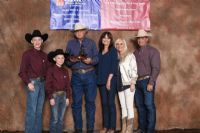 Member Hall of Fame
Jim & Rhonda Ross (center)
along with grandsons JT & Dakota West
& daughter Tayvn & husband Josh West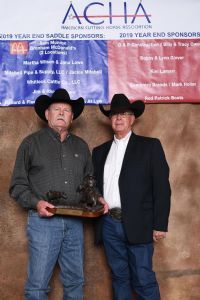 OPEN RIDER HALL OF FAME
Mike Mowery
presented by ACHA President Mike Combs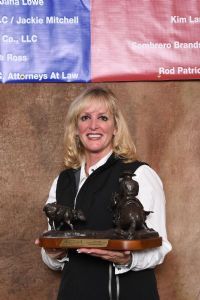 Non Pro Rider Hall of Fame
Elizabeth Riley and Kelsey Conn (not pictured)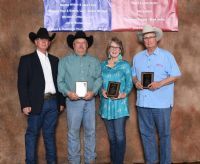 Non Pro Silver Hall of Fame Billy Owens
Non Pro Gold Hall of Fame Jennifer Bowers,
D'Ann Randolph(not pictured)
& Derk Harmsen(not pictured)
Non Pro Roll of Honor James Kier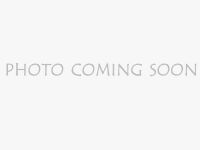 Ben Todd Award
Butch Lott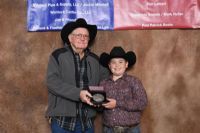 MOST IMPROVED YOUTH
Morgan Thornton
presented by Bobby Glover
Lynn & Bobby Glover/Sponsors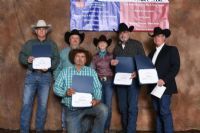 TOP HANDS
John Dublin, Sponsors Billy & Tracy Owens
Cletus Hulling, Mike Combs
& Billy Bob Moore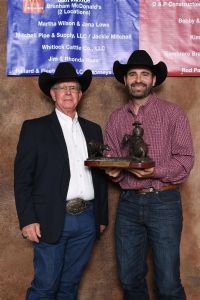 ROOKIE OF THE YEAR
Seth Weinberg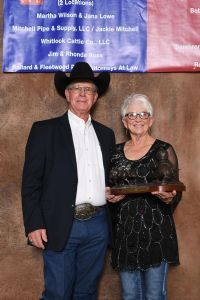 HIGH POINT NON PRO RIDER
MARTHA WILSON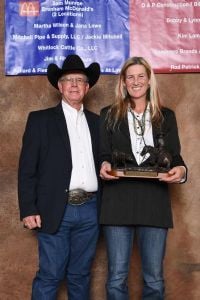 HIGH POINT HORSE
High Cat Merada RG
owner-Bobbi Wallace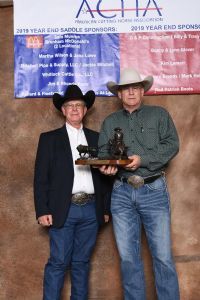 HIGH POINT OPEN RIDER
JOHN L. DUBLIN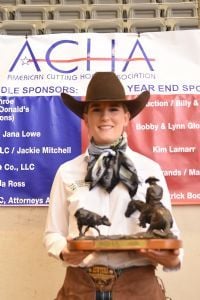 AFFILIATE SHOOT OUT CHAMPION
Lilian Macrae representing
Australian Cutting Horse Group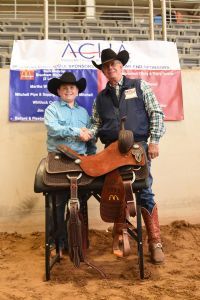 MCDONALD'S SHOOT OUT CHAMPION
Jr. Youth
Morgan Thornton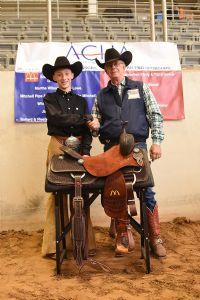 MCDONALD'S SHOOT OUT CHAMPION
Sr. Youth
J.T. West
---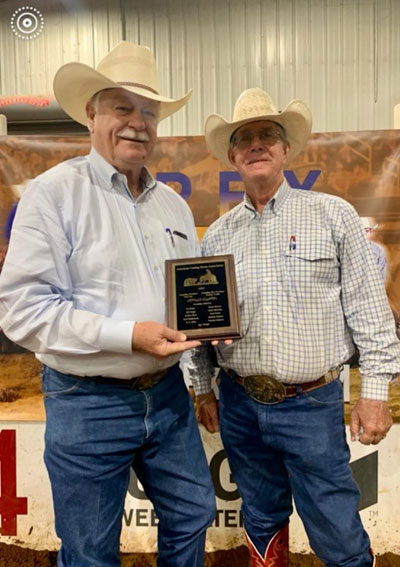 Keeping it in the family! Ron Wright, one of the Founding Directors of the American Cutting Horse Association, is presented with a commemorative plaque listing the 1985 ACHA Founding Board of Directors by current ACHA President, Mike Combs. Mike's father, George Combs, was also a founding director. Ron Wright's son, Phil Wright, has ridden with Mike Combs since he was in the Youth!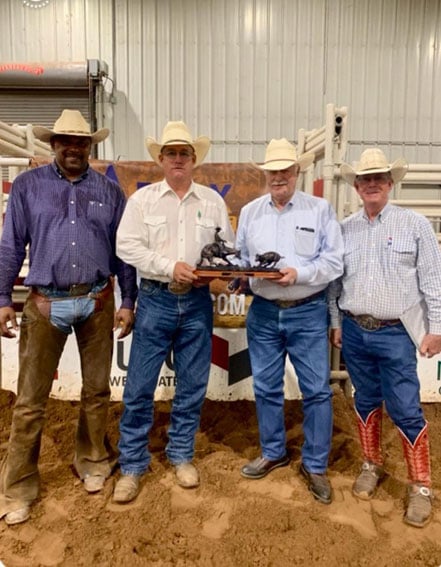 Ron Wright, ACHA Founding Director, presents the Founders Open Trophy to John L. Dublin. John won the $1000 Added Founders Open class at the American West Texas CHA Labor Day Bash in Sweetwater, TX. Pictured left to right: Alvin Turner - AWTCHA President, John L. Dublin, Ron Wright, Mike Combs - ACHA President.
---
Communication Methods:
Would you like to receive emails from ACHA?
Send your name to us at achacutting@yahoo.com to be added to our email list.
Would you like to receive reminders via text from ACHA?
Simply text "@carysi" to the number "81010". You will automatically be added to the ACHA group and be able to receive text messages from time to time. You can opt out from receiving these messages at any time.
"Like" our Facebook page and the pages of our affiliates to get up to date information or send messages via Facebook.
---
In continuance of the American West, and the ranching lifestyle, the American Cutting Horse Association strives to promote cutting horses as a competition sport. The goal of the ACHA is to promote the breeding, training and sport of these great horses in a competitive setting.
By the establishment of rules of conduct for cutting horse contests and the keeping of complete and accurate records of these contests, the ACHA seeks to promote and regulate the showing of cutting horses.
There is a place in the ACHA for contestants and their horses at any level and any goal. ACHA membership consists of people of diverse backgrounds and talents and encourages individuals, families and companies to become involved in the sport of cutting
---

Upcoming Events
---
September 19 & 20, 2020
ACHA Show - Nueces Canyon Ranch, Brenham, TX
---
October 2-4, 2020
APHA/ACHA Cowtown Cutting - Ft. Worth, TX
---
October 13 - 17, 2020
Championship Show - Belton, TX
---
LATEST NEWS

RULE CHANGE:
Please read the important rule changes for 2020
Click here to view!
---
Thank You Sponsors
2020 SADDLE SPONSORS:
Sam Munroe / McDonald's (2 locations)
Martha Wilson & Jana Lowe
Bassel Ranch
Bowers Veterinary Clinic
Mitchell Pipe & Supply, LLC /Jackie Mitchell
Lee & Judy Barron
American Southwest Texas CHA
Wunsch Family/MA Partners
Tracy Owens/Chris Woods/Gretchen Hawksworth/
Billy & Nora Light
Ron Jones
Universal Contracting
Bob & Diane Petersen
2020 Buckle Sponsors:
Cynthia Hendrickson
Bobby Glover
WC Tractor
Doggett Heavy Machinery
2020 Sponsors:
O & P Construction / Billy & Tracy Owens
Chris Woods
APHA
Sombrero Brands / Mark Hollar
Bell County Expo Center
Tom Bever
Jamie & Terri Rounsaville
Tommy Neal