Welcome to the ACHA
---
Member Spotlight
ACHA CONGRATULATES: Ranessa Crawford
2018 World Champion $15,000 Novice Horse/Non Pro

Ranessa Crawford was just "learning about horses and soaking up dirt" at a training facility where a friend took riding lessons when trainer Tommy West gave Crawford her first opportunity to ride a finished cutting horse.
"I knew NOTHING about cutting and was hanging on like a monkey, but that was all it took to get me hooked," says Crawford.
This nonprofessional is still "hooked" on cutting and has been extremely successful at it.
Crawford rode BV Hollywood Badger aka "Scat" to American Cutting Horse Association (ACHA) Reserve World Champion in the $20,000 Non Pro in 2017 and planned to continue showing him in 2018, but he was injured in January, 2018. Crawford then bought Catty Doc Legacy (Uno) from John L. Dublin in April, 2018. Riding Catty Doc Legacy, Crawford was the ACHA 2018 World Champion in the $15,000 Novice Horse/Non Pro class, and in 2019 she finished third in the $50,000 Non Pro. She completed 2019 by winning the $50,000 Non Pro class one day of the 2019 Championship Show with a combined score of 146.5 and finishing second the next day with a score of 146. For the 2020 show season, she plans to show Catty Doc Legacy in the $50,000 Non Pro.
Ranessa said she had tried the gelding as a four year old but swore she would never own him because she thought he was too erratic for her. She reflects that with time, he got more controlled and she became a better rider. Now she feels "blessed to own him." She says that even though he is a "powerhouse" of an animal, he is "very easy to get along with." Nevertheless, Uno's owner says he has his quirks. "He eats anything: human, horse, or dog food." Ranessa also claims, "He nickers when he does well to cheer for himself."
Even after combining with Uno to become a World Champion in 2018, Crawford says another honor which meant even more to her was being the recipient of the Ben Todd Award. According to the ACHA website, "The Ben Todd Award is presented each year to an ACHA member who has gone above and beyond the realm in showing support, giving encouragement and spreading overall goodwill to all their fellow ACHA members throughout the year."
The Ben Todd award was established in 2007 in recognition of Ben Todd, grandson to one of ACHA's long-standing members, Steve Buster of Sulphur, Louisiana. "During the years when Steve Buster was hauling show horses to every ACHA show, Ben was by his side helping out with all the horses, tack and feed not only for Steve, but for the entire ACHA family of cutters."
Ranessa Crawford declares, "My proudest ACHA moment to date is being honored with the Ben Todd award. I'm grateful, humble, and proud to be recognized in this way."
Crawford is humble in other ways as well. She is very private about her profession in the medical field. She says that when she moved to Houston in 1998 to continue her education, she "felt like a country girl trapped in the city." She had grown up on a central Texas ranch, but the family sold their horses when Ranessa was five years old. She was involved in sports and was "always competitive" but did not grow up riding. She did not buy her first horse until 2008, a half Arabian cutter that eventually helped Crawford become the 2014 National Champion Non Pro in the Arabian Cutting Horse Association. She says, "I thank God that I've been blessed to ride amazing horses and enjoy every second of this journey. What I enjoy most is the challenge the sport presents, the good times spent with good people, and the friendships made along the way."
Crawford still rides with John L. Dublin and gives much of the credit for her success to her trainer and others who have helped her. "Like everyone in this sport I've had ups and downs along the way, but I've learned something every step of the way. I would like to say thanks to all of "Team Dublin" for taking great care of my horses, going up and down the road, and helping me on this crazy journey. I appreciate all the turn back and herd holders for saving my tail time after time! I'm grateful to all the other amateurs out there who motivate me to improve and the professionals who inspire me to try and show like you." She advises other nonprofessionals to "buy the best horse you can and find a trainer you trust."
Crawford has a unique perspective about the sport of cutting: "What I've learned through my short time in the cutting pen and all the good advice and experiences (good and bad) along the way is that cutting is a stupid sport! It's stupid that something that looks so easy is so hard! It's stupid how these amazing animal athletes can do what they do and want to do it over and over! It's stupid how much it costs to get to "play" for 2 1/2 minutes. It's stupid how much time, money, and effort I will spend to win a trinket. It's stupid how quickly you can go from wanting to quit to having one good ride and being totally back in love with the sport again. It's stupid how much fun it is and how quickly you can become completely addicted."
One other thing that some might call "stupid" about cutting is the level of sportsmanship and camaraderie that is rare in competitive sports. Not everyone understands it, but Ranessa Crawford exemplifies it. Her message to other ACHA cutters is: "I will see you all down the road; wishing you good cows and clean cuts!"
By: Raena Wharton
---
CONGRATULATIONS TO OUR YEAR END CHAMPIONS:
Visit our
photo galleries
to view larger images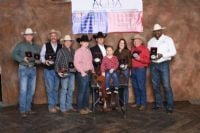 Open
World Champion: Pepto Katz
Rider:Mike Combs
Owner: Philip Wright
Res. World Champion: Zr One
rider:Paige Kincaide
owner:Keith Mesker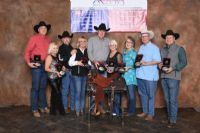 NON PRO
World Champion: Bob Petersen
Res. World Champion: Martha Wilson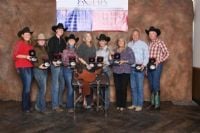 50,000 NON PRO
World Champion: Jana Lowe
Res. World Champion: Christine Perry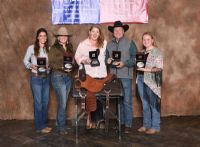 20,000 NON PRO
World Champion: Hannah Venne
Res. World Champion: Billy Light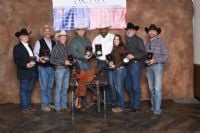 15,000 NOVICE HORSE
World Champion: CD Swinging Jane
Rider:John Dublin
Owner:Deni Grissette
Res. World Champion: Little Metal Cat
Rider:Alvin Turner
Owner:3p Cattle Co.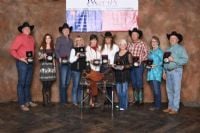 15,000 NOVICE HORSE NON PRO
World Champion: Diane Petersen
Res. World Champion: Susan Rollins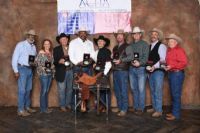 3,000 NOVICE HORSE
World Champion: Quejanaswinninstreak
Rider: Alvin Turner
Owner: Gully Enterprises
Res. World Champion: Rum N Oak
Rider: Tony Seamons
Owner: Tharon Anderson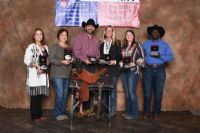 2,500 NOVICE RIDER
World Champion: Seth Weinberg
Res. World Champion: Bobbi Wallace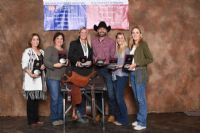 1,000 NOVICE RIDER
World Champion: Bobbi Wallace
Res. World Champion: Seth Weinberg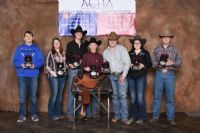 SENIOR YOUTH
World Champion: J.T. West
Res. World Champion: Dually Husband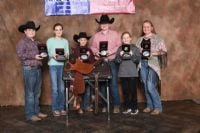 JUNIOR YOUTH
World Champion: Dakota West
Res. World Champion: Toby Combs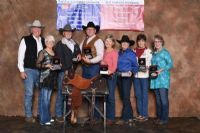 SENIOR NON PRO
World Champion: Ray Richardson
Res. World Champion: Ron Jones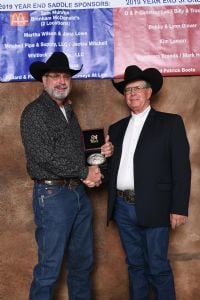 OPEN DERBY
World Champion: Two Time Shorty
Rider:John Kirby
Owner: Seth Wooten
Res. World Champion: Annie Gotta Pistol
Rider: Cletus Hulling
Owner: Laura Wilson NON PRO DERBY
World Champion: Meagan Johnsrud
Res. Champion: Traci Shehady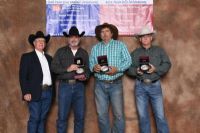 OPEN CLASSIC
World Champion: Pawzitively Smart
Rider: Cletus Hulling
Owner: Troy Buchanan
Res. World Champion: TR Shes A Cat
Rider: Cletus Hulling
Owner: Andre Kliebert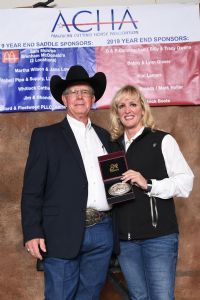 NON PRO CLASSIC
World Champion: Elizabeth Riley
Res. World Champion: Kelsey Conn
---
CONGRATULATIONS TO OUR 2019 AWARD WINNERS:
Visit our
photo galleries
to view our champions!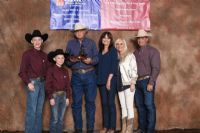 Member Hall of Fame
Jim & Rhonda Ross (center)
along with grandsons JT & Dakota West
& daughter Tayvn & husband Josh West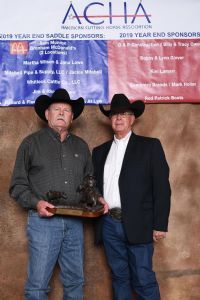 OPEN RIDER HALL OF FAME
Mike Mowery
presented by ACHA President Mike Combs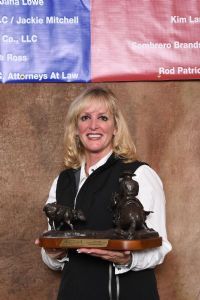 Non Pro Rider Hall of Fame
Elizabeth Riley and Kelsey Conn (not pictured)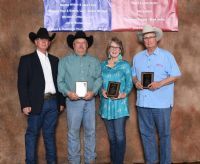 Non Pro Silver Hall of Fame Billy Owens
Non Pro Gold Hall of Fame Jennifer Bowers,
D'Ann Randolph(not pictured)
& Derk Harmsen(not pictured)
Non Pro Roll of Honor James Kier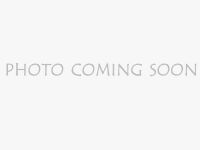 Ben Todd Award
Butch Lott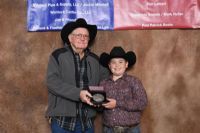 MOST IMPROVED YOUTH
Morgan Thornton
presented by Bobby Glover
Lynn & Bobby Glover/Sponsors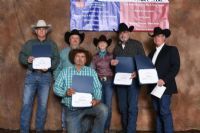 TOP HANDS
John Dublin, Sponsors Billy & Tracy Owens
Cletus Hulling, Mike Combs
& Billy Bob Moore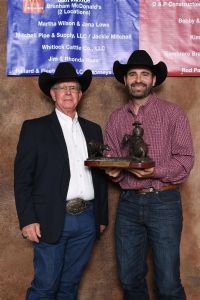 ROOKIE OF THE YEAR
Seth Weinberg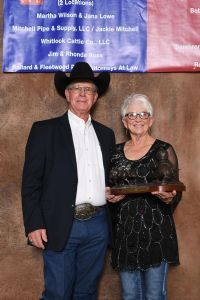 HIGH POINT NON PRO RIDER
MARTHA WILSON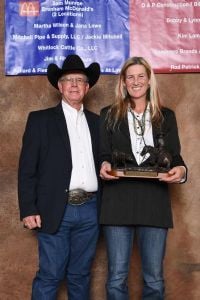 HIGH POINT HORSE
High Cat Merada RG
owner-Bobbi Wallace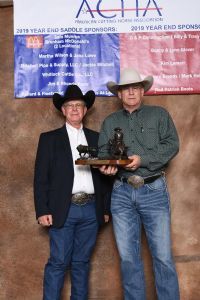 HIGH POINT OPEN RIDER
JOHN L. DUBLIN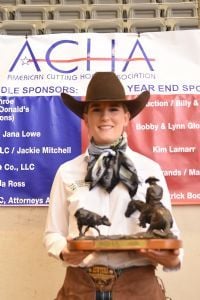 AFFILIATE SHOOT OUT CHAMPION
Lilian Macrae representing
Australian Cutting Horse Group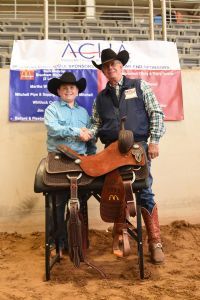 MCDONALD'S SHOOT OUT CHAMPION
Jr. Youth
Morgan Thornton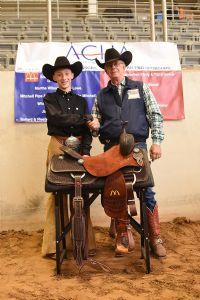 MCDONALD'S SHOOT OUT CHAMPION
Sr. Youth
J.T. West
---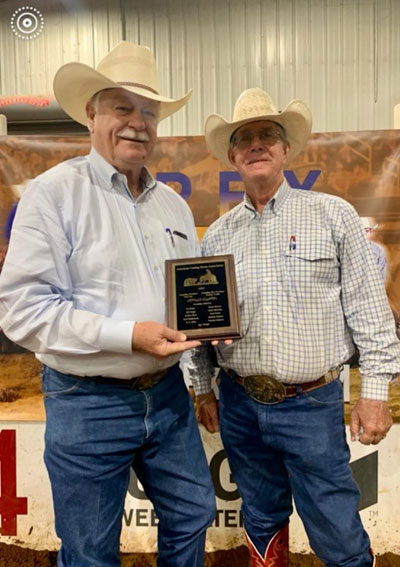 Keeping it in the family! Ron Wright, one of the Founding Directors of the American Cutting Horse Association, is presented with a commemorative plaque listing the 1985 ACHA Founding Board of Directors by current ACHA President, Mike Combs. Mike's father, George Combs, was also a founding director. Ron Wright's son, Phil Wright, has ridden with Mike Combs since he was in the Youth!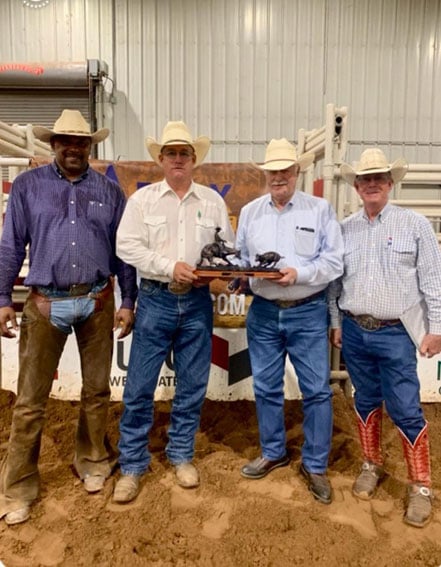 Ron Wright, ACHA Founding Director, presents the Founders Open Trophy to John L. Dublin. John won the $1000 Added Founders Open class at the American West Texas CHA Labor Day Bash in Sweetwater, TX. Pictured left to right: Alvin Turner - AWTCHA President, John L. Dublin, Ron Wright, Mike Combs - ACHA President.
---
Communication Methods:
Would you like to receive emails from ACHA?
Send your name to us at achacutting@yahoo.com to be added to our email list.
Would you like to receive reminders via text from ACHA?
Simply text "@carysi" to the number "81010". You will automatically be added to the ACHA group and be able to receive text messages from time to time. You can opt out from receiving these messages at any time.
"Like" our Facebook page and the pages of our affiliates to get up to date information or send messages via Facebook.
---
In continuance of the American West, and the ranching lifestyle, the American Cutting Horse Association strives to promote cutting horses as a competition sport. The goal of the ACHA is to promote the breeding, training and sport of these great horses in a competitive setting.
By the establishment of rules of conduct for cutting horse contests and the keeping of complete and accurate records of these contests, the ACHA seeks to promote and regulate the showing of cutting horses.
There is a place in the ACHA for contestants and their horses at any level and any goal. ACHA membership consists of people of diverse backgrounds and talents and encourages individuals, families and companies to become involved in the sport of cutting
---

Upcoming Events
---
January 17-19, 2020
ACHA Winter Circuit - Belton, TX
---
February 8 & 9, 2020
Am South Texas CHA – Brenham, TX
---
LATEST NEWS

RULE CHANGE:
Please read the important rule changes for 2020
Click here to view!
---
Thank You Sponsors
2019 YEAR END SADDLE SPONSORS:
Sam Munroe / McDonalds (2 locations Brenham)
Martha Wilson & Jana Lowe
Mitchell Pipe & Supply, LLC / Jackie Mitchell
Whitlock Cattle Co., LLC
Jim & Rhonda Ross
Ballard & Fleetwood PLLC, Attorneys At Law
2019 Year End Sponsors:
O & P Construction / Billy & Tracy Owens
Bobby & Lynn Glover
Kim Lamarr
Sombrero Brands / Mark Hollar
Rod Patrick Boots
2019 ACHA Extravaganza Sponsors:
Lee & Judy Barron
Bowers Vet Clinic / Jennifer Bowers, DVM
Bellville Abstract Co. / Leigh Ann Schultz
Quick Be A Cat / Dorothy Lemecha
Chris Woods
Andra & Kirby Wisian
Whitlock Cattle / John Hightower
Carol & Troy Buchanan
Bell County Expo
2019 ACHA WEEKEND SPONSORS:
Lee & Judy Barron
Bellville Abstract Co. / Leigh Ann Schultz
Whitlock Cattle
Bowers Vet Clinic
Martha Wilson
Jana Lowe
Mitch Farris Cutting Horses
Camille Abbott
Mike Combs Cutting Horses
Robert Fuentes Cutting Horses
Graham Land & Cattle/Ron Jones
Lana Wells
Evergreen Cowboy Church
Cletus Hulling Cutting Horses
Chris Woods
That Guy Brands Strategic Consulting / Steven Kahla