Welcome to the ACHA
---
Don't miss out on important reminders from the ACHA!
Text @achacu to 81010 to sign up.
---
October 6, 2020
Dear Members,
The Board of Directors and I would like to take a moment to thank everyone for their participation this year despite the difficulties and challenges brought on by the COVID 19 crisis. As we prepare for our World Show, general membership meeting, and party, I am pleased to make the following announcements.
First, the results of the Director Election are in. The firm of Seidel Schroder counted 99 ballots. Please join me in congratulating Billy Bob Moore as the next President of the ACHA. Billy Bob has served as a Director for several years, is dedicated to the ACHA, and will no doubt provide strong leadership going forward.
We also ask you to join us in congratulating the following as new additions to the Board of Directors for 2021:
Billy Crenshaw
Lynn Glover
Jana Lowe
Mike Randolph
Susan Rollins
Finally, I would like to thank each of you for the privilege of serving as the President for the last three years. It has been an honor and a pleasure to do so. I look forward to working with Billy Bob and the Board in 2021 as we move forward to grow and strengthen our association. Good luck to those of you who are competing in the World Show; I will see you there!
Respectfully,
American Cutting Horse Association
Mike Combs
President
817 219-1380
---
Member Spotlight
Hall of Fame Trainers Offer Show Tips
Compiled By Raena Wharton
With the American Cutting Horse Association (ACHA) 2020 Championship Show just ahead on Oct. 14-17 followed by a new point year beginning soon after, what better time to brush up on pointers for showing your cutting horse? At a recent competition in Belton, seven ACHA Open Rider Hall of Fame cutters offered their tidbits of advice on how to be successful in the show pen.
In order to be inducted into the Open Rider Hall of Fame, the rider must have lifetime earnings of $75,000 in ACHA approved classes. After each name below, the year of his induction is listed in no particular order. This list does not include every Hall of Fame inductee, but a comprehensive list is available on the ACHA website.
Below are helpful quotes from the experts.
Mike Mowery (2019) -- "Drive up enough to give your horse room to do his job.
Be consistent.
Sit square in your stops, and don't pull your shoulders through the turns.
The real secret is getting the timing of your feet in time with the cow."
Lonnie Morris (2008) -- "Listen to your help.
Have your horse ready even though that isn't always easy."
Mitch Farris (2008) -- "Don't try to mark a big score. Just try to get everything on the credit side of the judge's card. Don't think about penalties because that is negative thinking. Let the score take care of itself. Consistency is the key. Five 74's are better than two 76's and three 60's.
In cutting, there are three brains working at once: the brain of the rider, the horse, and the cow. Winning is 80% mental.
Apply the KISS [Keep it simple, stupid.] method."
Donnie Shore (1999) -- "Cut up [out of the herd] and clean.
Don't worry about beating someone else; just show your horse.
Remember that it costs no more to feed a good horse than a sorry one."
Robert Fuentes (2016) -- "Be sure the horse and rider are prepared mentally. Think about what you can improve. There is always a lot of room to improve.
Get a feel of the cattle and bring three or four cows out. Don't commit to one cow too early; watch for a cow that wants to drive up.
Have confidence. You first have to believe in yourself and not be intimidated. Believe in your horse like you believe in yourself. Have confidence that you can hold any cow. Confidence grows as you do it.
When you show, you own that pen. Those four guys out there work for you. You hire them."
Rubin Pringle (2010) -- "Do what your horse and the cow will let you do. Know your horse's limits and show around the horse's and your strong points.
Prepare your horse at home. Don't try to win a cutting at home, but don't ride through stuff at the show. Otherwise, when you get to a cutting, you have a horse that is not competitive in a tough cutting.
Don't try to take a specific judge too much into consideration. All judges like a horse that stops hard and straight and moves clean. Turning around is the result of a good stop. Moving clean means not stumbling around.
Showmanship means presenting a picture to the judge: keep your hand low during cuts, cut in the middle of the pen, quit smooth, turn around and keep it smooth and quiet.
Don't get in a hurry trying to cut a cow. If you cut in a hurry, it tends to just get faster."
John Stewart (2016) -- "Keep your heels down, push on the horn, and kick.
Get up and center up on your cuts.
Don't cut a AAA cow on a AA horse.
Remember the old quote: 'It is better to cut a bad cow good than a good cow bad.'"
And John Stewart's final bit of advice is: "Don't moon your trainer!"
---
---
CONGRATULATIONS TO OUR YEAR END CHAMPIONS:
Visit our
photo galleries
to view
---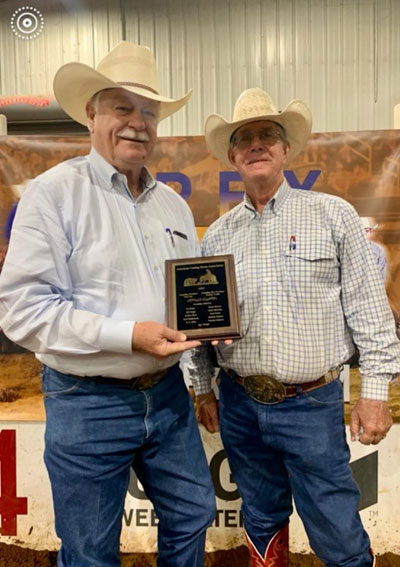 Keeping it in the family! Ron Wright, one of the Founding Directors of the American Cutting Horse Association, is presented with a commemorative plaque listing the 1985 ACHA Founding Board of Directors by current ACHA President, Mike Combs. Mike's father, George Combs, was also a founding director. Ron Wright's son, Phil Wright, has ridden with Mike Combs since he was in the Youth!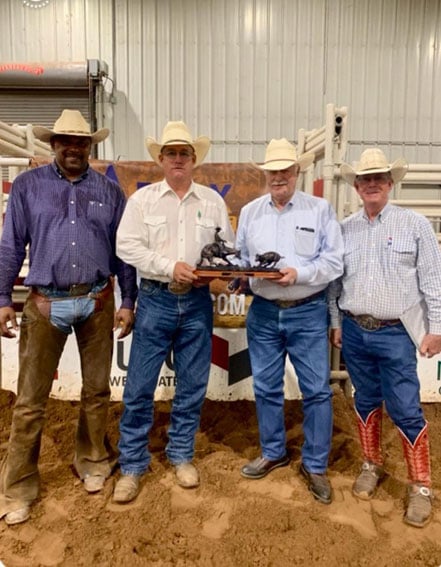 Ron Wright, ACHA Founding Director, presents the Founders Open Trophy to John L. Dublin. John won the $1000 Added Founders Open class at the American West Texas CHA Labor Day Bash in Sweetwater, TX. Pictured left to right: Alvin Turner - AWTCHA President, John L. Dublin, Ron Wright, Mike Combs - ACHA President.
---
Communication Methods:
Would you like to receive emails from ACHA?
Send your name to us at achacutting@yahoo.com to be added to our email list.
Would you like to receive reminders via text from ACHA?
Simply text @achacu to 81010. You will automatically be added to the ACHA group and be able to receive text messages from time to time. You can opt out from receiving these messages at any time.
"Like" our Facebook page and the pages of our affiliates to get up to date information or send messages via Facebook.
---
In continuance of the American West, and the ranching lifestyle, the American Cutting Horse Association strives to promote cutting horses as a competition sport. The goal of the ACHA is to promote the breeding, training and sport of these great horses in a competitive setting.
By the establishment of rules of conduct for cutting horse contests and the keeping of complete and accurate records of these contests, the ACHA seeks to promote and regulate the showing of cutting horses.
There is a place in the ACHA for contestants and their horses at any level and any goal. ACHA membership consists of people of diverse backgrounds and talents and encourages individuals, families and companies to become involved in the sport of cutting
---

Upcoming Events
---
January 15-16, 2021
ACHA Winter Circuit - Belton, TX
---
January 30-31, 2021
*New Dates*
Am Southwest Tx CHA - Belton, TX
---
February 13 & 14, 2021 Am South TX CHA - Brenham, TX
---
LATEST NEWS

RULE CHANGE:
Please read the important rule changes for 2020
Click here to view!
---
Thank You Sponsors
2020 SADDLE SPONSORS:
Sam Munroe / McDonald's (2 locations)
Martha Wilson & Jana Lowe
Bassel Ranch
Bowers Veterinary Clinic
Mitchell Pipe & Supply, LLC /Jackie Mitchell
Lee & Judy Barron
American Southwest Texas CHA
Wunsch Family/MA Partners
Tracy Owens/Chris Woods/Gretchen Hawksworth/
Billy & Nora Light
Ron Jones
Universal Contracting
Bob & Diane Petersen
Ballard & Fleetwood PLLC, Attorneys at Law
Jim & Rhonda Ross
2020 Buckle Sponsors:
Cynthia Hendrickson
Bobby Glover
WC Tractor
Doggett Heavy Machinery
Ted Olney
Jim & Rhonda Ross
Billy & Nora Light
2020 Sponsors:
O & P Construction / Billy & Tracy Owens
Chris Woods
APHA
Sombrero Brands / Mark Hollar
Bell County Expo Center
Tom Bever
Jamie & Terri Rounsaville
Tommy Neal