Welcome to the ACHA
Member Spotlight
ACHA CONGRATULATES: SAM MUNROE

"Mr. Sam" has been a familiar face around ACHA cuttings for many years - as an owner, rider, spectator and sponsor. Sam was inducted into the ACHA Member Hall of Fame in 2006. He is a Lifetime Member of the ACHA and for over 20 years, has donated two saddles each year to be awarded to the McDonalds Youth Shootout Junior and Senior Youth Champions at the Championship Show. Earlier this year, Sam was presented with a custom buckle as a token of our appreciation for his generosity to the ACHA Youth.
Sam Munroe has been involved in the cutting horse industry for over 30 years and has raised many great horses - his favorite one to date is Kitty Cat Bingo, who has combined earnings in NCHA and ACHA of over $30,000. According to Sam, his greatest cutting achievement was making the finals five years in a row at the Houston Livestock Show & Rodeo! Sam is an accomplished horseman with cutting earnings topping $20,000.
Sam came to the United States from Jamaica in 1957 to attend high school and he eventually graduated from Pace University in New York City. He came to Texas in 1984 to pursue his career as a McDonalds franchisee. He now owns several locations in Houston and Brenham. He is a very busy man, but enjoys spending time with his family, especially his 4 teenage grandchildren. Besides riding horses, Sam enjoys travelling and fishing with his family in the Bahamas.
When asked to name his favorite thing about the sport of cutting, he was quick to say that it is the camaraderie and relationships he has been able to develop over the years and most importantly, he loves the kids! Win, lose or draw – he treasures the time spent at the shows with friends and has plans to return to the cutting pen very soon. We, the members of the ACHA salute you "Mr. Sam" and cannot thank you enough for all you have done for our association.
---
Communication Methods:
Would you like to receive emails from ACHA?
Send your name to us at achacutting@yahoo.com to be added to our email list.
Would you like to receive reminders via text from ACHA?
Simply text "@carysi" to the number "81010". You will automatically be added to the ACHA group and be able to receive text messages from time to time. You can opt out from receiving these messages at any time.
"Like" our Facebook page and the pages of our affiliates to get up to date information or send messages via Facebook.
---
CONGRATULATIONS TO OUR 2018 AWARD WINNERS:
Visit our
photo galleries
to view our champions!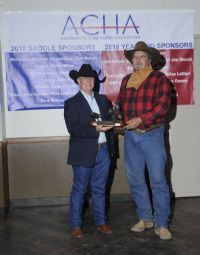 Open Rider Hall of Fame
Billy Bob Moore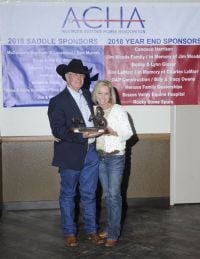 Non Pro Rider Hall of Fame
Bobbie Sue Shore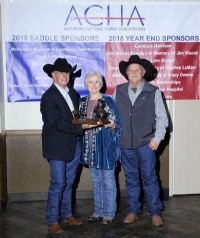 Member Hall of Fame
Lee and Judy Barron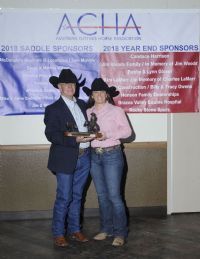 Rookie of The Year
Cassie Behrends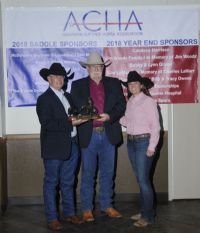 High Point Horse
Bearcat Feathers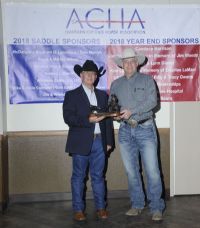 High Point Open Rider
John L. Dublin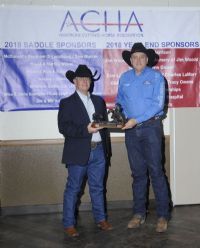 High Point Non Pro Rider
Phil Wright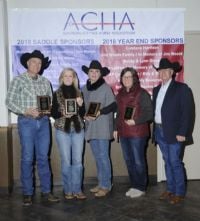 Honor Roll Recipients
Paul Bassel, Tracy Owens, Janice Little,
Paula Williams, & not pictured) Tony Caporina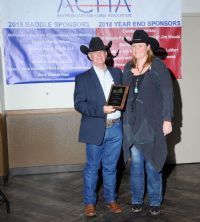 Ben Todd Award
Ranessa Crawford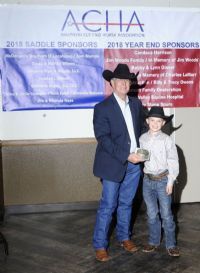 Most Improved Youth
Dakota West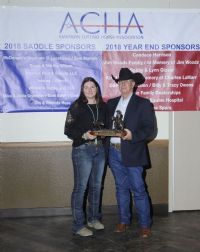 Affiliate Champion
Ashley Knight representing
Australian Cutting Horse Group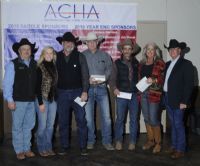 Top Hands
Presented & Sponsored by Billy & Tracy Owens
Cletus Hulling, John Dublin, Mike McCarty & Michelle Mowery
---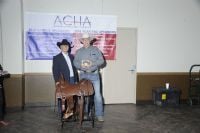 Open
Champion
John L. Dublin / Super Neat Cat / Jim Spaulding
Reserve
John L. Dublin / CD Swinging Jane / Deni Grissette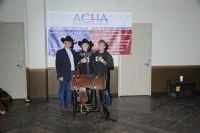 Non Pro
Champion
Jennifer Bowers
Reserve
Tamra Lott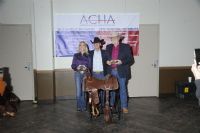 $50,000 Non Pro
Champion
James Prater
Reserve
Candace Harrison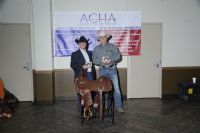 $15,000 Novice Horse
Champion
A Dog Bit My Bodee
Mike Combs / Gretchen Hawksworth
Reserve
Catty Doc Legacy
John L. Dublin / Ranessa Crawford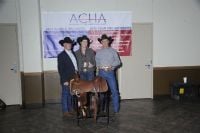 $20,000 Non Pro
Champion
Mary Bauer
Reserve
Monte Locke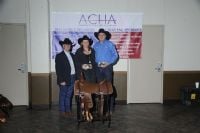 $15,000 NH/NP
Champion
Catty Doc Legacy / Ranessa Crawford
Reserve
Pepto Katz / Phil Wright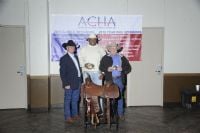 $3,000 Novice Horse
Champion
Wild Mountain Cat
Alvin Turner / Kennady Moffatt
Reserve
DB Spotified
Lonny Morris / Ron Jones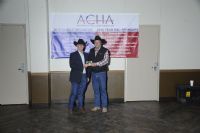 Senior Non Pro
Champion
Bill Kyle (Not Pictured)
Reserve
Paul Vaughan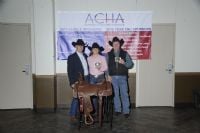 $2500 Novice Rider
Champion
Cassie Behrends
Reserve
Billy Light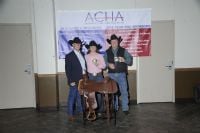 $1,000 Novice Rider
Champion
Cassie Behrends
Reserve
Billy Light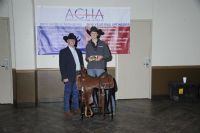 Senior Youth
Champion
Zach Harbers
Reserve
Taylor Mowery (Not Pictured)
Junior Youth
Champion
Toby Combs
Reserve
John C. Dublin (Not Pictured)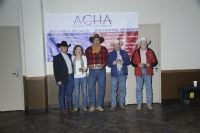 Open Classic
Champion
Sneak A Smoothie
Mandy Schoenst
Reserve
Sweet Lil Billie
Billy Bob Moore / Martha Wilson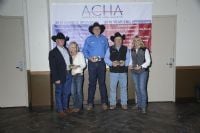 Non Pro Classic
Champion
Prettysmoothpepper
Bobbie Sue Shore
Reserve
Z Z Smart
Phil Wright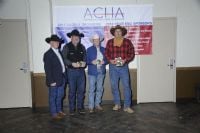 Open Derby
Champion
Chiquita Reysmooth
Billy Bob Moore / Lee Barron
Reserve
JK Ella Rey
Gary Walker / Legal Cut LLC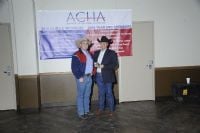 Non Pro Derby
Champion
Frostonthemesa
Mike Randolph
Reserve
Justa Smooth Shooter
Kelsey Conn (Not Pictured)
---
ACHA Championship Show featured on KCEN Live TV!! Check out these clips!
Cutting horse skills at their best this week at the Bell County Expo Center
Cutting horse championship show in Belton
---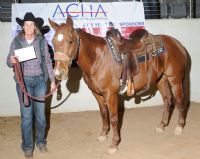 $20,000 Non Pro Champion
Cindy Smith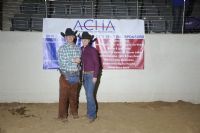 Non Pro Classic Champion
USS Tucker owned & ridden by
Cristy Erickson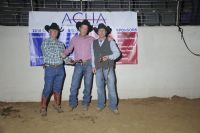 Open Derby
Champion
Cats Play Tuff/Jonathan Rogers/Tiemann & Rogers
Reserve
Hott Wish / Faron Hightower / Dawn Jonas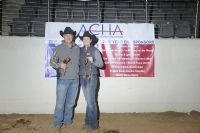 Non Pro Derby
Champion
Anotha Brotha / Megan Johnsrud
Reserve
Cactus Jack 015 / Wade Rust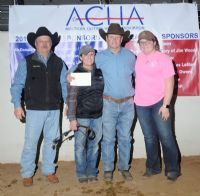 $15,000 Novice Horse
Champion
Smart Georgia Belle
Tom McTaggert / Ray Brazzel
Reserve
Shesa Metallic Lady
Jonathan Bartock / Mallory Tolleson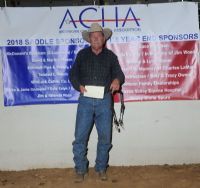 $3,000 Novice Horse
Champion
The Real Slim Shady
Mike Mowery / Ken Rodgers
Reserve
Time With Billie
Mike Mowery / Mike & Michelle Mowery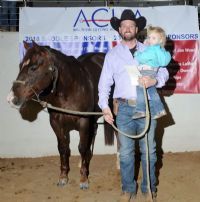 $15,000 NH/NP
Champion
CR Short Smart Cat
Ryan Smith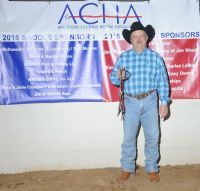 $15,000 NH/NP
Reserve
WHspotonthegoose
Billy Owens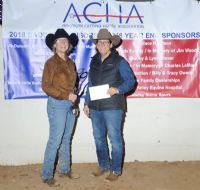 Senior Non Pro
Champion
Paula Williams
Reserve
Jennifer Bowers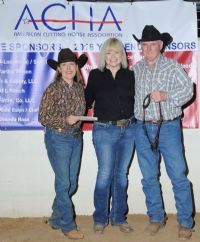 $50,000 Non Pro
Champion Andra Wisian
Reserve John Hightower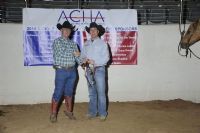 Open Classic
Champion
Close To Metal/Jonathan Rogers/Terry Strange
Reserve
USS Tucker / Jonathan Rogers/Sweet Blessings Ranch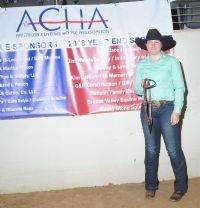 $2,500 Novice Rider Reserve
Ashley Knight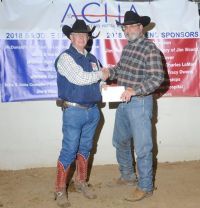 Open Champion
Hot Kitty Cat
Cletus Hulling / John Hightower Reserve
Smooth Talking
Tom McTaggart / Ray Brazzel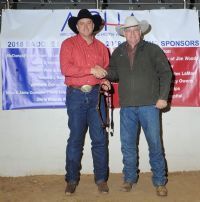 $20,000 Non Pro Reserve
Phil Wright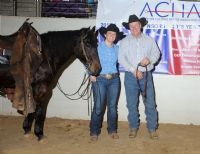 $1,000 Novice Rider
Champion Cassie Behrends
Reserve Billy Light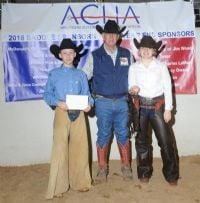 JR Youth
Champion JT West
Reserve Sidney Kahla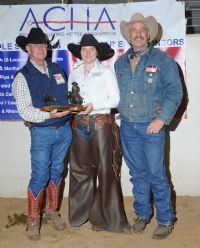 Affiliate Shootout Champion
Ashley Knight
representing Australian Cutting Horse Group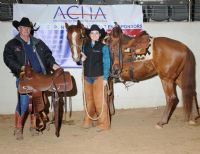 McDonald's SR Youth
Champion Emalee Hoffman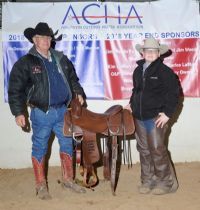 McDonald's JR Youth
Champion Toby Combs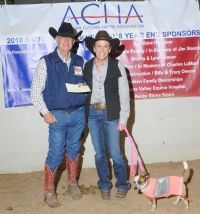 Non Pro Champion
Metalena / Tamra Lott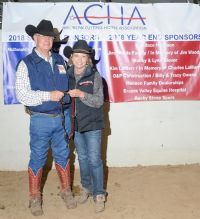 Non Pro Reserve
Billie Brow Cat / Bobbi Sue Shore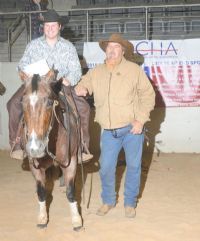 SR Youth Champion
Dually Husband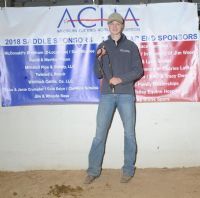 SR Youth Reserve
Zach Harbers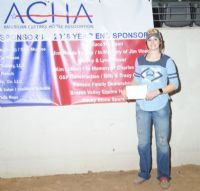 $2,500 Novice Rider Champion
Samantha Smith
---
In continuance of the American West, and the ranching lifestyle, the American Cutting Horse Association strives to promote cutting horses as a competition sport. The goal of the ACHA is to promote the breeding, training and sport of these great horses in a competitive setting.
By the establishment of rules of conduct for cutting horse contests and the keeping of complete and accurate records of these contests, the ACHA seeks to promote and regulate the showing of cutting horses.
There is a place in the ACHA for contestants and their horses at any level and any goal. ACHA membership consists of people of diverse backgrounds and talents and encourages individuals, families and companies to become involved in the sport of cutting
---

Upcoming Events
---
August 24 - 25
Southwest Texas CHA - Belton, TX
---
Aug 31 - Sept 2
West Texas CHA - Sweetwater, TX
(Nolan County Coliseum)
---
September 14 - 15
ACHA Extravaganza - Belton, TX
---
LATEST NEWS

RULE CHANGE:
Please read the important rule changes for 2019
Click here to view!
---
Thank You Sponsors
2019 ACHA WEEKEND SPONSORS:
Lee & Judy Barron
Bellville Abstract Co. / Leigh Ann Schultz
Whitlock Cattle
Bowers Vet Clinic
Martha Wilson
Jana Lowe
Mitch Farris Cutting Horses
Camille Abbott
Mike Combs Cutting Horses
Robert Fuentes Cutting Horses
Graham Land & Cattle/Ron Jones
Lana Wells
Evergreen Cowboy Church
Cletus Hulling Cutting Horses
Chris Woods
That Guy Brands Strategic Consulting / Steven Kahla
2019 YEAR END SADDLE SPONSORS:
Sam Munroe / McDonalds (2 locations Brenham)
Martha Wilson & Jana Lowe
Mitchell Pipe & Supply, LLC / Jackie Mitchell
Whitlock Cattle Co., LLC
Jim & Rhonda Ross
2019 Year End Sponsors:
O & P Construction / Billy & Tracy Owens