Welcome to the ACHA
Member Spotlight
ACHA CONGRATULATES: TOBY COMBS

Toby Combs is a fourth-generation cutter, carrying on a family tradition that started with his great grandfather, George Combs. Toby has always been around horses and has ridden off and on since he could sit in the saddle. He started riding more with his "Papa", Mike Combs and in the fall of 2017, he attended the 2017 ACHA Championships to help his grandpa. After that, he was hooked and ready to try showing cutting horses and has been on the road with his Papa ever since. His first time to show was in January 2018 riding Lot A Memories, a mare his Dad, Ryan Combs, trained. She gave him a great start, but he was only able to ride her for a few months because she was due to foal. Luckily, he had great supporters who kept him mounted with horses to show. He finished the year riding One Time Special K, loaned to him by Mr. Larry Fontenot. With Special K, Toby was able to really gain some confidence in the show pen. He won his first buckle in Fort Worth at the APHA's Cowtown Cutting in July 2018 and finished the year as the 2018 Junior Youth World Champion, definitely his most memorable feat to date. Toby also won the 2018 McDonalds Junior Youth Shootout at the ACHA Championships. Toby continues to ride Special K, continues to improve, and is continually learning more with every trip to the herd. In July, he was Reserve Champion in the Junior Cutting at the Texas State 4-H Horse Show. Toby is a seventh grader at Tolar Junior High School and enjoys playing football – he currently plays both offense and defense. Toby also shows pigs, and enjoys playing video games, target shooting, and fishing. When asked what was his favorite thing about cutting, he replied that he enjoys it all – from getting ready to go to the show, to the actual showing of his horse, to the friendships he has made along the way. With role models like his dad and his grandpa, Toby is sure to be a success not only in the cutting pen but in all walks of life. The ACHA wishes continued success to Toby and cannot wait to see what the future holds for him – both inside and outside the cutting pen!
---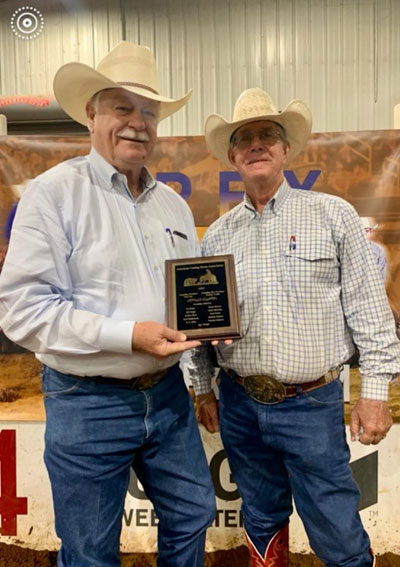 Keeping it in the family! Ron Wright, one of the Founding Directors of the American Cutting Horse Association, is presented with a commemorative plaque listing the 1985 ACHA Founding Board of Directors by current ACHA President, Mike Combs. Mike's father, George Combs, was also a founding director. Ron Wright's son, Phil Wright, has ridden with Mike Combs since he was in the Youth!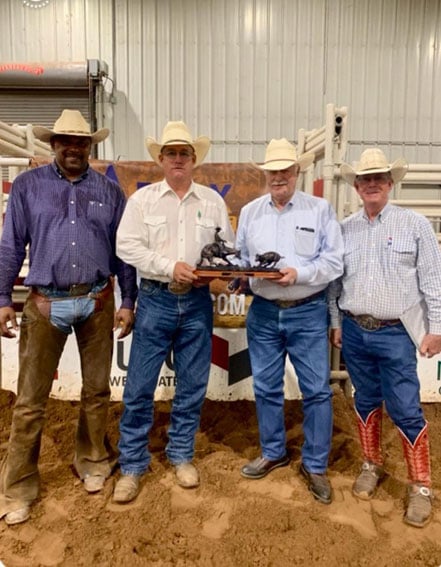 Ron Wright, ACHA Founding Director, presents the Founders Open Trophy to John L. Dublin. John won the $1000 Added Founders Open class at the American West Texas CHA Labor Day Bash in Sweetwater, TX. Pictured left to right: Alvin Turner - AWTCHA President, John L. Dublin, Ron Wright, Mike Combs - ACHA President.
---
Communication Methods:
Would you like to receive emails from ACHA?
Send your name to us at achacutting@yahoo.com to be added to our email list.
Would you like to receive reminders via text from ACHA?
Simply text "@carysi" to the number "81010". You will automatically be added to the ACHA group and be able to receive text messages from time to time. You can opt out from receiving these messages at any time.
"Like" our Facebook page and the pages of our affiliates to get up to date information or send messages via Facebook.
---
CONGRATULATIONS TO OUR 2018 AWARD WINNERS:
Visit our
photo galleries
to view our champions!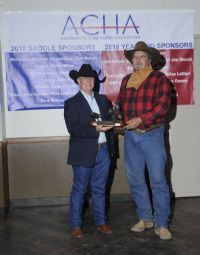 Open Rider Hall of Fame
Billy Bob Moore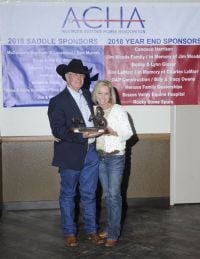 Non Pro Rider Hall of Fame
Bobbie Sue Shore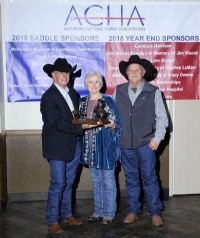 Member Hall of Fame
Lee and Judy Barron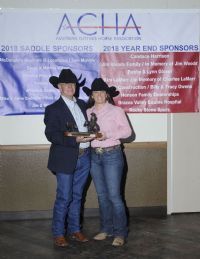 Rookie of The Year
Cassie Behrends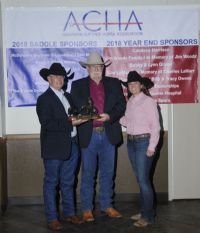 High Point Horse
Bearcat Feathers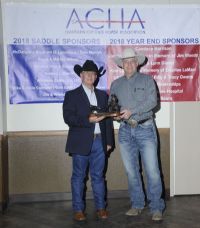 High Point Open Rider
John L. Dublin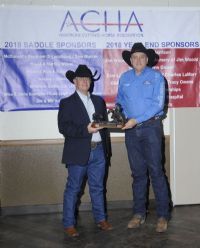 High Point Non Pro Rider
Phil Wright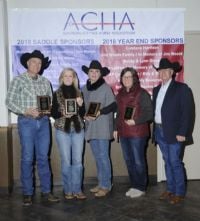 Honor Roll Recipients
Paul Bassel, Tracy Owens, Janice Little,
Paula Williams, & not pictured) Tony Caporina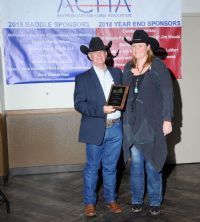 Ben Todd Award
Ranessa Crawford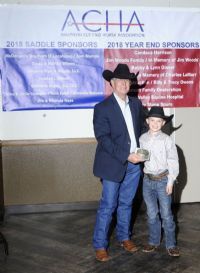 Most Improved Youth
Dakota West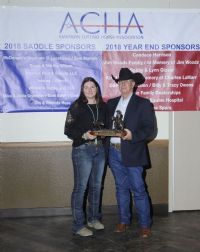 Affiliate Champion
Ashley Knight representing
Australian Cutting Horse Group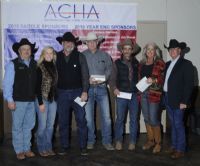 Top Hands
Presented & Sponsored by Billy & Tracy Owens
Cletus Hulling, John Dublin, Mike McCarty & Michelle Mowery
---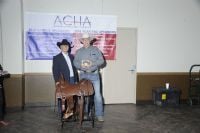 Open
Champion
John L. Dublin / Super Neat Cat / Jim Spaulding
Reserve
John L. Dublin / CD Swinging Jane / Deni Grissette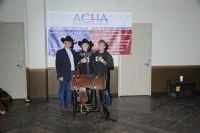 Non Pro
Champion
Jennifer Bowers
Reserve
Tamra Lott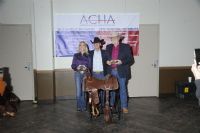 $50,000 Non Pro
Champion
James Prater
Reserve
Candace Harrison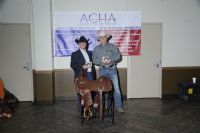 $15,000 Novice Horse
Champion
A Dog Bit My Bodee
Mike Combs / Gretchen Hawksworth
Reserve
Catty Doc Legacy
John L. Dublin / Ranessa Crawford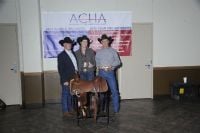 $20,000 Non Pro
Champion
Mary Bauer
Reserve
Monte Locke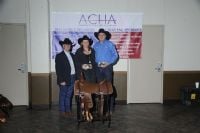 $15,000 NH/NP
Champion
Catty Doc Legacy / Ranessa Crawford
Reserve
Pepto Katz / Phil Wright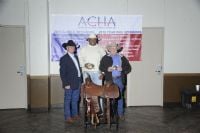 $3,000 Novice Horse
Champion
Wild Mountain Cat
Alvin Turner / Kennady Moffatt
Reserve
DB Spotified
Lonny Morris / Ron Jones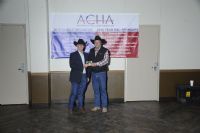 Senior Non Pro
Champion
Bill Kyle (Not Pictured)
Reserve
Paul Vaughan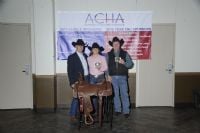 $2500 Novice Rider
Champion
Cassie Behrends
Reserve
Billy Light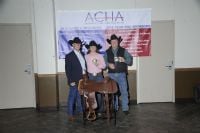 $1,000 Novice Rider
Champion
Cassie Behrends
Reserve
Billy Light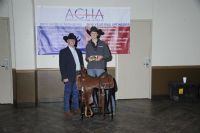 Senior Youth
Champion
Zach Harbers
Reserve
Taylor Mowery (Not Pictured)
Junior Youth
Champion
Toby Combs
Reserve
John C. Dublin (Not Pictured)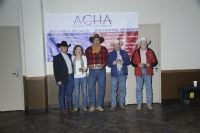 Open Classic
Champion
Sneak A Smoothie
Mandy Schoenst
Reserve
Sweet Lil Billie
Billy Bob Moore / Martha Wilson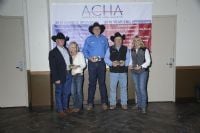 Non Pro Classic
Champion
Prettysmoothpepper
Bobbie Sue Shore
Reserve
Z Z Smart
Phil Wright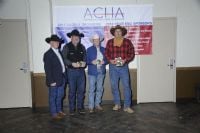 Open Derby
Champion
Chiquita Reysmooth
Billy Bob Moore / Lee Barron
Reserve
JK Ella Rey
Gary Walker / Legal Cut LLC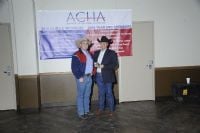 Non Pro Derby
Champion
Frostonthemesa
Mike Randolph
Reserve
Justa Smooth Shooter
Kelsey Conn (Not Pictured)
---
ACHA Championship Show featured on KCEN Live TV!! Check out these clips!
Cutting horse skills at their best this week at the Bell County Expo Center
Cutting horse championship show in Belton
---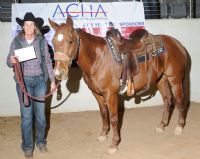 $20,000 Non Pro Champion
Cindy Smith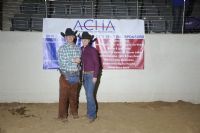 Non Pro Classic Champion
USS Tucker owned & ridden by
Cristy Erickson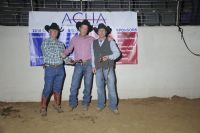 Open Derby
Champion
Cats Play Tuff/Jonathan Rogers/Tiemann & Rogers
Reserve
Hott Wish / Faron Hightower / Dawn Jonas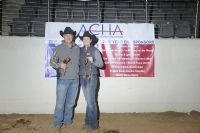 Non Pro Derby
Champion
Anotha Brotha / Megan Johnsrud
Reserve
Cactus Jack 015 / Wade Rust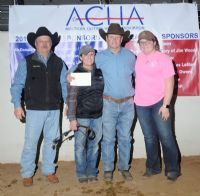 $15,000 Novice Horse
Champion
Smart Georgia Belle
Tom McTaggert / Ray Brazzel
Reserve
Shesa Metallic Lady
Jonathan Bartock / Mallory Tolleson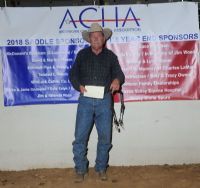 $3,000 Novice Horse
Champion
The Real Slim Shady
Mike Mowery / Ken Rodgers
Reserve
Time With Billie
Mike Mowery / Mike & Michelle Mowery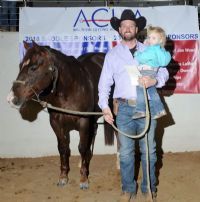 $15,000 NH/NP
Champion
CR Short Smart Cat
Ryan Smith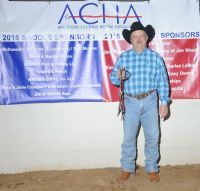 $15,000 NH/NP
Reserve
WHspotonthegoose
Billy Owens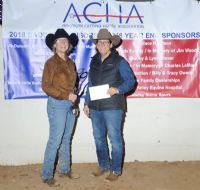 Senior Non Pro
Champion
Paula Williams
Reserve
Jennifer Bowers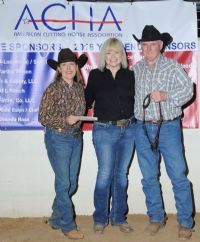 $50,000 Non Pro
Champion Andra Wisian
Reserve John Hightower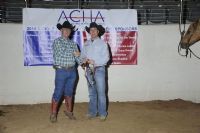 Open Classic
Champion
Close To Metal/Jonathan Rogers/Terry Strange
Reserve
USS Tucker / Jonathan Rogers/Sweet Blessings Ranch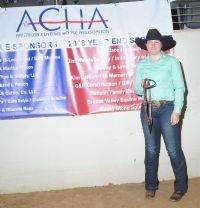 $2,500 Novice Rider Reserve
Ashley Knight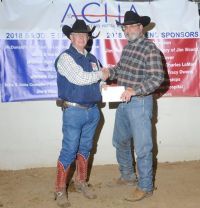 Open Champion
Hot Kitty Cat
Cletus Hulling / John Hightower Reserve
Smooth Talking
Tom McTaggart / Ray Brazzel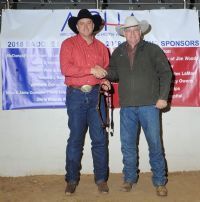 $20,000 Non Pro Reserve
Phil Wright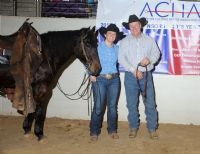 $1,000 Novice Rider
Champion Cassie Behrends
Reserve Billy Light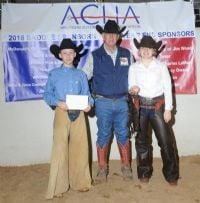 JR Youth
Champion JT West
Reserve Sidney Kahla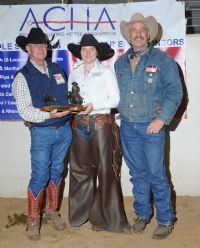 Affiliate Shootout Champion
Ashley Knight
representing Australian Cutting Horse Group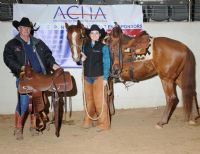 McDonald's SR Youth
Champion Emalee Hoffman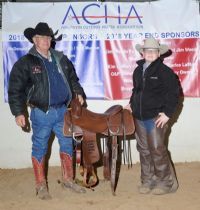 McDonald's JR Youth
Champion Toby Combs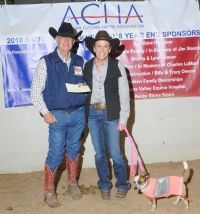 Non Pro Champion
Metalena / Tamra Lott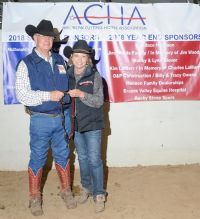 Non Pro Reserve
Billie Brow Cat / Bobbi Sue Shore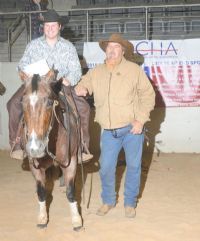 SR Youth Champion
Dually Husband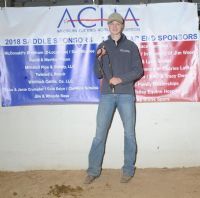 SR Youth Reserve
Zach Harbers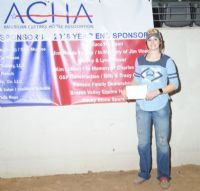 $2,500 Novice Rider Champion
Samantha Smith
---
In continuance of the American West, and the ranching lifestyle, the American Cutting Horse Association strives to promote cutting horses as a competition sport. The goal of the ACHA is to promote the breeding, training and sport of these great horses in a competitive setting.
By the establishment of rules of conduct for cutting horse contests and the keeping of complete and accurate records of these contests, the ACHA seeks to promote and regulate the showing of cutting horses.
There is a place in the ACHA for contestants and their horses at any level and any goal. ACHA membership consists of people of diverse backgrounds and talents and encourages individuals, families and companies to become involved in the sport of cutting
---

Upcoming Events
---
September 14 - 15
ACHA Extravaganza - Belton, TX
---
September 21
Australian Cutting Horse Group
Dorrigo, QLD, Australia
---
Sept 21 & 22
CANCELLED
South Texas CHA - Brenham, TX
---
LATEST NEWS

RULE CHANGE:
Please read the important rule changes for 2019
Click here to view!
---
Thank You Sponsors
2019 YEAR END SADDLE SPONSORS:
Sam Munroe / McDonalds (2 locations Brenham)
Martha Wilson & Jana Lowe
Mitchell Pipe & Supply, LLC / Jackie Mitchell
Whitlock Cattle Co., LLC
Jim & Rhonda Ross
Ballard & Fleetwood PLLC, Attorneys At Law
2019 ACHA Extravaganza Sponsors:
Lee & Judy Barron
Bowers Vet Clinic / Jennifer Bowers, DVM
Bellville Abstract Co. / Leigh Ann Schultz
Quick Be A Cat / Dorothy Lemecha
Chris Woods
Andra & Kirby Wisian
Whitlock Cattle / John Hightower
Carol & Troy Buchanan
Bell County Expo
2019 ACHA WEEKEND SPONSORS:
Lee & Judy Barron
Bellville Abstract Co. / Leigh Ann Schultz
Whitlock Cattle
Bowers Vet Clinic
Martha Wilson
Jana Lowe
Mitch Farris Cutting Horses
Camille Abbott
Mike Combs Cutting Horses
Robert Fuentes Cutting Horses
Graham Land & Cattle/Ron Jones
Lana Wells
Evergreen Cowboy Church
Cletus Hulling Cutting Horses
Chris Woods
That Guy Brands Strategic Consulting / Steven Kahla
2019 Year End Sponsors:
O & P Construction / Billy & Tracy Owens