ACHA MC DONALD'S SHOOTOUT
CONGRATULATIONS TO THE ACHA MCDONALD SHOOT OUT SADDLE CHAMPIONS!!!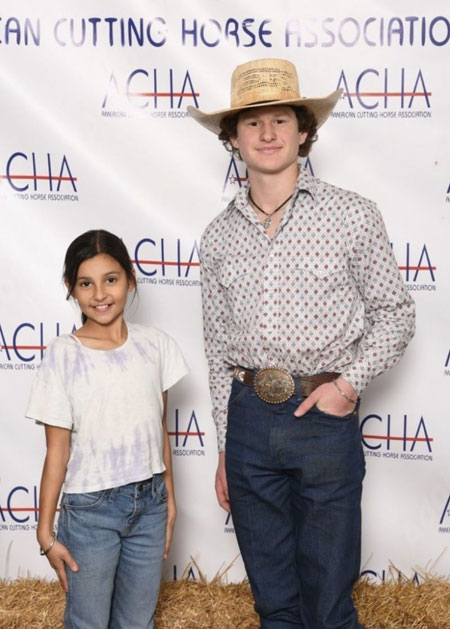 2022 McDonalds Shootout Junior & Senior Youth
Sadie Seidler & Wade Minter
---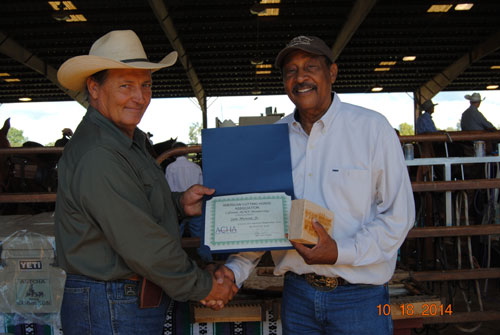 ACHA member Jerry Lane presenting an ACHA Lifetime Membership to sponsor Sam Munroe for his continuing support of the McDonald's Shoot Out held each year during the ACHA Championships.
THANK YOU SAM MUNROE FOR YOUR GENEROSITY AND CONTINUED SUPPORT OF THE ACHA YOUTH!
---
Past McDonald's Saddle Shootout Winners:

McDonalds Senior Youth
2021 Shoot Out Champion
Dually Husband

McDonalds Junior Youth
2021 Shoot Out Champion
Morgan Thornton



2020 SR Youth Champion Isaac Gomez




2020 Jr. Youth Champion Race Morris


2019 SR Youth Champion J.T. West

2019 Jr. Youth Morgan Thornton

2018 SR Youth Champion Emalee Hoffman

2018 JR Youth Champion Toby Combs



2017 SR Youth Champion Grant Valdez




2017 JR Youth Taylor Mowery




2016 SR Youth Champion Paige Dawson




2016 JR Youth Anna Marie Schreck

2015 SENIOR YOUTH - HUNTER HICKS
2015 JUNIOR YOUTH - CASSIE CERNY
2014 SENIOR YOUTH - JESSICA MCNAUGHTON
2014 JUNIOR YOUTH - TAYLOR MOWERY

2013 Sr. Youth-Kelley Walls

2013 Jr. Youth-Elisabeth Bassel

2012 Sr. Youth-Abbie Moles

2012 Jr. Youth-Bo Buckley
---
Rules for McDonald's Shootout
The Top Ten ACHA Junior Youth and the Top Ten ACHA Senior Youth will be eligible to compete in a one go-round shoot-out to be held during the American Championships. Youth class rules will apply. Each rider must compete on a horse which the rider has shown at least once in the youth class during the qualifying year. Each rider will be allotted two and one-half (2½) minutes to work, and each run will receive a score. The rider with the highest score in the go-round will be the McDonald's Shoot-Out Champion in each division. In the event of a tie for the winning score, there will be a work off to determine the winner. McDonald's Shoot-Out Champions will not be eligible to compete in the subsequent year's shoot-out.
Award: ACHA Junior Youth Shoot-out Champion Saddle and ACHA Senior Youth Shoot-out Champion Saddle.


Upcoming Events
---
January 11 - 13, 2024
ACHA Championship Show - Belton, TX
NEW SHOW DATES!!
---
January 27-28
Southwest Texas CHA - Belton
---
Feb 10-11
Southwest Texas CHA - Lorena
---
LATEST NEWS

RULE CHANGE:
Please read the important rule changes for 2022
Click here to view!
---
Thank You Sponsors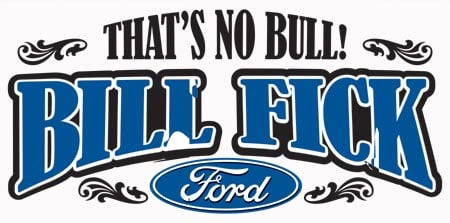 2023 SPONSORS:
Ronney and Alana Coleman
De Cillo Equine Clinic
Pete and Brenda Rosales
Seidler Family
Martin Chrysler Dodge Jeep
RJB Insurance Group
Trademarks Promotional Products
LNK Plastics, LLC
2022 SADDLE SPONSORS:
Citizens State Bank / Martha Wilson
Sam Munroe / McDonald's (2 locations)
MA Partners / Wunsch Family
Turner West Performance Horses
Quick Be A Cat
Mark Johnson
Mitchell Pipe & Supply LLC
The Original Rowdy Bunch
2022 SPONSORS:
Bill Fick Ford
Customers of Trent Bell
Camille Abbott
RJB Insurance Group, LLC
Martin Chrysler Dodge Jeep
Trademarks Promotional Products
Pete & Brenda Rosales
---