BEN TODD AWARD
The Ben Todd Award is presented each year to an ACHA member who has gone above and beyond the realm in showing support, giving encouragement and spreading overall goodwill to all their fellow ACHA members throughout the year.
The Ben Todd award was established in 2007. Ben Todd is the grandson to one of ACHA's long-standing members, Steve Buster of Sulphur, Louisiana. During the years when Steve Buster was hauling show horses to every ACHA show, Ben was by his side helping out with all the horses, tack & feed not only for Steve, but for the entire ACHA family of cutters.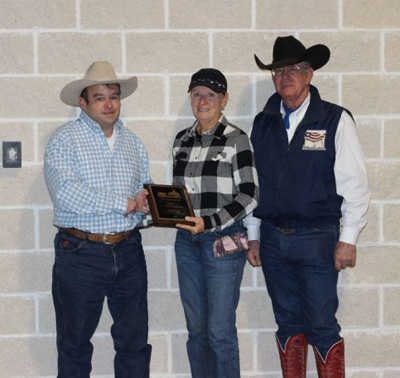 2017 Ben Todd Award Cindy McGowan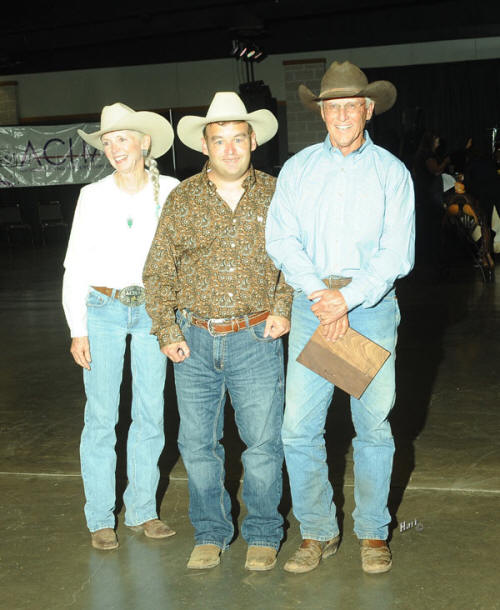 2016 Ben Todd Award
Jamie & Terri Rounsaville
Pictured is Ben Todd (middle) presenting the award

2015 Laney Sikorski

2014 David Wislon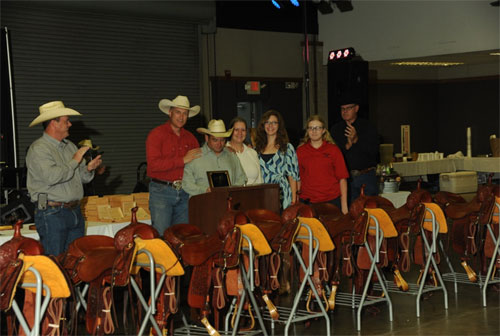 2013 The Bassel Family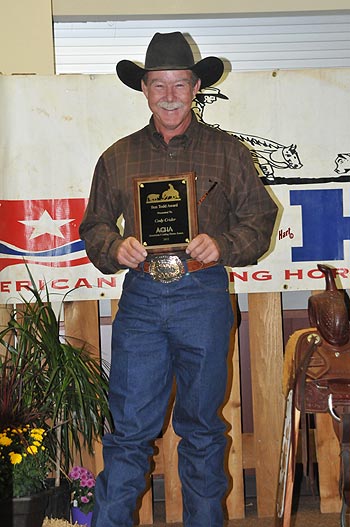 2012 Cody Crider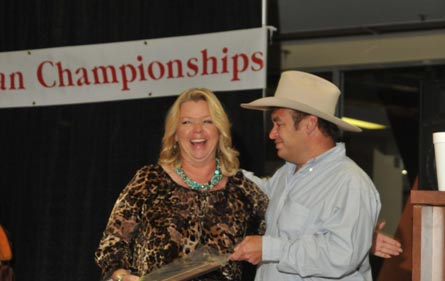 2011 Tina Richardson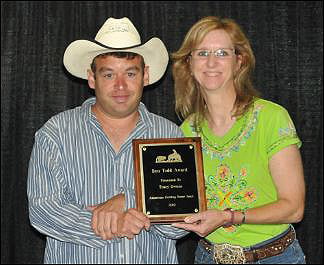 2010 Tracy Owens

2009 Martha Wilson
2008 Peggy Hightower
2007 D'Ann Randolph
---

Upcoming Events
---
September 14 - 15
ACHA Extravaganza - Belton, TX
---
September 21
Australian Cutting Horse Group
Dorrigo, QLD, Australia
---
Sept 21 & 22
CANCELLED
South Texas CHA - Brenham, TX
---
LATEST NEWS

RULE CHANGE:
Please read the important rule changes for 2019
Click here to view!
---
Thank You Sponsors
2019 YEAR END SADDLE SPONSORS:
Sam Munroe / McDonalds (2 locations Brenham)
Martha Wilson & Jana Lowe
Mitchell Pipe & Supply, LLC / Jackie Mitchell
Whitlock Cattle Co., LLC
Jim & Rhonda Ross
Ballard & Fleetwood PLLC, Attorneys At Law
2019 ACHA Extravaganza Sponsors:
Lee & Judy Barron
Bowers Vet Clinic / Jennifer Bowers, DVM
Bellville Abstract Co. / Leigh Ann Schultz
Quick Be A Cat / Dorothy Lemecha
Chris Woods
Andra & Kirby Wisian
Whitlock Cattle / John Hightower
Carol & Troy Buchanan
Bell County Expo
2019 ACHA WEEKEND SPONSORS:
Lee & Judy Barron
Bellville Abstract Co. / Leigh Ann Schultz
Whitlock Cattle
Bowers Vet Clinic
Martha Wilson
Jana Lowe
Mitch Farris Cutting Horses
Camille Abbott
Mike Combs Cutting Horses
Robert Fuentes Cutting Horses
Graham Land & Cattle/Ron Jones
Lana Wells
Evergreen Cowboy Church
Cletus Hulling Cutting Horses
Chris Woods
That Guy Brands Strategic Consulting / Steven Kahla
2019 Year End Sponsors:
O & P Construction / Billy & Tracy Owens