YOUTH SCHOLARSHIP INFORMATION
THANK YOU BRAD SCHAFER, RDS QUARTER HORSES &
ROCKING DOUBLE S SERVICES!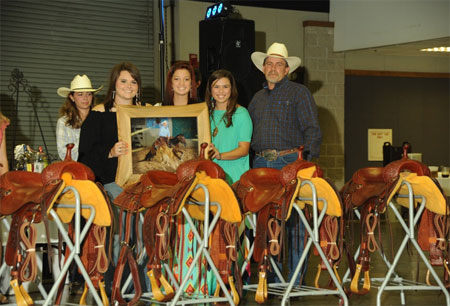 ACHA Youth (L-R) Kaitlyn Bradbury, Jessica McNaughton, Hayley Rickman &
Morgan Starnes presenting youth scholarship sponsor Brad Schafer a photo
to thank him for all his support.
Scholarship award recipients for 2013 were Emily Hutchings, Kelley Walls & Kyle Farris.
---
The American Cutting Horse Association (ACHA) Youth Scholarship Program was established in 1995 to encourage and assist ACHA youth in pursuing and achieving a higher level of education. The Youth Scholarship is made possible by the continued and generous support of ACHA members and friends.
Each year the ACHA Board of Directors reviews the status of the Youth Scholarship Program and determines the number and amounts of scholarships awarded during the current ACHA point year. The scholarships are awarded at the ACHA American Championships, unless otherwise determined by the ACHA Board of Directors.
To be eligible for consideration for an ACHA Youth Scholarship, the ACHA Youth Scholarship Application and letters of recommendations must be completed and returned to the ACHA office prior to July 1.
All applicant information is confidential among the members of the ACHA Youth Scholarship Committee, which is appointed annually by the ACHA Board of Directors.
CLICK HERE TO DOWNLOAD SCHOLARSHIP APPLICATION.
---

Upcoming Events
---
January 17-19, 2020
ACHA Winter Circuit - Belton, TX
---
February 8 & 9, 2020
Am South Texas CHA – Brenham, TX
---
LATEST NEWS

RULE CHANGE:
Please read the important rule changes for 2020
Click here to view!
---
Thank You Sponsors
2019 YEAR END SADDLE SPONSORS:
Sam Munroe / McDonalds (2 locations Brenham)
Martha Wilson & Jana Lowe
Mitchell Pipe & Supply, LLC / Jackie Mitchell
Whitlock Cattle Co., LLC
Jim & Rhonda Ross
Ballard & Fleetwood PLLC, Attorneys At Law
2019 Year End Sponsors:
O & P Construction / Billy & Tracy Owens
Bobby & Lynn Glover
Kim Lamarr
Sombrero Brands / Mark Hollar
Rod Patrick Boots
2019 ACHA Extravaganza Sponsors:
Lee & Judy Barron
Bowers Vet Clinic / Jennifer Bowers, DVM
Bellville Abstract Co. / Leigh Ann Schultz
Quick Be A Cat / Dorothy Lemecha
Chris Woods
Andra & Kirby Wisian
Whitlock Cattle / John Hightower
Carol & Troy Buchanan
Bell County Expo
2019 ACHA WEEKEND SPONSORS:
Lee & Judy Barron
Bellville Abstract Co. / Leigh Ann Schultz
Whitlock Cattle
Bowers Vet Clinic
Martha Wilson
Jana Lowe
Mitch Farris Cutting Horses
Camille Abbott
Mike Combs Cutting Horses
Robert Fuentes Cutting Horses
Graham Land & Cattle/Ron Jones
Lana Wells
Evergreen Cowboy Church
Cletus Hulling Cutting Horses
Chris Woods
That Guy Brands Strategic Consulting / Steven Kahla