ACHA MOST IMPROVED YOUTH
2022 Most Improved Youth
Sawyer McWilliams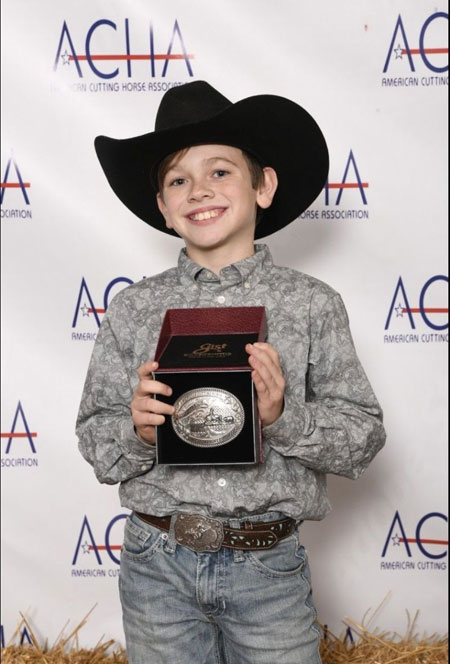 ---
2021 MOST IMPROVED YOUTH
Clay Hindt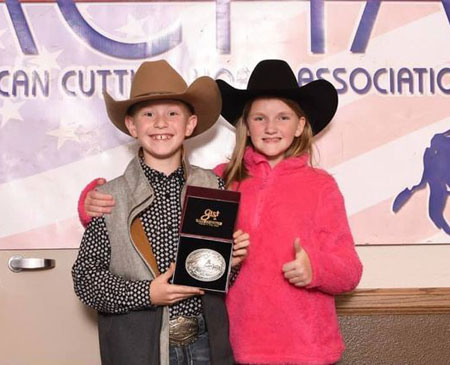 ---
2020 MOST IMPROVED YOUTH
Baylee Wall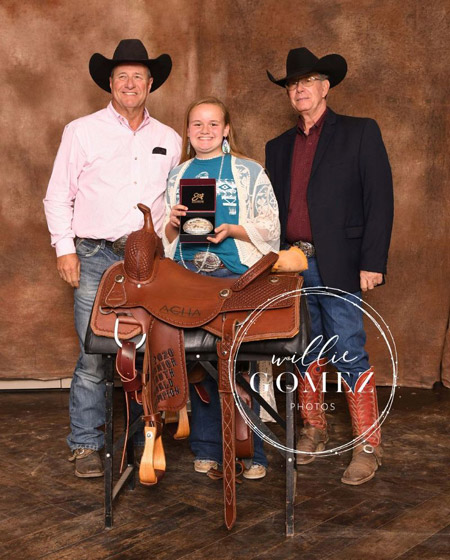 ---
2019 MOST IMPROVED YOUTH
Morgan Thornton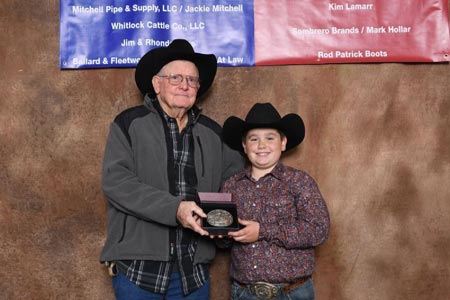 ---
2018 Most Improved Youth
Dakota West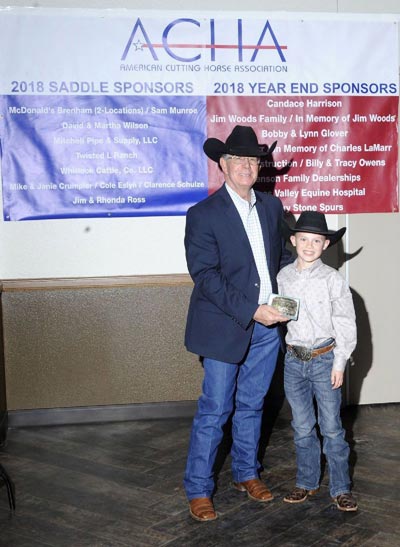 ---
2016 MOST IMPROVED YOUTH
J. T. West.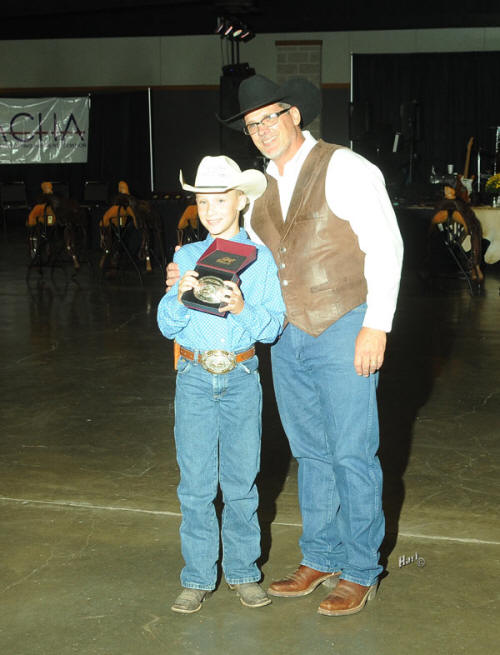 Presenting the buckle ACHA President Jason Borchardt
---
2015 MOST IMPROVED YOUTH
JOSEY SIKORSKI – CONGRATULATIONS!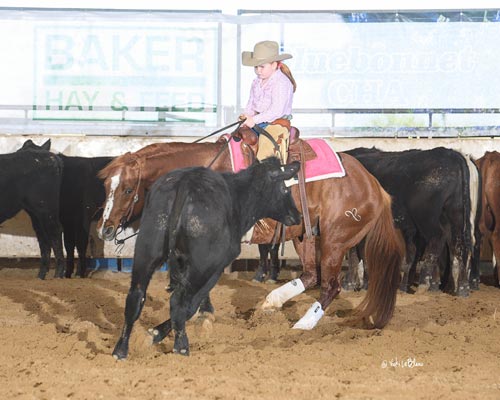 ---
2014 ACHA MOST IMPROVED YOUTH
HUNTER HICKS - CONGRATULATIONS!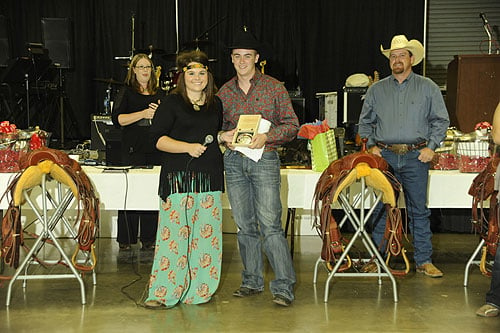 ---
2013 MOST IMPROVED YOUTH
CHEYANNE MARTIN – CONGRATULATIONS!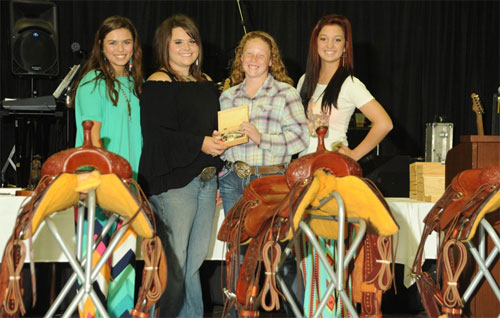 Cheyanne Martin shown here receiving the 2013 Most Improved Youth Buckle sponsored by
Bobby & Lynn Glover/Oxbow Steakhouse. Pictured (L-R) Morgan Starnes, Jessica McNaughton,
Cheyanne Martin & Hayley Rickman
---
Each year during the American Championships a meeting of the ACHA Youth members will be held. Those in attendance will nominate eligible youth and cast one (1) vote by written ballot for the ACHA Most Improved Youth. The youth receiving the most votes will receive the award during the American Championships Awards Party. Youth eligible to be nominated include current ACHA members who have competed in the Youth class during the current point year and have shown cutting horses for a period of not more than two (2) ACHA point years. Award: Buckle presented at the American Championships
A special "Thank You" to Bobby & Lynn Glover, owners of the Oxbow Steakhouse & BBQ, for
their continued sponsorship of the Most Improved Youth buckle.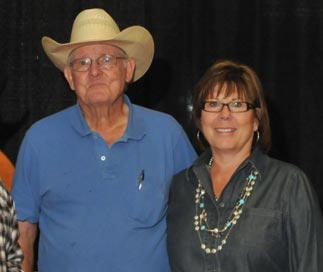 Bobby & Lynn Glover at the 2011 ACHA Awards Party


---

Upcoming Events
---
October 13 - 15
Location Change!!
Brenham, TX
South Texas CHA / Bluebonnet CHA
Joint Show with NCHA!!
---
November 11 - 12
ACHA Produced Show - Belton, TX
SHOW CHANGE!!
---
January 12 - 14, 2024
ACHA Championship Show - Belton, TX
NEW SHOW DATES!!
---
LATEST NEWS

RULE CHANGE:
Please read the important rule changes for 2022
Click here to view!
---
Thank You Sponsors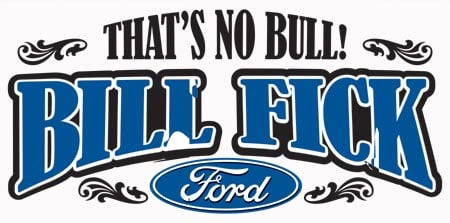 2023 SPONSORS:
Ronney and Alana Coleman
De Cillo Equine Clinic
Pete and Brenda Rosales
Seidler Family
Martin Chrysler Dodge Jeep
RJB Insurance Group
Trademarks Promotional Products
LNK Plastics, LLC
2022 SADDLE SPONSORS:
Citizens State Bank / Martha Wilson
Sam Munroe / McDonald's (2 locations)
MA Partners / Wunsch Family
Turner West Performance Horses
Quick Be A Cat
Mark Johnson
Mitchell Pipe & Supply LLC
The Original Rowdy Bunch
2022 SPONSORS:
Bill Fick Ford
Customers of Trent Bell
Camille Abbott
RJB Insurance Group, LLC
Martin Chrysler Dodge Jeep
Trademarks Promotional Products
Pete & Brenda Rosales